It's a long way from a classroom in North Vancouver to a gravesite on a grassy slope near Chase, B.C.
But a Remembrance Day project aimed at teaching kids about sacrifices made by Indigenous soldiers has linked the two this week.
The name of the soldier who lies in that grave – Pte. Abel Francois of the 2nd Canadian Mounted Rifles Battalion – is displayed this week on a ceramic medallion at Lynnmour Elementary – one of 100 created by intermediate students at the school.
The names – given to students by Grade 5/6 teacher Paul Best from public military records – are all Indigenous Canadian soldiers who died during or shortly after the First or Second World War.
The students' task was to take that name and find out as much as they could about the soldier, including their home community, and commemorate that in art.
One small First Nations community near Prince Rupert sent 20 soldiers out of a population of only about 200 people, said Best, who helped his students track down information.
The idea was to make sacrifices of the soldiers and their communities more tangible, said Best, by getting students to examine the records of one individual.
Best decided to concentrate on First Nations soldiers, he said, because often their contributions tend to get forgotten.
"Five of the top 10 snipers in World War I were Canadian First Nations," said Best.
Approximately 10 per cent of students who attend Lynnmour are Indigenous, which made this year's Remembrance Day project more meaningful, he added.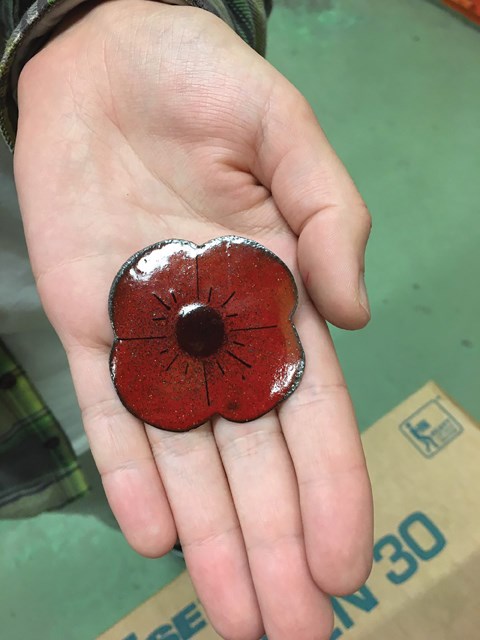 Students at Argyle Secondary also worked on an art project this year to tie in with Nov. 11.
Last year, student Ava Johnson came up with the idea of creating a wearable "forever" poppy out of metal and enamel, said teacher Ryan Edgar.
He liked the idea so much that this year he got all of the art metal students making the poppies as the first project of the year, using a two-inch piece of copper as the base of the poppy, layered with red and black enamel. Some of the students got even fancier, adding enamel threads to make the poppies appear more realistic.
Students agreed to sell their finished poppies, with all of the proceeds going to the poppy fund.
Once they were done, the poppies sold out within 24 hours.
Edgar said he's hoping to keep students working on poppies throughout the year, to build up a bigger supply for next year.