The City of North Vancouver plans to turn a former shipping container into a new enclosed seating and public "patio" space, where customers of local businesses can eat their take-out food protected from the elements.
Council voted recently to put $20,000 towards converting the 40-foot container – currently stored in the Centennial Theatre parking lot – into a covered "parklet" for use in central Lonsdale.
The idea is to convert the container into an outside seating area with lighting and a roof that will fit into curbside parking zones. The "parklet" will provide a public place to sit for customers of businesses that can't expand patios into the public realm, according to staff, who hope it will be in place this month.
The container was originally bought by the city for $200 in August last year. The $20,000 would be used to transport the container into place as well as come up with designs, and add lighting, a floor and outside furniture.
Total cost of the project is $35,000. Staff are also looking at the possibility of sponsorship to finish the job.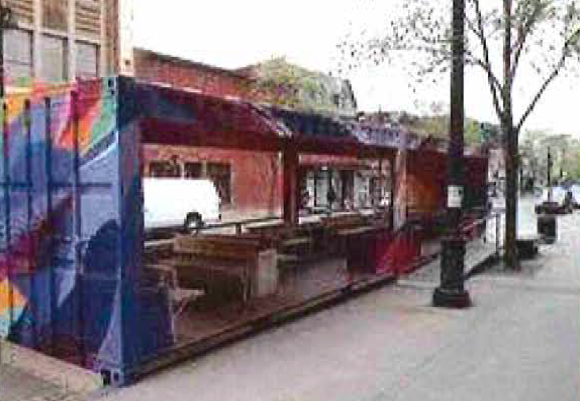 Council was enthused about the project, with Coun. Angela Girard describing it as a "great low budget option" for providing outside space.
But they also had questions. Girard asked who would clean the structure and whether it would be closed at night.
Staff member Larry Orr said the city will maintain the structure and won't close it at night. The sides of the structure will also be open, he added.
Girard also asked whether there were concerns about people sleeping in the container. "It's something we'll have to monitor over time," said Orr. "This is all new for us."
Coun. Holly Back also asked whether there are concerns about people stealing the furniture. Orr said the city has other outside furniture in the public civic plaza that is not chained down and "I don't believe we've ever lost a piece of furniture."
No decisions have been made yet on where the first "parklet" will go.
Orr said the city hopes to expand the project to include more outside spaces created from containers.