With more than a decade of building federal ships under its belt, Seaspan Shipyards recently marked another milestone – passing the $2 billion mark in contracts awarded to Canadian companies for the design and construction of those vessels.
Seaspan hit the milestone near the end of March, according to the company.
Contracts include those awarded for the first three fisheries ships built in the North Vancouver shipyard, and two massive navy joint support ships currently under construction, as well as an oceanographic science vessel for the Coast Guard, also currently under construction. It also includes ships currently being designed by Seaspan – including a polar icebreaker and a number of smaller multi-purpose vessels – as part of Ottawa's National Shipbuilding Strategy.
According to Seaspan, the shipyard's supply chain now includes more than 700 Canadian companies. More than 500 of those are B.C. companies, while Ontario companies represent the largest contract value – at more than $950 million.
Seaspan's suppliers on the ships so far have ranged from a pipe and pressure value supplier in Delta, on the smaller end, to Thales Canada Inc., the Canadian arm of a multinational company that specializes in aerospace and marine defence systems on the larger end. Genoa Design International Ltd., a company based in Atlantic Canada that uses technology to extract design specifications from 3D models, is another subcontractor, as is L3 MAPPS, a Montreal-based technology company.
About 50 North Vancouver suppliers are included in the list, with contracts totalling nearly $50 million, according to Seaspan.
Jastram Engineering Ltd., which supplies manoeuvring systems including rudder assembly and steering systems, is one of those local suppliers. The company was awarded a contract worth about $3.7 million in 2018.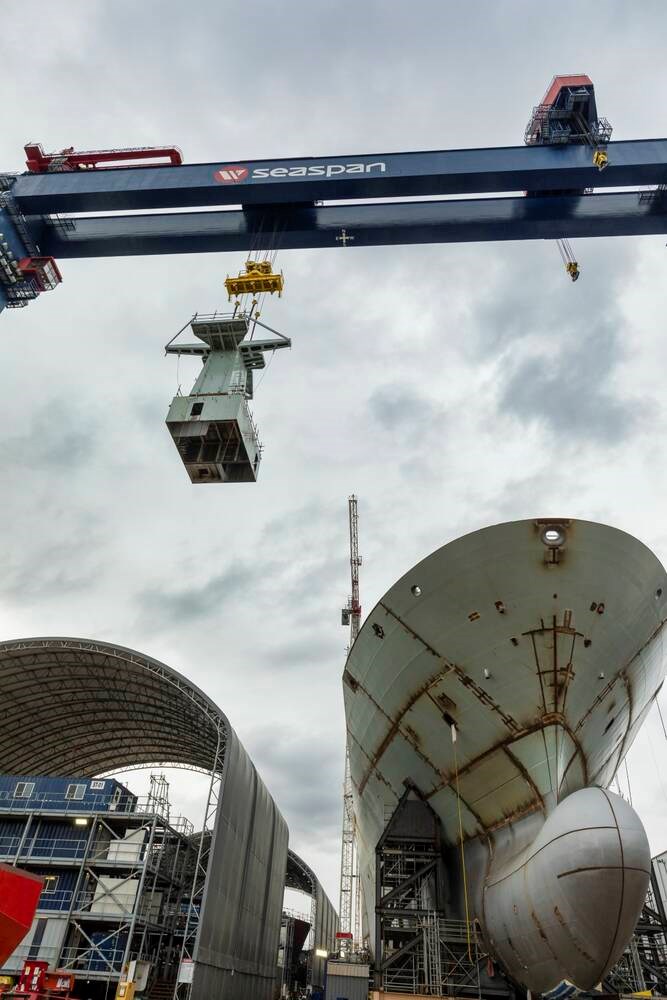 Construction of the hull for the first navy joint support ship is now nearly complete at the shipyard. On March 10, the last major block with the ship's mast was lifted on to the hull. That ship is scheduled to be finished in 2025. Construction is also underway on blocks for the second joint support ship with a keel-laying ceremony expected sometime this summer. That ship is scheduled for completion in 2027.
The shipyard is also starting the process to putting together blocks recently completed for the offshore oceanographic science vessel.
About 1,900 people currently work at Vancouver Shipyards in North Van, making it one of the largest employers on the North Shore.
Back when Seaspan was awarded the package to build non-combat ships in October 2011, the shipyard had not built a new ship in 30 years.
The federal government's commitment to build one of two polar icebreakers as well as a fleet of 16 smaller multi-purpose vessels at the shipyard is expected to keep the company busy for another decade.