Seaspan Shipyards marked 10 years Thursday since it was awarded a multi-billion-dollar federal government package to build non-combat ships on the North Shore.
Standing in front of a section of the latest ship – an offshore science vessel currently being built at the shipyard – politicians and company executives recognized the transformation of the shipbuilding industry that has followed in the decade under the national shipbuilding strategy.
"This shipyard, and this industry look very different than they did 10 years ago," said Mark Lamarre, Seaspan's chief executive officer.
At the time Seaspan was awarded the package to build non-combat ships in October 2011, "Canada at that time hadn't built a new ship in more than 30 years," said Lamarre.
"Today we are among the most modern shipyards in North America," he said. "We are celebrating a rebirth of the shipbuilding industry in B.C. as well as in Canada."
The first of two massive navy joint support ships is now about 50 per cent complete, said Lamarre.
The company expects to start construction on the second joint support ship in the first quarter of 2022.
Seaspan has also started work on an offshore science vessel, following the signing of a contract with the federal government to build the ship for $454 million. Delivery of that ship is expected in 2024.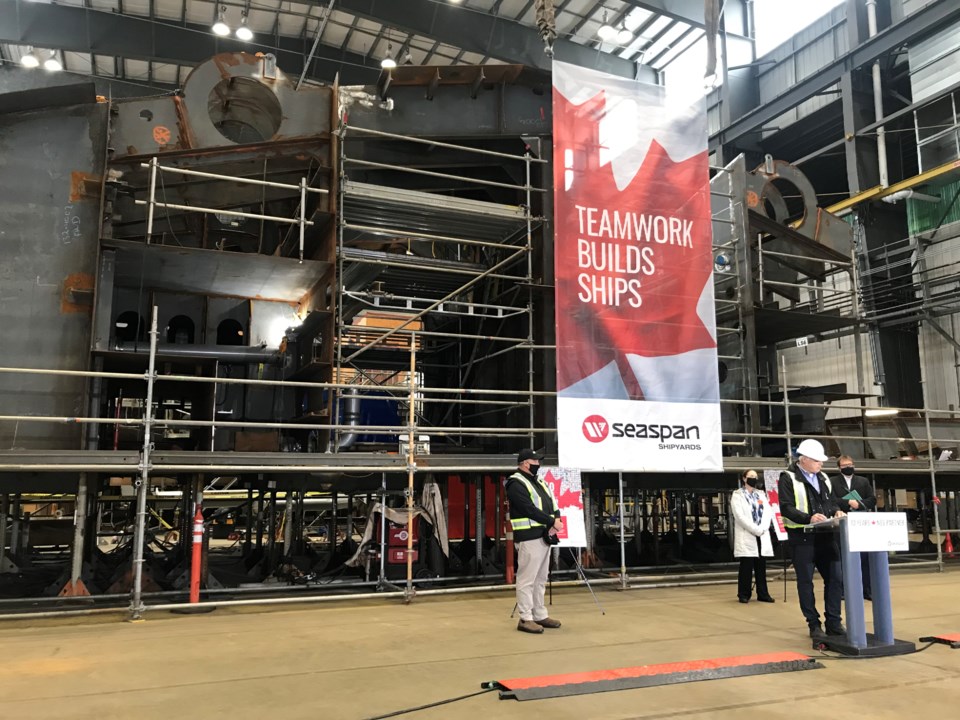 It hasn't all been smooth sailing since the national shipbuilding strategy got underway at Seaspan.
At the end of February this year, Canada's auditor general released a report that concluded many ships under the program had been significantly delayed. Budgets for the ships – in most cases estimated many years in advance of contracts being signed – also ballooned.
About 1,400 people currently work at Seaspan's North Vancouver shipyard, making it one of the largest employers on the North Shore.
About 2,700 workers are employed overall at Seaspan's three shipyards, which also include the company's Victoria shipyard and drydock facility in North Vancouver.
Over the past 18 months, COVID has had an impact on schedules, said Lamarre, as well as on the price of materials.
But work from the federal government – which also includes a commitment to build one of two polar icebreakers as well as a fleet of 16 smaller multi-purpose vessels – will keep the company busy for at least another decade, said Lamarre.
The government announced in May that Seaspan will build one of two heavy icebreakers that had been the subject of intense lobbying efforts. The other icebreaker will be built at the Quebec-based Chantier Davie shipyard.
A polar icebreaker was originally part of the non-combat package awarded to Seaspan in 2011. But two years ago, Ottawa took that off the company's order book – replacing it with a series of smaller multi-purpose vessels – and announced it was reopening bidding to include other shipyards, notably Davie Shipyard.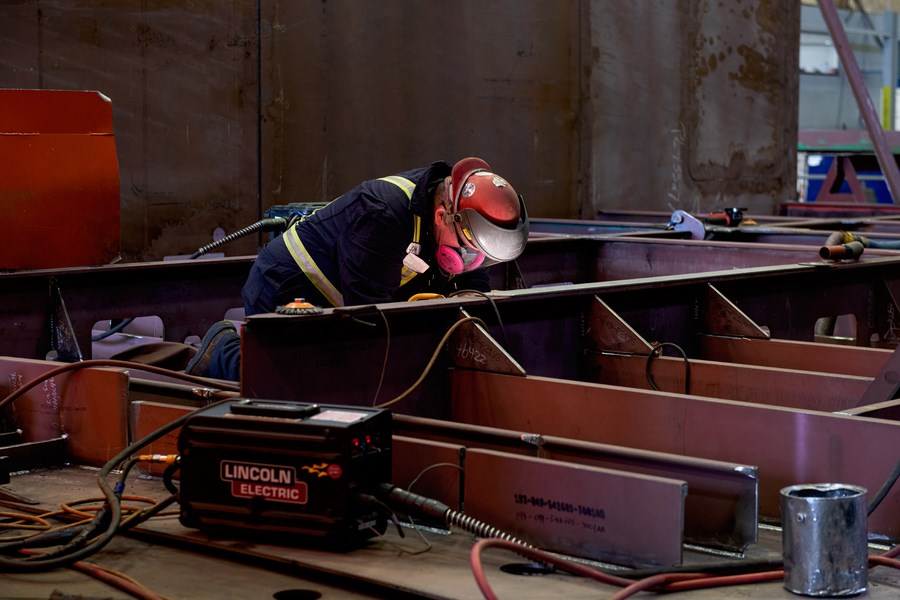 On Thursday, Lamarre thanked both Wilkinson and B.C. Premier John Horgan for helping bring an icebreaker contract back to B.C.
No budget has been announced yet for either of the icebreakers, and Seaspan is still in the process of negotiating a contract with Ottawa.
One polar icebreaker was originally budgeted at $721 million and later, in 2013, estimated at $1.3 billion.
On Thursday, North Vancouver MP Jonathan Wilkinson praised the shipbuilding program at Seaspan for generating "billions of dollars in economic activity" and contributing to regional economic growth.