A massive bow that will form the very front of the first navy joint support ship under construction at North Vancouver Seaspan Shipyards will be barged from a Delta welding company Wednesday night and pass under the Lions Gate Bridge around 6 a.m. Thursday morning.
The bow, fabricated at Ideal Welders on Annacis Island from metal cut and shipped from Seaspan, is about 60 feet long and 36 feet high and weighs over 90 metric tonnes.
The bow is one of the more complex pieces of a huge navy ship under construction at Seaspan.
The bulbous shape – which sits at the waterline – is designed to break the water profile on either side of the ship's hull to reduce drag and improve fuel efficiency, said Josh Taylor, project manager for Ideal.
Many large ships, like tankers, use a bulbous bow for the same reasons.
The bow was assembled at the Delta company as part of the mandate of the National Shipbuilding Program to spread economic benefits among smaller companies and encourage growth of the marine shipbuilding industry.
Between 30 and 40 tradespeople at Ideal worked on the bow between March and October.
"It's the first time (a similar bow) has been constructed in western Canada in 20 or 30 years," said Taylor. "We're proud to be a part of it."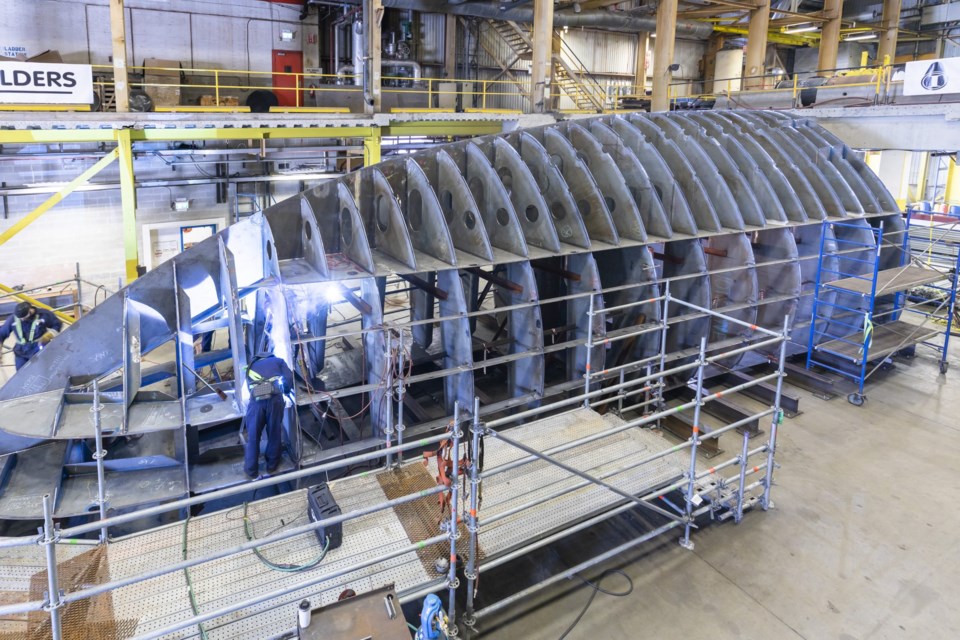 Seaspan Shipyards is currently working on a multibillion-dollar project to build two massive joint support ships for the Royal Canadian Navy.
The contract includes $2.4 billion to build the two Protecteur-class support ships – a figure that rises to $3.1 billion when manufacturing of additional spare components for both the joint support ship and other navy vessels is factored in.
The first ship is set to be delivered in 2023 and the second ship is expected to be finished in 2025.
The bow is set to be unloaded at Seaspan around 7:30 a.m. Thursday morning.