Physical distancing is a tough enough logistical puzzle inside retail stores and on restaurant patios. But try making those same calculations work in the tight confines inside a ship.
Those are some of the challenges that Seaspan – one of the North Shore's largest employers – has faced navigating the COVID-19 pandemic while finishing a third offshore fisheries vessel for the Coast Guard and continuing work on the first of two massive joint support ships.
"It's been really kind of day-to-day hand-to-hand combat over the last eight to 10 weeks," said Mark Lamarre, CEO of Seaspan Shipyards. "There really is no playbook or precedent for this.
"We've had to work really hard to keep this balance with keeping our people safe and keeping them employed."
About 1,200 people work at the North Vancouver shipyard – a number that swells to about 2,800 when the company's Vancouver Drydock in North Vancouver and Victoria Shipyards on Vancouver Island are factored in.
In contrast to Irving Shipbuilders on the East Coast – where the shipyard shut down for several weeks in March, laying off a significant portion of its workforce – Seaspan has not shut down during the pandemic.
That's taken planning, ranging from changing entries and exits at the shipyard to prevent hundreds of workers from queuing at turnstiles to complex mapping of when and where all jobs are being completed within the almost-completed fisheries ship.
Among the other changes at the shipyard, much more of the final work on the onboard ship's systems has been done on land, rather than waiting until the ship is in the water.
Seaspan has also worked with a number of specialized international equipment suppliers to find ways of checking and testing equipment that doesn't require a technician from another country to be physically present at the shipyard. In some cases, that's involved FaceTiming the technician while tests have been performed, so that person can see what a monitor is displaying.
"If we're communicating live with him, then they don't necessarily have to be standing in the space," said Lamarre.
Those changes have all allowed the company to keep more or less on track with the schedule to complete the ship, he said, with a launch expected in early July.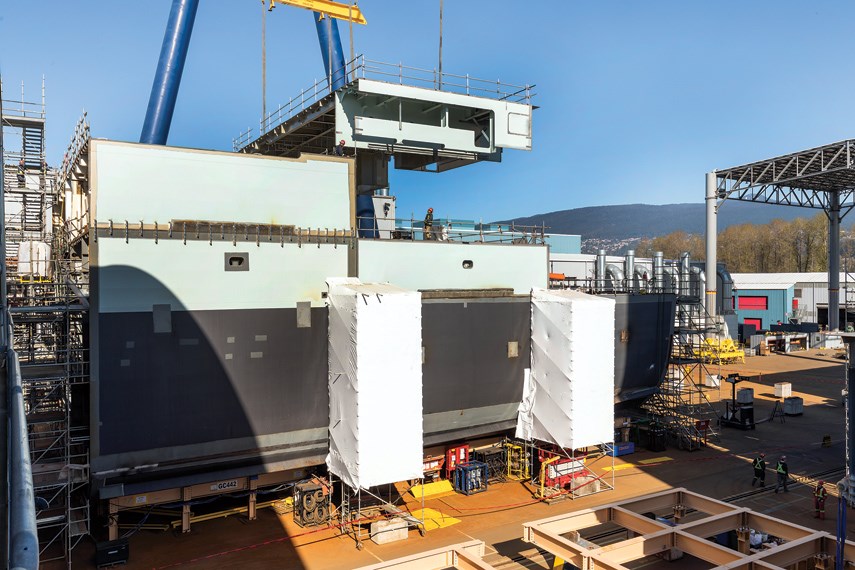 Work to assemble the massive blocks that will form pieces of the joint support ship has been easier to keep going under COVID-19 conditions as workers tend to be spaced further apart in open-air environments. Seaspan marked a milestone with a keel-laying ceremony for the ship - which will be the longest naval ship built in Canada when complete - in January of this year. The ship is scheduled for delivery in 2023.
Seaspan signed a $66.6 million contract with the federal government for construction of early blocks of the ship in 2018.
An announcement on a final construction contract with the federal government for those ships is anticipated soon, said Lamarre.
Further design and engineering work on federal ships is also continuing at the shipyard with many office staff working from home.
Early on in the pandemic, Seaspan gave tradesmen the option of continuing to work, taking banked time or voluntary layoff, said Lamarre.
Numbers in the shipyard initially dipped, but have since rebounded, he said.
Vancouver Drydock has been impacted by the pandemic – mostly because foreign ships including those from the U.S. can't enter Canada without having the crew quarantine themselves. "So we've been scrambling to get some other work in that facility," he said.
Seaspan is also continuing to pursue the future federal contract for the large polar icebreaker.
"We see that as a shovel ready project for us. That would be a big boost to the economy in Canada," said Lamarre.
He added while some of the recent changes have been forced on the company by the pandemic, many are changes that will benefit both the shipyard and future customers in the long haul.
"It's going to be good for us and good for our customers to have been able to learn through this and apply it to other ships."