Hank Brennan recycles to salvage the human spirit.
Every day he is at it, either collecting or sorting water bottles, pop cans, juice containers, beer cans, wine bottles – you name it. If it's refundable, Hank manages to find it.
Some of the containers are worth a nickel, others a dime. But slowly it all adds up. And every cent counts when you consider the end goal.
"A few bottles and cans might seem like pocket change to most of us, but collectively it can make a big difference to the less fortunate people in our communities," says Hank.
Sitting inside McDonald's at Westview plaza, Hank personifies Saint Nick. He's wearing a fleece red jacket, red ball cap with a strip of white fur trim, red pants and red shoes.
Hank, after all, has just arrived from the North Pole Bottle Depot, a.k.a. his garage.
It's like Santa's workshop, but instead of toys, it's filled to the brim with bottles and other recyclables.
On average, 25,000 items a month will be sorted here by Hank and a head elf, his brother Steve – 12 months a year.
Imagine: 300,000 items diverted from the landfill, by one person. 
The stacks of glass and aluminum translate into somewhere between $1,500 and $2,000 each month.
Hank converts his profit into gift cards for places that sell a comforting cup of coffee and a basic human necessity – food.
He keeps the cards in his back pocket, because they come in handy a lot.
Hank tirelessly works year-round to deliver some cheer to the unsuspecting, those who lost the Christmas spirit somewhere along the way, after childhood innocence fades.
He's honed his radar for detecting helplessness.
"My eyes are focused for this and I can spot them very quickly – all it takes sometimes is their body language," explains Hank.
His professional background is far from the psychology field. Hank has owned a printing company, worked as a videographer and currently manages a couple of Lonsdale-area apartment buildings.
So it must be a heightened sense of perception that helps Hank track down the troubled.
Mostly he assists homeless people, but not exclusively.
If Hank gets wind of someone who could use a helping hand, he will find that person.
For needy families, he's given them grocery store gift cards, anonymously tucked into a Christmas card and slipped under their door.
"They don't need to know who I am," says Hank.
Bright sunlight streams through the restaurant window illuminating Hank's face. Steve is at his side, singing his brother's selflessness.  
Hank's boundless energy is stifled when asked for the most heartbreaking story he's ever heard. Silence.
"The fellow down by the waterfront, remember you took him to McDonald's …," says Steve with a nudge.
Hank doesn't need a reminder. He gazes out the window.
"I've got a hard time with that one …" says Hank, his voice trailing off softly. "You know, some of the stories are pretty tough."
He's been at this altruism for close to a decade and many people have leaned on Hank.
"I wouldn't know if I could give you a count. It's up there in the many thousands," he says.
Around the North Shore, it's hard to miss Hank's customized sleigh – a 1998 Chrysler Grand Voyager wrapped with Christmas decor. 
Set against a midnight blue backdrop of twinkling stars and snowflakes, as if suspended inside a snow globe, Jolly Saint Nick is ringing a bell and towing a blue box filled to the brim with recyclables.
And while there is snow on many vehicle roofs this week, Hank's van has a permanent festive frosting up top. Inside, the bench seats are removed for bottle storage.
This time of year people wouldn't blink seeing an image of Santa emblazoned across a van. The summertime is a different story.
"It's pretty constant, no matter where I am, if I pull up to a stop sign or traffic light, there's always someone looking at the van," explains Hank. "I get the biggest charge of these little smirks in the summertime."
Hank, dressed as Santa of course, is a regular fixture in four annual parades on the North Shore, all in the summer: Lynn Valley Days, Canada Day, West Vancouver Community Day and the Caribbean Days Festival.
"And it's always a shock, especially with the kids there. And you can hear it: 'Santa, Santa.' But it's the smiles that I'm getting out of everybody, it's truly wonderful," says Hank.
Hank's charitable feat was borne out of a banal routine.
In late August 2006, Hank paused when passing the blue recycling bins during his twice daily lock-up rounds for the pair of adjacent apartment buildings he manages.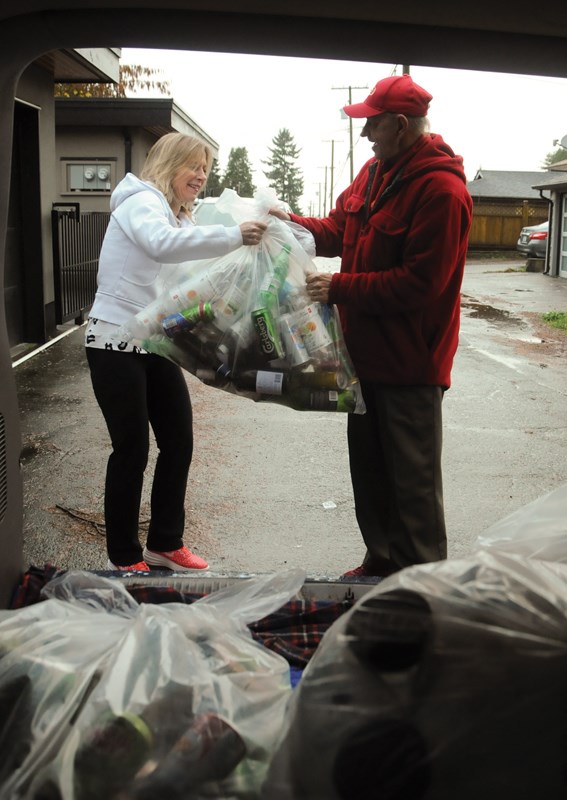 "I just kind of stood there and I'm looking and sort of just daydreamed for a bit and pondered it – and that's how I came up with the idea for recycling," recalls Hank.
At the same time, Hank was enamoured with the idea of going on a cruise.
"Just this big ocean liner that's going to take you somewhere and this big buffet thing that I saw pictures of – I was intrigued."
Hank landed on the Alaska idea because the cruise conveniently left from Vancouver.
He decided to spread the word of his bottle-collecting campaign to get him to Alaska, at first to family and friends, then it snowballed.
Strangers would drop off their recycling at his apartment building. And once a week, on Mondays, Hank would drive around North Vancouver to several homes and businesses that held back their recycling for him.
His Monday recycling route, up Lonsdale to north of the highway, along Osborne Road and over to Lynn Valley, still stands today.
Many media outlets picked up Hank's story, including this paper which ran with the headline: "Alaska or bust – one bottle at a time."
Hank said the phone calls started pouring in from people who wanted to donate their empties to the cause.
"With that, it blossomed," he says.
A few weeks shy of 24 months from when he started collecting, Hank made his Alaska cruise.
"Everything was immaculate and so perfect, I never experienced anything like that in my life," he recalls.
A highlight was a helicopter tour over four glaciers and landing on an icecap, where huskies were waiting to take Hank mushing.
Soon after Hank returned from his once-in-a-lifetime trip, his bottle collecting became a charitable pursuit.
"Well, this is a no-brainer. This is where my heart is anyways, I like helping people," he says of the genesis of Hank's Christmas Glitter.
Nine years later, Hank's cruising around the North Shore in his sleigh, looking for people who need a helping hand.
Outside the Westview Safeway, we meet Mike Sikora, who Hank has known for five years.
Sikora, a middle-age man with grey hair to his shoulders, is leaning up against his shopping cart for support. A few empties are strewn inside the cart.
"There's not even a dollar there," he says.
Bottle collecting is his sole income stream, besides his meagre disability cheque.
Years ago there was an accident. Sikora fell off a 12-metre ladder while painting for work. A few years later, he was rear-ended by a vehicle going 95 kilometres an hour.
"Years and years of injuries like that, if you've ever seen me on the street, I'm usually hanging on to my bike or my buggy just to hold me up," says Sikora.
He hunkered down in parkades in Upper Lonsdale for three years and in all seasons. Often he was asked to move along. However, Sikora says he always picked up after himself.
"Just to not give the image that every person on the streets is unclean," he says.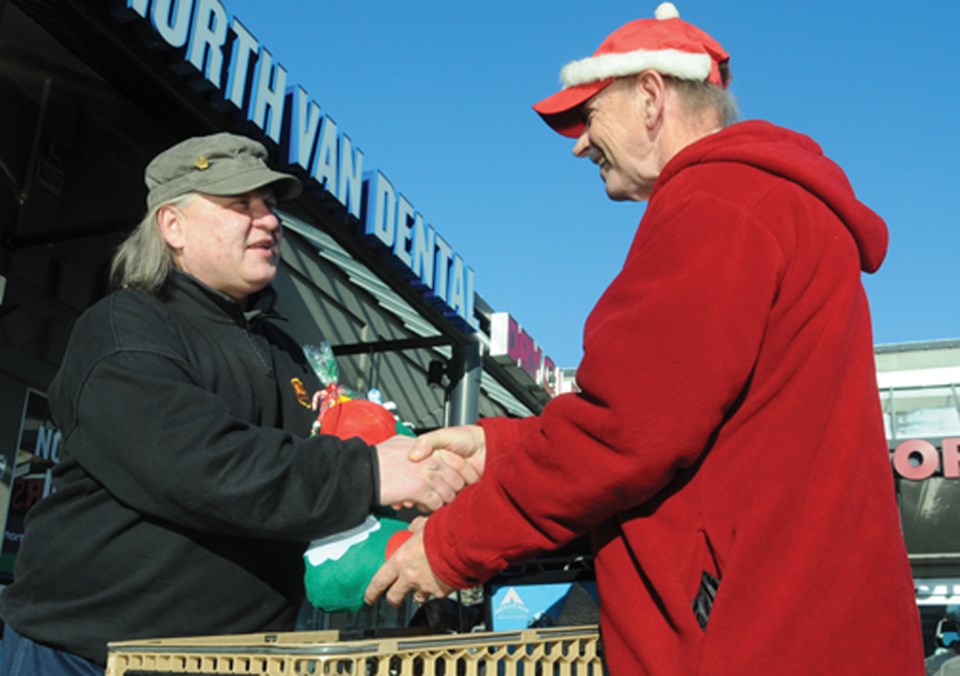 A serendipitous encounter changed the trajectory of his life. A "gentleman" who Sikora sells his recyclables to offered him warm shelter.
The Good Samaritan gave Sikora a room in an Upper Lonsdale home shared by four other people living on disability. 
"Today is exactly three years that I've been in that place," states Sikora with a smile.
Still, Sikora has a hard life, earning money for basic necessities by pushing his shopping cart up and down the hills. The sciatic nerve running from Sikora's back to his knee is inflamed, hampering his mobility.
Hank's here today to brighten Sikora's spirits.
A red and green stocking stuffed with wool socks, toiletries, Mentos, candy canes and the critical gift card for groceries is handed to Sikora by Hank. The two men exchange a warm handshake and a friendly smile.
Hank has plenty more stockings in his van to hand out. It's been a hard year for a lot of people on the North Shore.
"You know, guys like Hank really keep our community together," says Sikora.
Hank's Christmas Glitter supports Harvest Project, Lookout Emergency Aid Society and The Servants of Hope Society with food, clothing and gift card donations.
On Christmas Day, Hank rises early and makes his way to the Lookout shelter on West Second Street.
Dressed as Santa, Hank hands out gifts and takes photos with the people there.
"It's almost just like another day to these people. They don't jump for joy the same way everyone else does on Christmas morning," says Hank.
After a couple hours, Hank quietly makes his exit and drives the 10 minutes home. His wife, Mel, has cinnamon buns waiting – the couple's annual Christmas tradition.
"It's just the smell of cinnamon and the icing," says Hank, who can almost taste the gooey treat.
Mel will then cook a big turkey, "just for Hank," who has certainly earned it. And the couple will settle in for a quiet day at home.
Often Hank will reminisce of Christmases past from his childhood in Ontario. Born in Cornwall, and one of seven siblings, Hank and his family would huddle together in their tiny living room on Christmas Eve.
"That's always the scene that I see in my mind, even today," says Hank.
"And the radio would be on and every once in a while the announcer would give us Santa's location. You know, that he was coming over Scarborough, Ontario, and that he should be arriving in North York at this time – so it was that anticipation."
Christmas carols would play in the cosy homestead.
"When Santa got a little too close, it was time to go to bed," recalls Hank.
"I remember Christmas Eve nights trying to stay awake, and of course it's impossible to catch him. The next morning we would all wake up to a Christmas wonderland. The tree is all decorated and all the gifts – wherever they came from, we never figured that out – were all under the tree."
It seems Hank has become a secret Santa himself. He's now 64 and semi-retired with plenty of time on his hands for philanthropy.
Hank has 150 regular recycling contributors who are taken by his story, 450 total contributors in two years.
Suddenly, a cash register cha-ching sound plays from his phone, a special ring tone set for all his contributors. When he hears it, a pickup is ready.
Hank waves goodbye to Sikora.
"God bless you, Hank," he responds.
Asked how Hank's gift has brightened his day, Sikora stumbles for words.
"It really. …" His light blue eyes brim with tears in the bright sunlight. "Sorry." He takes a moment.
Words can't describe," says Sikora.
"It goes back to that respect thing again, making you feel like a human being."
For more information about Hank's bottle collecting for charity visit hankschristmasglitter.com.