Heritage advocates are mounting an urgent campaign to save a masterpiece of West Coast Modern architecture from demolition.
The owner of a Ron Thom-designed home at 1143 Eyremont Dr. has applied to demolish the 1962 house, with plans to build a mansion in its place. In November, council voted unanimously to halt the demolition for 60 days to give staff time to negotiate and find alternatives with the property owner.
Kathleen Staples, founder and executive director of the non-profit Binning Heritage Society, has since paid to have two fresh appraisals done and is now marshalling some well-heeled West Coast Modern lovers to put their money where their mouths are.
"We have people who are interested and who have signed cheques, and are ready to buy the property. If there's anything we can do to help, we are interested to stop the demolition of the house," she told District of West Vancouver council Monday night.
The property was last assessed at $4.853 million. All but $618,000 was for the land.
The house exemplifies many of the traits unique to West Coast Modernism: floor-to-ceiling window walls made to emphasize the indoor-outdoor connection, low-pitched gable roofs that blend into the slope of the land, large overhangs and mitred glass.
"This house is considered Ron Thom's most important [residential] work. It won a Massey Medal for architectural excellence in Canada so it's not only an important house to West Vancouver municipality and to the province, but to the country and even to the greater world because West Coast Modernism is its own unique culture," Staples said.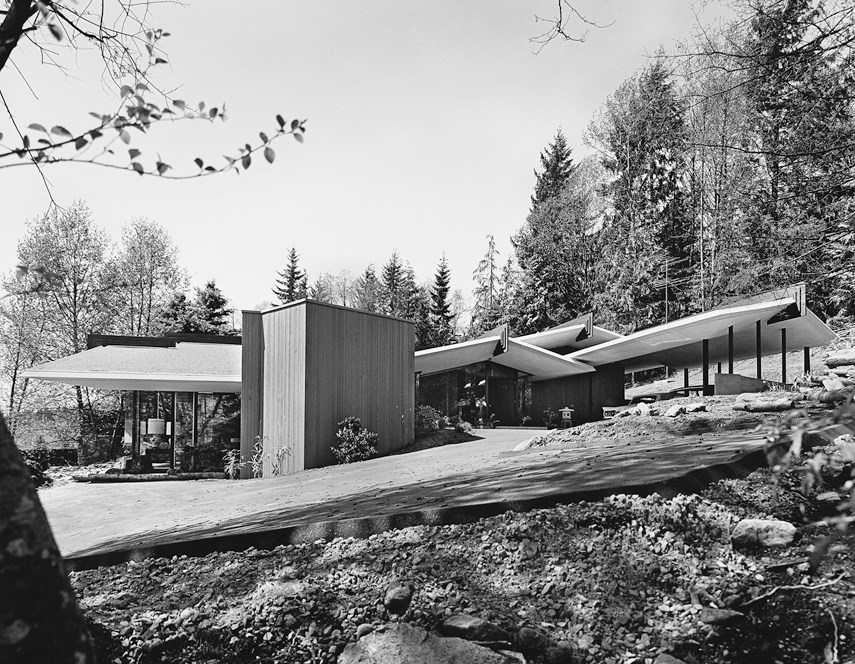 An online petition launched before Monday's meeting has since netted more than 1,500 signatures. One of them is from Thom's daughter Emma.
"My father designed this house. It is a perfect example of a building blending with its site, a concept that was at the centre of his architectural vision. It should be preserved and not torn down to make way for yet another tasteless McMansion," she wrote.
The home is currently being rented to an architect who chose it specifically for its pedigree.
Staples' dream is to purchase and save eight to 12 architecturally significant homes on the North Shore, give them permanent protection, and make them part of an "aspatial museum" in which non-profits or governments own the land, and the homes are used by private families, artist-in-residence programs or short-term rentals but still made available for scholarly research.
"We're trying to create a kind of a community desire to preserve these houses so that people can always enjoy them and have people that live in them who love them and look after them and are glad to have people come and visit," she said. "That could turn our own community into such an interesting global player as far as design and architecture, and the history of Modernism in the world."
But for now, there is the matter of a looming bulldozer and a Jan. 16, 2020 deadline.
"Staff are in discussions with the owner's agent about options for the site, and those discussions will continue," said Donna Powers, district spokeswoman in a statement.
Under changes made to the zoning bylaw in 2016, the largest size home the owner could put on the site is 11,765 square feet – even if he consolidates it with the adjacent lot to the east, which he also owns.
In an interview, Mayor Mary-Ann Booth said she would support any creative solution that saves the structure, but added that the municipality has limited power to force anything on the owner.
"I'm a big fan of this style. I think it would be a huge shame, and I am going to do everything in my power to try to save it," she said. "There's just a question of a willingness of an owner to explore those creative options around added density or a land swap or putting density somewhere else."
Booth said the law is clear that properties can only be expropriated for municipal use and, she added, West Vancouver already struggles with having too many depreciating assets and not enough money to maintain them.
"Buying new assets, without a clear way to use them and maintain them, is something we have to be very judicious about," she said.
In the meantime, Staples shudders to think about what happens if the home is lost.
"It means we are destroying our own history, and what are we without being our own history?" she asked. "A crime against culture is exactly what we think of it as, and what we're hoping to avoid. We would like to preserve this culture."