The rate of active COVID-19 cases in British Columbia is now double that of Ontario, according to the latest epidemiological data from the Public Health Agency of Canada.
British Columbia is currently reporting 181 active cases of COVID-19 per 100,000 people, a figure that — as of Nov. 27 — shatters Ontario's 91 cases per 100,000 residents.
In fact, B.C. has overtaken the number of cases in Quebec as well, a province now reporting 135 cases per 100,000 residents. Only Manitoba, Nunavut, Alberta and Saskatchewan have a higher prevalence of COVID-19 than B.C.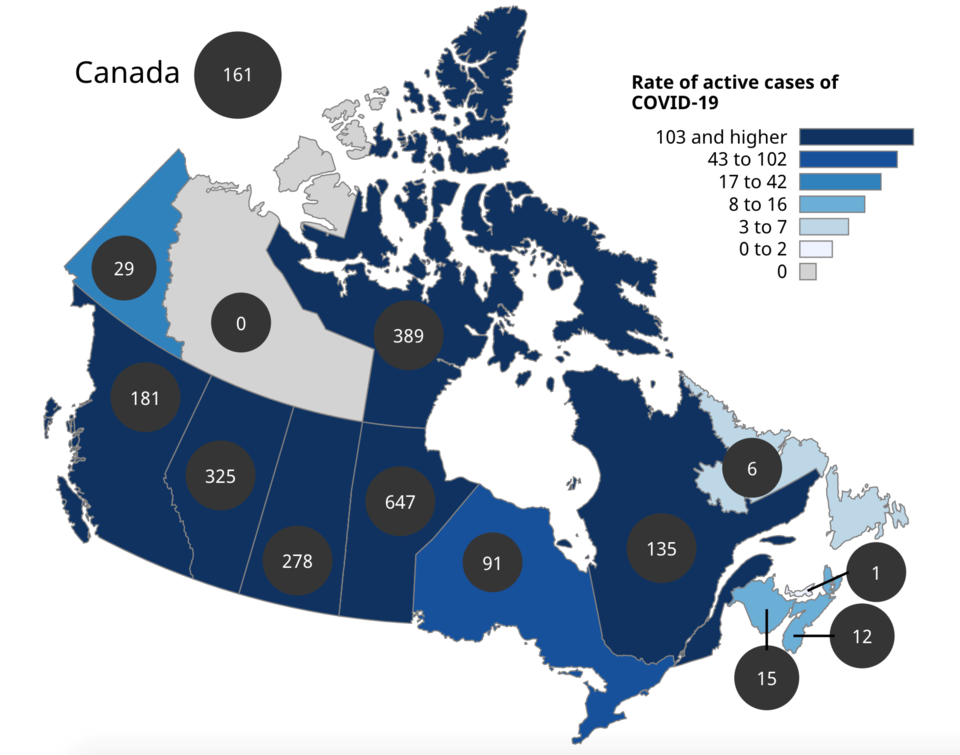 The reported cases come amid a staggering gap in the number of daily tests conducted across Canada's jurisdictions.
On Friday, for example, B.C. reported a record 911 new cases over a period of 24 hours from a pool of 7,263 tests. By comparison, in Ontario, health officials reported 1,855 cases Friday from a total of 56,140 tests — nearly eight times as many tests in a province that contains roughly three times the population of B.C.
B.C. is currently under heightened public health and safety restrictions, which have banned in-person group religious services, shuttered movie theatres and limit social gatherings to members of an individuals immediate household. Those who live alone have been ordered to limit social contacts to a one- to two-person "pandemic bubble" equivalent to peak restrictions last spring.
In addition, masks are now mandatory in virtually all indoor public spaces, enforcement has been stepped up and businesses face increased scrutiny, with party buses, limousine services as well as yoga studios and other indoor group exercise studios ordered to shutter their doors until at least Dec. 7, when the orders expire.
On Friday, Chief Medical Health Officer Dr. Theresa Tam said the most recent infection rates are keeping the country on track to hit as many as 10,000 new cases a day by mid-December.
Tam added Canada is currently recording caseloads at about half that level, with the most recent seven-day average standing at 5,335 between Nov. 20 and Nov. 26.
The country is also averaging 76 deaths a day and more than 2,100 people in hospital, according to the top doctor.
"If we continue on the current pace, our longer range models continue to forecast significant increases in daily case counts and estimate that there could be up to 10,000 cases reported daily by mid-December," Tam said in a statement. 
"Right now, we have a window of opportunity to act collectively together with public health authorities to bring the infection rate down to a safer trajectory."
Tam redoubled her calls for Canadians to heed public health advice, limit their social interactions and practice physical distancing in a bid to bring surging case counts under control.
— With files from the Canadian Press