Students at two North Vancouver elementary schools are celebrating Pride Month in a very colourful way: with the installation of new rainbow walks.
Both Ridgeway and Cleveland elementary schools brought the school year to a vibrant close with the painting of rainbow walks in prominent locations.
Locally, Seycove Secondary students were the first to get a rainbow crosswalk added to the floor of their school in 2018.
Since then, the City and District of North Vancouver and the Squamish Nation have all added rainbow crosswalks.
But Cleveland and Ridgeway are the first elementary schools in North Vancouver to have the multi-hued walks painted.
At Ridgeway, the rainbow walk is right at the entrance to the school, leading toward the front doors.
It carries the same message as other community rainbow crosswalks, said Anne Watt, a teacher at the school: one of diversity and inclusion, particularly for students in the LBGTQ community.
The idea for a rainbow walk at the school was first raised by teachers, but quickly taken up by students in grades 6 and 7, said Watt. Students made rainbow pins that they sold to other kids and parents to raise money towards the project.
Cleveland, where the other walk was painted this month, was one of the first public elementary schools in North Vancouver to form a Gender and Sexual Alliance Club in 2017. Grade 7 students fundraised there for the walk over the past two years.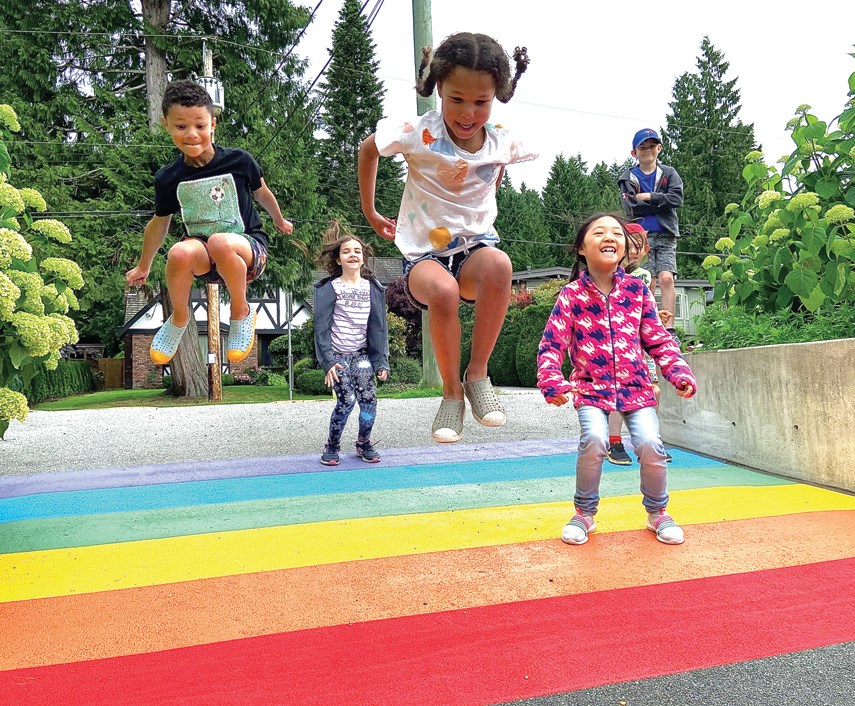 Watt said as part of the sexual orientation and gender identity inclusion embraced at Ridgeway, kids might read books including characters who are gender diverse, for instance.
Often, "Kids come into kindergarten with very firm notions of what a boy can do and what a girl can do," said Watt.
By offering examples that offer a broader perspective, "when they do come across people who are bending gender norms they accept it," said Watt.
Even elementary school aged children are "very aware of terms like gender fluid," she said. "It's incredible how much they already know and how accepting they are."