Before the coronavirus pandemic, Jane would do odd jobs for people in her West Vancouver neighbourhood in exchange for groceries.
When she was unable to get out to do those jobs during the pandemic's initial stay-at-home phase, she lost her main source of food.
Jane is one of the hundreds of seniors whose life has been turned around — for the better — by the West Vancouver Seniors Activity Centre's meal program.
Another is Bill, who had been living on tea and toast since his wife died a year and a half ago. Almost 90, he had no idea how to heat up a frozen meal, let alone cook for himself. On his behalf, the centre approached London Drugs, which donated a microwave. Someone from the centre went to Bill's apartment — following strict health and safety protocols — to teach him how to use it so he could enjoy one of the 750 nutritious meals the centre's cafeteria staff now cooks every week.
Jill Lawlor, the manager of the District of West Vancouver's seniors' services and community wellness department, has always known that people such as Jane and Bill [not their real names] exist. She was aware that many seniors struggle to make ends meet in one of Canada's most affluent communities.
Until the pandemic pulled back the curtain, however, she just didn't know how many impoverished seniors there were — or how reticent they had been to ask for help.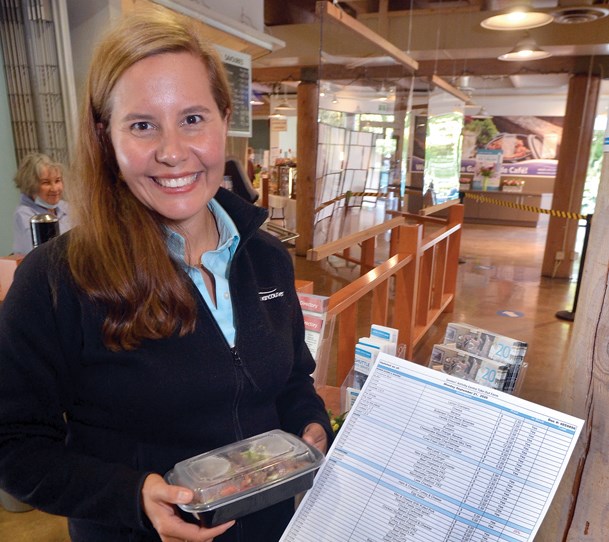 When the centre had to close in mid-March, staff wanted to check in on each and every senior on its contact list. That meant 6,761 phone calls to ask "Are you OK? Do you have what you need? Are you at risk? Do you need food?"
"It shattered some perceptions I had of our community," Lawlor says. "By asking those questions for the first time, we found out just how in need our community was. The pandemic made things worse, but people have been hungry for a long time."
Today, the seniors centre has transformed the way it provides a sense of community and support. Since seniors couldn't come to the centre, it found ways to bring the centre to them. In doing so, it has extended its reach far beyond expectation. The results have been gratifying but sustaining this level of service is also a very daunting task.
Lawlor spent last Friday writing a report to the West Vancouver Foundation outlining how the centre's meal program resources will be financially strained by the first of November if it is to continue to offer such a high level of outreach.
"The thought of not being able to provide these meals for the last couple of months of the year causes me great worry and great stress," she told the North Shore News. "I'd like to make sure that these people are still able to receive a meal."
Previously, the centre offered low-cost meals at its Garden Side Café on 21st Street. When the centre closed on March 13, the café virtually reinvented itself overnight as a takeout service. Then, the "Are you OK?" phone calls revealed that many seniors were either too anxious or unable to come to the centre to pick up their food order. A delivery system was established.
Through partnerships with Vancouver Coastal Health, B.C. Housing and the West Vancouver Police Department, the centre was next able to identify vulnerable at-risk seniors. That's how the centre found out about Jane and reached out to her five days after the lockdown began.
B.C. Housing told the centre about five low-income apartment buildings with high seniors populations. Centre staff printed up pamphlets and slipped them under every door in all five buildings. The pamphlets outlined the centre's new meal program: for $6, a senior could get a home-cooked entrée delivered to their door. If the $6 was unaffordable, the resident could get it for free.
About 60 per cent of the residents in each building signed up for the thrice-weekly deliveries.
"We had one woman," Lawlor says, "who was brought tears. She called to say 'I've been eating Kraft Dinner and beans for so many years, I don't even remember for how long.' A few weeks ago she called us back to say 'I feel energetic; I feel fantastic; I feel like I can do things.' Her nutrition had been so poor that wasn't even aware of it anymore. She hadn't ask for help because she thought she had been taking care of things on her own."
B.C. Housing told Lawlor about another woman who, upon receiving the meals, said, "I feel like a person. I feel like someone actually cares about me."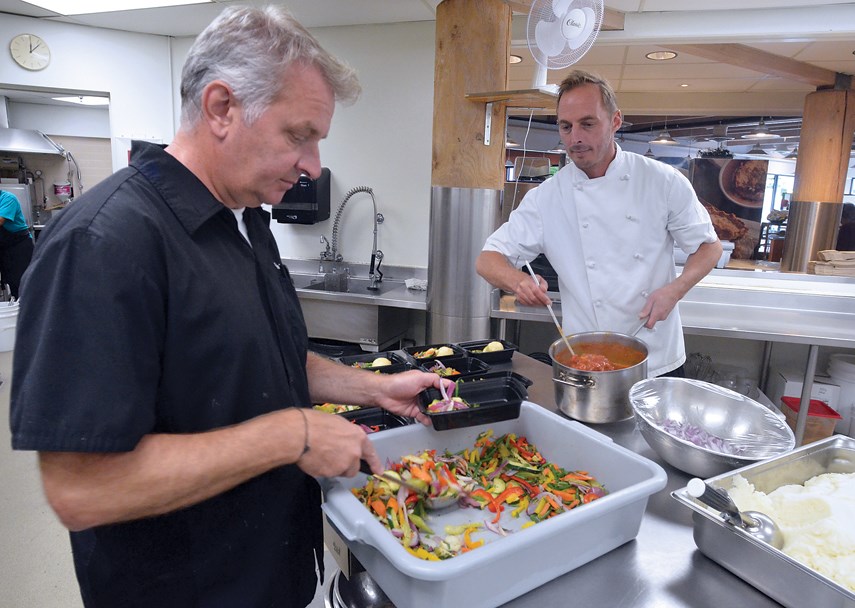 Soon, demand for food outpaced the cafeteria's capacity. A night shift was added, including a baker. By May 25, the centre was cooking 750 meals a week — everything from entrées such as baked salmon with caper sauce, braised pork and paella, to soups, desserts and snacks.
The district also committed itself to keeping the doors to the food pick-up service open. Protocols were put into place including sanitization, mask-wearing and limiting access to one person at a time. It's the only place on the North Shore that provides the service 10 a.m. to 2 p.m., seven days a week.
"Anyone can come for a meal, regardless of what age they are," Lawlor says. "They can purchase the meal and if they can't afford it, then the seniors activity centre advisory board will pay for that meal for them, regardless of their age."
People can also pick up milk, eggs or a roll of toilet paper to reduce the number of trips they have to make to the grocery store.
Lawlor is deeply grateful for the financial support of the centre's advisory board as well as the West Vancouver Foundation which "has been prominent in ensuring that we've had the funds to offer these meals." Funding support has also been provided by the Kiwanis and the firefighters charitable society.
As the pandemic and its economic repercussions march inexorably towards fall, the strain on the centre's finances is starting to be felt. Lawlor is committed to finding ways to continue to ensure the district's seniors get the help they deserve.
"We have a responsibility as a community to make sure that our elders who have done so much for us are able to enjoy a quality of life," she says.
***
People can make a financial donation to the seniors centre's meal program through the West Vancouver Foundation either online here or by phoning 604-925-8153.
The centre welcomes more volunteers to help pack up and deliver the meals. The need for people who can deliver up to 200 meals a day is particularly acute. If you can help, please call 604-925-7280 or sign up here.
The district's seniors helpline is 604-925-7280, which you can also call to sign up for the meal delivery program.
To find out how other organizations on the North Shore are stepping up to help seniors during the pandemic, read Margaret Coates' column here.

Martha Perkins is the North Shore News' Indigenous and civic affairs reporter. This reporting beat is made possible by the Local Journalism Initiative.