They're almost ready to plan the welcome home party.
The effort to save the Seymour River as a fish-bearing body of water is entering its fourth and, hopefully, final season.
In Dec. 2014, a naturally occurring rock slide dumped 50,000 cubic metres of rock into the river, making it impassible for spawning coho salmon and steelhead trout.
In the aftermath of the slide, the Seymour Salmonid Society rounded up the support of six governments – local, provincial, and federal – and Squamish and Tsleil-Waututh Nations, as well as a host of NGOs to organize a rescue effort. They gathered at the site of the slide on Wednesday to make one last push.
"We're halfway there and with this next season of rock breaking, we hope that this time next year we will have a celebration on the banks of the Seymour welcoming mature fish back again," said Shaun Hollingsworth, Salmonid Society president.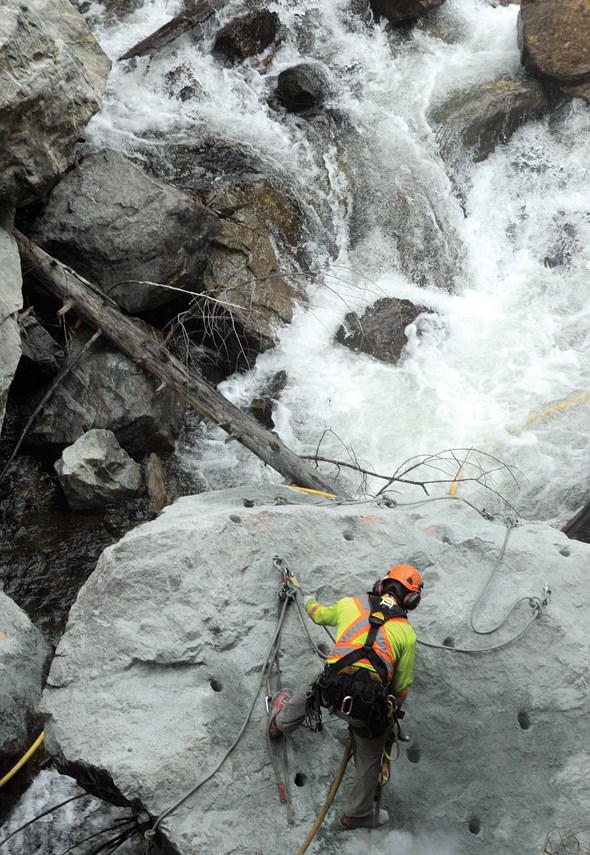 For four years, they've hired specialized contractors to drill holes into the boulders – some of which are size of city buses – and use low velocity explosives to slowly break the rocks into pieces about the size of a microwave, while "keeping this area as pristine as we possibly could."
"We ask mother nature to move those smaller rocks downstream," he added.
To keep the stocks alive in the meantime, the society has had to organize volunteers to physically trap returning fish and truck them above the slide site.
"My hat goes off to the community for that support," Hollingsworth said.
For the last two seasons, 85 to 95 per cent of the Seymour River Hatchery fry that had been radio tagged and released above the slide site have made it to the mouth of the river, Hollingsworth said.
"Prior to that, because of the size of the rocks, there were 19-foot deep chimneys and the fish were having to plunge that 19 feet and they were hitting rocks. They weren't making it," he said.
Similar tests have shown steelhead and coho haven't been able to make it back up to spawn, thanks likely to one last steep ledge near the top of the debris.
"We're very confident. It's about two to three metres. When we remove that step, that should lower the grade and (our contractor) is saying once they've got that grade, fish should be able to make that trek through the rock slide," he said.