It was in the harbour of Molyvos, where refugees are taken when they're rescued by the Greek coast guard, that Laurie Cooper noticed the young Afghani woman, standing with her two young daughters. The family were among the lucky ones. The coast guard got to them before the boat they were on sunk into the Aegean.
"She was very pretty but her skin was just grey," said Cooper. "I looked closer and I realized she was pregnant."
Rather than make them walk across town to the bus that would take them on to the camp, Cooper offered the family a ride in her rental car, one that she'd been using to help shuttle refugees during her two weeks on the Greek island of Lesvos.
The woman sunk into the car, exhausted. Nearby there was a roadside fruit vendor, selling apples and oranges. "You're not supposed to stop, but I just wanted to give them something," said Cooper. "She just looked so frail."
When they got to the bus stop, Cooper remembered that she still had one warm blanket left in her car trunk from the stack she'd been handed to take by her physiotherapist in North Vancouver. "I ran over to the woman and I wrapped her in the blanket and hugged her," she said. "It felt like hugging a bird.
"I don't know what happened to her. Her face just haunts me."
Each of the four North Vancouver women who recently returned from two weeks of volunteering on Lesvos – Cooper, her friends Ellen Fulton and Erian Baxter, and Baxter's 19-year-old daughter Hannah Dubois – have those moments that stay with them: the refugees who were injured or those who showed them pictures of their homes, now in rubble.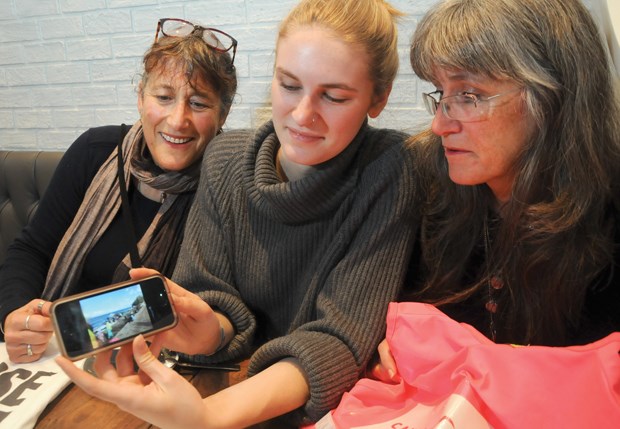 There's also the host of practical details they learned can make a difference – touching someone's ankle to see if they're still wet, why sweatpants are the best clothing donation because they can fit so many different people. How to make a lot of sandwiches – really, really fast.
"I was told I was the fastest sandwich maker they'd ever seen," said Cooper.
Not many people who hear about a humanitarian crisis halfway around the world get on a plane to go and help.
"There's a lot of situations where you're better off to send money. They don't really need you," said Fulton. But after doing some research on the Lesvos refugee crisis and making contact with The Starfish Foundation, a small local aid agency on the island, they decided to make the journey.
In mid-November, they arrived on Lesvos, the Greek island that has rapidly become Ground Zero of the Syrian refugee crisis. It's here that many refugees land, when they make the 10-kilometre ocean crossing from Turkey with the hopes of entering Europe.
"Turkey is closer than Vancouver Island," said Cooper. "Some days you can see the boats coming."
Since January, almost 467,000 refugees have landed on Lesvos. During November and December, an average of 2,000 people have arrived on the island every day.
Restaurants, hotels and churches lining the harbour in Molyvos put out sleeping bags for the refugees they know will likely arrive in the night with nowhere to go.
On the beach facing Turkey in the distance, spotters with night vision goggles keep watch over a six-kilometre stretch of coastline where the refugees land. The wrecks of wooden boats litter the shore.
"They often fit up to 300 people. It's absolutely terrifying," said Fulton.  With that many people, if the boat starts sinking, "The coast guard can't fit everyone on to their boat. They have to leave people in the water and go back for them."
There have been numerous fatalities – both before and after the photo of three-year-old Alan Kurdi shocked the world. A lot of them have been children.
The orange of discarded lifejackets is everywhere. In the centre of the island, there's a massive orange pile "of thousands and thousands and thousands of lifejackets," said Baxter. "They don't know what to do with them."
Volunteers on the beach – including lifeguards who've come from countries like Spain, Portugal and Denmark – help refugees get out of the boats. Others offer them dry clothes.
The parking lot of a former nightclub nearby – now covered in large tents – has become a makeshift first stop for refugees where basic medical care, food and water are dispensed, along with clothes for the rest of the journey.
Volunteers tried to give those arriving as much dignity as possible – even if that was just holding up two pairs of pants and letting them choose one. Said Cooper, "These are people who have lost control of their lives."
One woman Baxter encountered while volunteering at the transit camp was travelling alone with seven children. Another said her husband had been shot.
There was the woman whose arm had been blown off, who hadn't had proper medical care.
One day, Dubois escorted a group of young men who had been travelling for 22 days from the beach to the camp. Many hadn't eaten for several days as they hid from Turkish police in the forest, waiting for their chance to cross, she said. They were the same age that she was.
The journey across the Aegean might take an hour if a boat is functional. But often it isn't, said Fulton.
The boats are often boarded at gunpoint. One man had a gun pointed to his head while he was told he was the captain.
Fulton remembers a young family with two-year-old twins, one of whom had cerebral palsy, who were brought into the harbour by the coast guard. The smuggler who took them out put on a wet suit not far from the Turkish shore and jumped off the boat. Then the engine cut out in the dark. "They thought they were going to die," she said. "You imagine if it was you and your kids."
There are three official refugee processing camps on the island – one for Syrians, one for those from other countries like Afghanistan and Iraq and one for the disabled, unaccompanied children or those with other special needs.
The camps are run by the United Nations High Commission on Refugees, but sometimes those who arrive have to wait up to three days to get inside. On "Afghan Hill," a grove of olive trees outside the Moria camp, "It's wet," said Dubois. "People are sleeping on the ground."
Official funding doesn't extend to those waiting outside the razor wire that runs the perimeter of the camp.
"There's not really funding supporting any of that process," said Baxter.
The women spent their two weeks sorting and handing out clothes, including local donations of socks and emergency blankets they'd brought with them, making food, shuttling groups who needed extra help to get to the refugee camps.
One sunny day Cooper found herself driving a group of refugee women with small children in her rental car. "I had my window down and it was warm and I had the radio on. We could have been going for a drive anywhere," she said.
But the contrast between her life and theirs was one of the hardest parts of the trip to absorb.
Not long before she returned to Canada, Dubois was having trouble one day finding a pair of shoes that would fit the refugee woman she was helping. Suddenly she put her own foot next to the woman's foot and found they were the same size. Dubois says it was an easy decision to take off her own sneakers and hand them to the woman. "I had two pairs of shoes," she said. The other woman had none.
Fulton said on the journey home, she was struck watching a preschooler carrying a kids' backpack full of toys, and comparing that to the Syrian family with twin girls she'd met. "They had a backpack that size for everything they own."
The women pause when they consider if their journey made a difference to the larger refugee crisis.
"Did us going or not going make a huge difference? No," said Fulton. "I do think we helped some families feel happy and secure."
They hope to keep making a larger difference by talking about what they saw, and raising money to help refugees, like the fundraiser at The Raven pub Dec. 5 which brought in close to $4,000.
The women are also joining forces with a group in Deep Cove who are hoping to sponsor a family of refugees.
"These people are not terrorists," said Cooper. "They are running from terrorists. They are just like us. They are mothers, fathers, sisters, brothers. They are looking for a place to be safe and to raise their families. And they're humans."
They are people whose lives she crossed briefly and whose stories stay with her, "every day, all the time."
To find out more about how to help or get involved, go to canadacaring.ca or email erianbaxter@gmail.com.