It was close to coffee break time on a construction job when Kas Baker's phone buzzed and an unfamiliar voice made an extraordinary request.
Would he step in front of a movie camera and talk about being a transgender man?
The guys at work didn't know he was transgender. Baker figured it was better that way. His friends, the ones who did know, called him a science experiment.
"And that was coming from my friends," he says.
When he was at Argyle Secondary, Baker identified as a lesbian. It didn't quite fit but it was what he had.
"I was completely isolated in a straight, cisgender white community and I felt angry and alone and knew something was wrong for so long," he reflects.
There were booze and pills and bad thoughts. Some days he'd turn the music loud enough that no one could hear him hit his head against the wall. It wasn't that he wanted to feel pain; it was that he didn't want to feel.
But amid those self-destructive impulses there was something else in Baker, a resilient, hopeful glimmer made of the best stuff inside him. That part wanted to live.
Born and raised in Deep Cove, Baker was a naïve teenager who didn't know Harvey Milk from two per cent.
"I didn't even know what LGBTQ was," he admits.
It was something of a revelation when he stumbled on a word that was brand new to his ears: transgender.
For Baker, the concept was like a crack of light in a midnight cave. Not only was there a distinction between gender and sex, there was a world beyond binary.
"The answer to everything that had been wrong in my life," Baker remembers thinking.
That was his story. No, he didn't used to talk about it. But during that coffee break and during the lunch break he took immediately after to continue the conversation, he told the caller – his soon-to-be-friend Gina Hole Lazarowich – he would be in her movie.
"This is exactly what I want to give to high school me," he explains. "I owed it to myself."
Funny and honest, Baker was a perfect documentary subject. And on his neck, he sports a tattoo of a black crow perched before a bloodshot sun.
He has "an affinity for crows," he notes.
Which was an interesting coincidence, because Lazarowich was about to make her first documentary about a man named Krow.
Is there a documentarian in the house?
 After 15 years producing fashion shoots, Lazarowich became a documentary filmmaker for a simple reason: she saw something that ought to be done that no one was doing.
After six years working as a female model, Krow was doing one last photo shoot before his transition.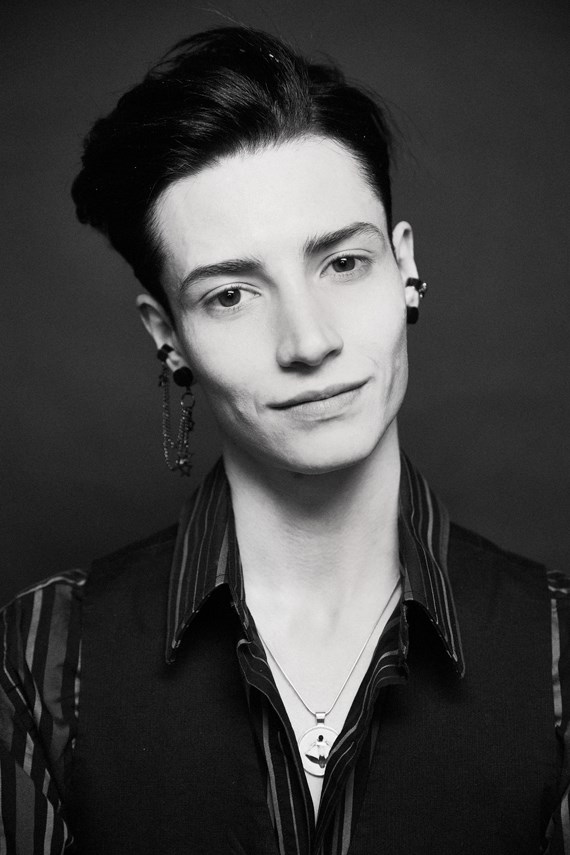 "This is such a cool story," Lazarowich remembers thinking. "Somebody should document this."
What she didn't realize is that that somebody would be her, and the process of documenting the Maple Ridge-born model would turn into a "three-year ordeal," she laughs.
The glamour of modelling is always a façade. But for Krow, a victim of bullying, modelling was also a "F… you."
Derided for his masculine style of dress and ostracized by rumours, Krow's practised femininity and catwalk daintiness were a way of striking a blow at those schoolyard tormentors.
"Just to kind of get back at them," he says in the documentary.
Sporting long hair and striking demure poses, Krow embraced being a female model the way a New Orleans tourist might embrace the spirit of a masquerade ball.
But at a certain point the part you play stops being a role and turns into a lie.
And at 18 years old, more than anything, Krow needed to tell the truth.
He, Man
 In part, Krow's TRANSformation is meant to be a "how-to" guide for transitioning, Lazarowich explains.
We follow Krow as he prepares – invariably with great cheerfulness – for acne, hair loss, fat redistribution and a testosterone shot every week for the rest of his life.
But while Krow displayed a Rooster Cogburn-like grit, his mother at first was only befuddled.
"It didn't make sense to me because this is someone that has made a career out of modelling, being feminine and being beautiful," she says in the documentary. "It's the dream that all girls have."
At one point, Krow's mother announces she won't hear a word about transitioning for six months.
The silence between mother and child leads to some of Krow's bleakest moments in the film.
 "If I had to pretend that I was a female for the rest of my life, I probably wouldn't make it through the year," Krow says tearfully.
Through the documentary, Baker meets up with Krow to talk surgery and sexuality and offer support.
"I technically went from gay to straight," Baker tells Krow.
"For me, it's the opposite," Krow replies, adding that if you're trans and "you like people," you're gay at some point.
Discussing his role in the film, Baker explains that he mainly just wanted Krow to know what was waiting for him.
"At the end of that road, or even throughout that  journey, there's so much happiness," Baker says.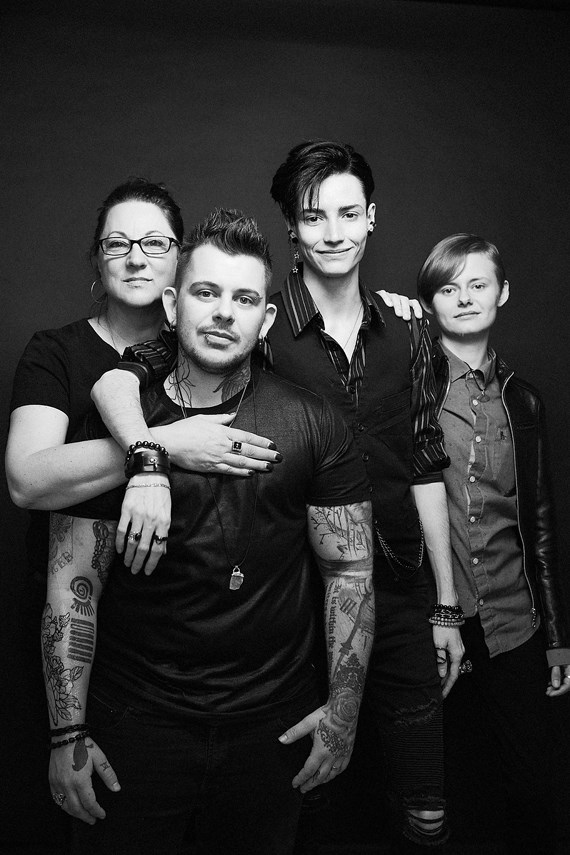 And as we watch Krow earning a spot with North Vancouver's Lizbell Agency and learning to walk like a man for Paris Fashion Week, we also get to see Baker's life as an artist, husband and artistic husband.
Baker and wife Emily Seal are Winter Youth, a lyrical rock duo that specializes in "vulnerable, sad songs," Seal says.
"It's really helpful being married to your band partner," she adds.
Lazarowich includes the couple's wedding in the film. And when the movie was almost finished, Lazarowich knew she needed one more song, maybe something happy.
"We don't write happy," Baker told her.
The filmmaker responded with an ultimatum.
"Do you want me to put somebody else's music overtop of your wedding or are you going to write me a song?"
They wrote one, a pretty ballad called "Dance Slow."
It was just what Lazarowich wanted.
"I needed it to go to kids so I wanted to keep it cool," Lazarowich says, gesturing to Baker and Seal. "They were my cool factor."
Out
 Today, Baker is a reformed secret-keeper who takes a pleasure in life you'd expect from a prison escapee drawing his first breaths on the other side of the tunnel.
Too often, there is a suggestion that being transgender is a fad, like hula hooping or Fortnite. But Baker points out he was not part of – or even really aware of – a transgender community.
"He was in Deep Cove," Lazarowich says by way of explanation.
All he really had was the support of his parents, he notes.
But for many youth that support is in short supply, Lazarowich says, noting one survey which reported more than half of transgender youth are rejected by their parents.
But the movie gives reason to be hopeful. Lazarowich documents Krow's mother as she reconciles her feelings about her son and even jokes about how lucky she is to go through puberty twice with one child.
On Dec. 2, the film is set to be screened at Park & Tilford for North Vancouver teachers, administration, Gay Straight Alliance clubs and parents.
Earlier this month, Lazarowich arranged separate screenings in Victoria for NDP and Liberal MLAs.
Nestled in her Deep Cove office alongside Baker and his soulmate/bandmate Seal, the trio are hopeful the film can touch hearts and minds across the country.
"Any time you talk about your story or you talk about your wounds, I feel it heals you," Baker says.
"Listen to your kids, support your kids," Lazarowich agrees. "But you can't tell people that, you have to show them."