A Central Lonsdale Airbnb host, who sometimes welcomes more than a dozen guests per night in her three-bedroom townhouse has been ordered to pay thousands of dollars in fines to her strata and shut down her illegal hostel.
But, according to residents at The Beeches townhouse complex on West 13th Street, Emily Yu is still bringing in dozens of guests, and the city has been slow to react to their complaints.
Yu has been advertising her "Oasis Hostel" – just a block away from City of North Vancouver municipal hall – since 2016 on a number of short-term rental websites, including Airbnb, Hostel World and Booking.com.
"It's a nightmare. It's just leaving us all really frayed," said Maeve Chamberlaine, one of Yu's neighbours. Ads show up to 15 beds in makeshift dorms in the bedrooms and common areas of the house.
Chamberlaine has been keeping a running log of all the sleep disturbances, altercations among guests, visits from the RCMP and instances of drinking and drug use on the patio.
Erin Wasney, also a townhouse resident, said it has made life in the complex stressful.
"We're obviously concerned about the strangers – the sheer volume of weird people that are coming into the complex," she said. "We're concerned with obviously the other safety implications. You put 16 beds in a townhouse, you block fire exits, you've got an unsafe number of occupants. We're worried about fire hazards. We're worried about her insurance coverage."
Chamberlaine said her concerns don't just come from the strangers passing through her complex but also from the critters they may unknowingly bring with them.
"I'm pretty concerned about bedbugs because they can travel through walls," she said.
Residents have been trying to shut down hostel for years

The Beeches strata council took the matter to the civil resolution tribunal and in September 2017, Yu was ordered to shut down her short-term rental business and pay $4,600 in related fines to her strata, court documents show.
Yu petitioned the B.C. Supreme Court to have the fines tossed out. In her petition she argued that a series of vehicle crashes since 2011 had left her with brain injuries and unable to work, and that having guests provided her with a livelihood and company.
"At no time and in no way did (Yu) every knowingly or unknowingly disrupt, interfere with or be a nuisance to her fellow strata members and neighbours," her claim stated.
The strata and its members infringed on Yu's human rights, her claim went on, because she was targeted for discriminatory acts based on her race, marital status, mental disability, and lawful source of income.
The Strata Property Act does allow people to rent out their suites, even if strata bylaws disallow it, if they can demonstrate hardship, her petition noted.
Yu did not dispute that she'd been using her townhouse as a hostel in her petition, but instead argued it was an allowable use of her property.
All of those claims were rejected in May by the courts, though.
Because of the $25,000 in legal bills strata members have incurred, the strata council has had to raise residents' monthly fees and put off maintenance, Chamberlaine said.
"Our strata lawyer has said in order to try to enforce this, it's likely another $25,000 in legal fees," she said. "It's just ludicrous it's going to cost us $50,000 to try to get any resolution."
The neighbours have taken their concerns to the short-term rental sites, including Booking.com and Airbnb, which has resulted in the listing being removed – although for Airbnb, at the time it was only temporary.
"Airbnb is like a vault. You can't reach a human. They don't care. Their response is 'Have you tried talking to your neighbour?'" Chamberlaine said.
Residents have spent more than two years attempting to shut down the hostel through their own strata bylaws, the city's bylaws and through the courts to no avail.
"It is completely illegal and wrong and nobody is doing anything about it, and we are trying so hard and our council is trying and nobody will help us," Wasney said. "In my mind, if there is an illegal business operating, I would expect the city has the capacity to shut it down."
Dealing with host has been 'challenging,' say city staff

The city does allow short-term rentals, providing the owner lives full time in the home being rented and there are never more than two boarders at any given time.
Since complaints first started coming in in August 2016, the city and its bylaw staff have made numerous visits to the hostel.
Dealing with Yu has been "challenging," notes a city staff report made public in March.
"In fact, the apparent pattern to Ms. Yu's behaviour is to verbally express a willingness to comply when speaking with staff and then take actions in her property that contradict her verbal promises and result in worsening the non-compliance," the report stated.
After an inspection in March 2017, bylaw officers ordered Yu to remove a sofa bed she'd been renting out in her basement. When staff came back the next month, they found Yu had replaced it with bunk beds, bringing the total number of beds in the townhouse to 15.
The letter sent to Yu afterward read "You are required to IMMEDIATELY CEASE AND DESIST the tourist accommodation use and the use of the basement level as a habitable room."
The bunk beds were later removed when staff returned in August but a number of other problems remained.
"The basement exit stair and landing to the parking garage was filled with furniture and a number of boxed vending machines (from floor to ceiling) making the exit impassable and creating a significant safety concern for Ms. Yu's townhouse occupants, including herself," the report stated.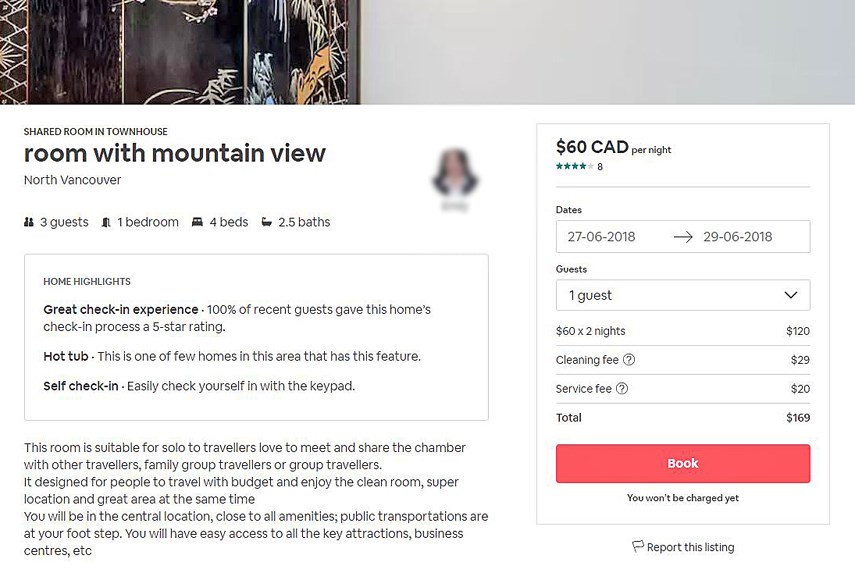 Based on Yu's rates advertised online, city staff estimate she brings in $70,917 to $212,752 per year, depending on the number of guests she has. She also charges guests a $25 cleaning fee not included in the city's estimates.
"Normally, the city is not concerned with a resident's revenue. However, in this situation, staff raise the revenue issue because the revenue is being generated at the expense of the quality of life of the other residents in Ms. Yu's townhouse complex, and at the expense of the safety of the public staying in her townhouse. Furthermore, Ms. Yu continues to (flout) the city's land use regulations."
When it comes to hundreds of other short-term rentals that are not permitted but clearly listed online, most receive an education letter from the city, which resolves the matter, according to city staff. Getting into actual enforcement is more of a challenge, according to city spokeswoman Stacy Wilson.
"Listing a property for short-term rental does not in itself contravene any city bylaw or regulation, and it is difficult without unit entry and inspections to obtain sufficient evidence to pursue enforcement action," she said in an emailed statement in May.
As for the townhouse residents' complaints of inaction on the city's part, Wilson said the city disputes that.
"We are dealing in many instances with residents' principal residences, so care must be taken to respect privacy issues. The city is pursuing enforcement action, and that action has been reasonable and progressive," she said.
Starting in November, strata councils will be given the power to issue fines of up to $1,000 per day for owners who violate bylaws related to short-term rentals, up from the current $200 per week. As of today though, Yu has yet to pay any of the fines already levied against her, although the strata has secured a lien against her home.
'Our guests are people like you and me': host
In an interview this Thursday, Yu said she has never had 20 guests in her home and the civil resolution tribunal's ruling against her was based on a lot of misinformation. Most nights, Yu said she averages five people in her home, including herself.
"I'm not going to pay the fine because they're not supposed to ask me for a fine. I am grandfathered in, even after they changed the bylaw," she said. "I was operating the services for 10 years before they changed the bylaw."
Yu maintains she is also fully compliant with the city's bylaws, which she interprets to mean she is allowed to rent out two bedrooms, not specifying how many beds are in them, in addition to having two boarders.
Yu said she understands there are concerns but her hostel should be viewed as a public service, not a problem.
"Our guests are people like you and me. They are brothers, sisters, uncles, aunties, fathers, mothers, friends and families. Our neighbours should embrace our guests as a part of the community, not reject them as a part of the community," she said.
Her guests come and go from her door only and she ensures they are quiet after 10 p.m., Yu said.
"(My neighbours) just created this thing in their minds to try to create a case that's going to be a problem. In fact, there is no problem," she said.
Yu said she has no intentions to stop bringing in short-term guests and she plans to continue fighting the matter in the courts.
"I want to continue working within the legal system to obtain my right as a Canadian citizen of self-expression, to live the life I want, not live the life my neighbours want," she said.
Yu said she has been treated badly by other strata members who yell at her and her guests and send threatening emails.
Oasis guest Bradley Winter and his brother have been paying $1,400 a month for the basement accommodations for the last two months.
"As far as the home is concerned, I've enjoyed the people I've met. (Emily) bends over backwards to work things out for me and my brother, that's for sure," he said.
Winter said he wasn't aware of the court ruling but he worries about the hostel shutting down.
"It would be putting my brother and I in a very difficult position," he said, noting his brother is on the BC Housing wait-list. "I just couldn't live with myself if he went without a home."
Winter said he's heard maybe one or two complaints, but those were about Yu's dogs barking.
In response to an interview request, Airbnb Canada sent a statement saying hosts must comply with local laws.
"We have suspended the host in question while we investigate this case further," the statement read.