When Norman Kirby was a boy, his father regaled him with tales from the Great War - the blood spilt, the freezing cold trenches and the raw fear of coming face to face with an enemy soldier.
Years later it would be his turn to leave the North Shore where he grew up, heading to his introduction to his generation's war - arriving on the shore of Juno Beach in Normandy, France where the Canadians landed on D-Day.
"At the start there was nobody more afraid of a German soldier than me," he said. "My father was in the Great War and he told me what a tough thing it was and I was scared to death of actually meeting up with a German soldier. I thought: the guy is going to kill me."
He was just 18 years old when he landed in Nazi-occupied France, immediately thrust into the chaotic nightmare that was the Invasion of Normandy. Adrenalin kept him going and the Bren gun (machine gun) he was trained to use assisted in keeping him alive.
"I was scared. So was everybody else," he said of his first few weeks of wading into enemy frontlines. "I know the first time I had to spend a night out there, every time I heard a noise I got my Bren gun and I just shot everything in sight.
"It was pitch black at night but usually in the morning I'd look out and there'd be a few dead cows. I wasn't taking any chances."
But Kirby's courage would eventually win the battle inside of him. His performance in the war has led to him now being awarded the rank of Knight of the French National Order of the Legion of Honour, which is a distinction that illustrates France's gratitude for the sacrifices soldiers made in liberating the country 70 years ago.
Kirby said what helped him get through the combat he'd face every day during the year after landing in Normandy was the men he served with.
"It's the camaraderie with a group of men and you don't want to let them down," he noted.
Despite his young age at the time, he rose through the ranks from corporal to become the Canadian military's youngest combat platoon sergeant in the Second World War.
"I tell you being a corporal is the hardest job in an infantry spot," Kirby said. "You don't have enough rank to really throw your weight around. Everyone was on a firstname basis. You'd be in heat with these guys, sleep with them, you know, together all the time."
Kirby, the smallest and youngest of the group, used his rum rations as bargaining chips.
"The guy that's leading you - who's out in front? Corporal," he said. "With this little $1.95 stand gun. He's the front guy. He's the guy who's going to meet up with the enemy first."
That knack for leadership would serve him well once again when, by the end of the war, his platoon officer was killed and he rose to acting platoon commander of 37 men.
But before getting to that point, Kirby had more trials to go through. He recounts many instances of walking alongside tanks, leapfrogging with the enemy and pursuing them deeper into their territory through Normandy, Holland, Belgium and then Germany.
His youth never held him back. He was often put on patrols, leading a few men with him under the cloak of night to feel out the enemy's location and numbers.
"A lot of times it didn't work out so good, but most of the times it did," he added. "It's not like you see in the movies where these guys go on a patrol and they shoot the hell out of everything they see. If we had to do any shooting, then the patrol was a flop because they'd know we were there."
Day and night, the soldiers continued on. One time they chanced upon a wounded cow and ended up roasting it over a fire for dinner. Kirby has the black-and-white photograph to prove it - nine men, including himself, smiling and getting a fire started with one slinging a severed cow leg over his shoulder.
But shortly after the brief respite, they were called in as reinforcements, stuck on tanks and sent yet again into the thick of battle.
"I remember being blown off a tank and our weapons were wrecked too so I had to pick a German weapon up and go in," he said.
Just an hour after the photograph with his comrades was snapped, he was the only survivor of the group. The rest were swept up in the battle that would claim their lives - sending another set of friends six feet under.
"An hour later, I'm the only guy left," he said. "I'm the only one left."
But the mission wasn't in vain.
"I was the one who captured the (enemy's) garrison commander," he said. "I walked into the garrison headquarters and took him prisoner by myself basically."
After some persuasion, Kirby was able to get the commander to surrender.
Kirby said there were many instances of coming face to face with what was his greatest fear. It turned into a nearly everyday occurrence.
"I'm one of the fortunate ones," he said. "I was wounded but not enough to leave my squad and go into a field hospital. They were pretty horrific."
But in another blackand-white photograph in his collection - physical memories he's been able to keep after a stroke of luck following the war reunited him with his wartime camera - shows him with smiling children celebrating the liberation of Holland.
"They're just so happy and after coming through France and Belgium and seeing all the horrors there, to come into a place like that and get a greeting like that it was just fantastic," he said.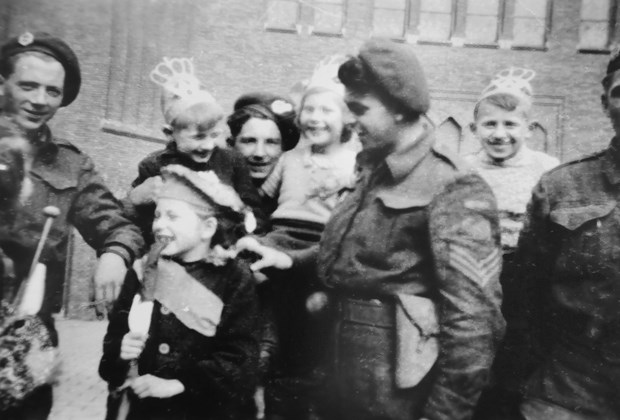 When Kirby returned home he was 19. He said he remembers not yet being able to vote or have a legal drink with his dad in a bar.
He continued on with life, marrying his wife of now 40 years and settling down on the shore of Lions Bay.
"It's far away enough for me," he said of his year of intense combat. "I don't get bad dreams like I used to. I used to have horrible nightmares. I still get them, but not too bad."
Every Remembrance Day he composes and delivers a speech in his community's village hall.
"That war was the last good war," he said. "There's no such thing as a good war, but you felt good about doing what we had to do."