It's lunchtime in Ambleside, but the lunch rush is nowhere to be seen.
Speaking from Thai Pudpong on Marine Drive, chef and owner Sutthi Srilanpong is offering takeout and hoping his long-running Thai restaurant outlasts the pandemic.
"We suffer. What can we do?" he said. "We have to pay the bills."
The eatery has dished out green coconut curry with chicken and other family recipes since 2002, but lately there haven't been enough customers to support the restaurant and its small staff. Srilanpong said he's tried working with a delivery company previously but they ended up edging into the profits and disrupting cash flow.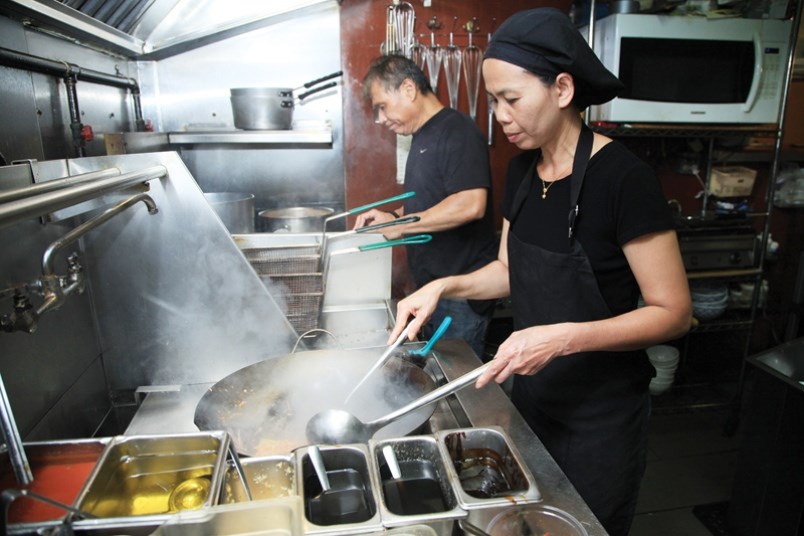 For now, he'd be happy to find some takers for takeout.
"I pray," he said. "I don't know how long it's going to be."
After evaluating the coronavirus spread, chef Dhruv Jhanjee decided shutting Tour de Feast was the ethical thing to do.
"Even with deliveries and takeout ... I just don't feel that people are taking it that seriously at this point," noting a recent report that put the number of B.C. cases at 231. "I don't want to be a catalyst in which there's a community transfer."
The fact that many people are conducting business as usual is cause for concern, Jhanjee said.
"Once people actually really quarantine themselves where you don't see cars on the street, that's when I think the spike will go down," he said.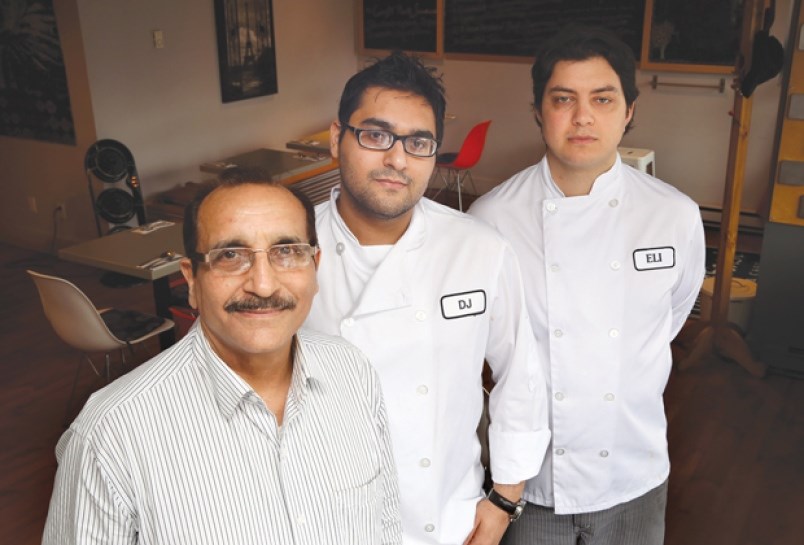 The family restaurant on Mountain Highway between Rupert and Bond streets has thrived selling French bistro items like duck confit in a primarily industrial block.
"As a family we've definitely taken a financial hit, but health is important to us."
Jhanjee said he plans to re-assess Sunday. While he hopes to open soon, he said flattening the curve is the top priority. "We all have to come together and do it," he said.
At Park & Tilford, Mumbai Masala owner Lalit Sharma is trying to keep police officers, firefighters, nurses and paramedics well-fed during the crisis.
"Because everyone's working overtime ... we want to do our part by offering them 50 per cent off – less than what our cost is – so they can work extra hours."
Mumbai Masala is also offering to provide one free meal per day of red lentil dal, rice and naan for people who are quarantined. While they aren't yet able to deliver on the North Shore, Sharma said they will be happy to give the food to a volunteer driver who would in turn take it to someone in quarantine. Arrangements can be made by calling the restaurant at 604-984-8888.
Independent restaurants struggling to stay afloat during the crisis are invited to join Breaking Bread, a website listing restaurants around Metro Vancouver, including the North Shore, that are offering delivery and take-out.
"Having one central place where everyone can come together and people can go to see how they can support the local, independent restaurants is really important," said Shelley McArthur Everest, a communications specialist who spearheaded the initiative.
The site currently includes six North Shore restaurants, with plans to add more and to include information regarding possible freezer meals and curbside pickup, Everest explained.
In Deep Cove, the pandemic prompted Jennifer McCarthy to turn Bluhouse Café into a "zero-contact grocery delivery store."
Staff take payments for the vegan, vegetarian and gluten free dishes by phone when possible and employees are expected to practise social distancing as they work.
"We've worked really carefully with our staff to make sure that they're getting the hours that they need and want and that they're not here if they're not comfortable being here," McCarthy said, adding some employees have chosen to self-isolate.
The café is offering dried food, canned goods, and "take and bake" items. Discussing the trying financial times, McCarthy emphasized the need to support local suppliers ranging from Two Daughters Bakeshop to Culture Craft Kombucha to Spread 'Em Dips.
"Those of our customers that are really flooding our email with grocery orders, we're appreciating it more than they could ever know," she said. "It will allow us to still be here as a small business in the community when this is over."
In Edgemont, Nicli Antica Pizzeria is closed and will not offer takeout or delivery "in the interest of public safety and putting civic responsibility first," according to a post on the pizzeria's website.
Speaking on Wednesday afternoon, Mangia E Bevi owner Doug Grisdale said he plans to keep the Dundarave hotspot open: "at least for one more night."
He's been focused on selling gift cards, offering takeout, and creating more space between tables since the outbreak hit.
"I think the [customers] that come in aren't as worried," he said. "I'm not sure we're seeing the ones that are really worried."
Looking to the other side of Marine Drive, Grisdale closed La Sorella di Mangia with the exception of "take-home and takeout," including freezer stock.
"The economics of it didn't make sense to keep a whole bunch of staff around to serve customers up front," he said.
Grisdale thanked customers for leaving "very generous tips" and buying gift cards during the crisis.
"That helps," he said. "It just feels like it's literally moment by moment."
In Lynn Valley, the Black Bear Pub is planning to re-open for limited hours beginning Thursday. Using DoorDash, the popular pub will offer pick-up and delivery, according to general manager Grant Dawson.
While they'll be doing away with seating, Deep Cove mainstay Honey Doughnuts and Goodies released plans to reopen Wednesday, March 25, although they will limit dining to "grab and go."
Besides offering a Purell station at the front door, Pastameli Restaurant in Caulfeild is maintaining regular hours and offering delivery service in West Vancouver, according to a post on the restaurant's website.
At the New Woon Lee Inn Restaurant on Delbrook Avenue, business is down about 30 per cent, according to a staff member.
The Cantonese, Peking, Szechuan restaurant is exclusively providing delivery and takeout.
The Capilano Suspension Bridge Park suspended all operations as of Monday, including Cliff House Restaurant.
"We did not make this decision lightly, however our highest priority is the health and well-being of our team members and guests," stated communications manager Stacy Chala.