It's been bad news for the bears on the North Shore this summer.
Reports of bear conflicts have almost tripled since 2016, and police and conservation officers have killed six bears in North Vancouver and West Vancouver this summer.
The B.C. Conservation Officer Service received 345 reports in North Vancouver over June and July this year compared to 99 over the same period last year. In West Vancouver, there were 273 incidents over the last two months, up from 71 in 2016.
"We knew that this (summer) would be difficult," said conservation officer Simon Gravel. "We have a big population of young bears that mainly learned to feed on people's garbage or bird feeders or other attractants."
Many of the West Vancouver reports resulted from one family unit of a sow and three cubs who people fawned over throughout 2016 as they travelled between Cypress Mountain and Lighthouse Park, becoming habituated to humans.
"But this year they came out of hibernation at 150 pounds and they were not cute little cubs anymore," Gravel said. "And they learned from their mom. They were in a very high level of conflict, meaning they were accessing garbage as their principal source of food. Eventually, we found them in houses… to access non-natural food."
The three cubs have since been destroyed and the sow hasn't been seen, Gravel said. Two other unrelated bears have also been killed by police and COs in West Vancouver this year. In North Vancouver, there is currently a trap set for a problem bear in the Carisbrooke neighbourhood and COs shot one in the Seymour area.
"It was captured, relocated and it came back to the same location again trying to access and break into garbage facilities," Gravel said.
Bears will travel hundreds of kilometres to get back to their food source, Gravel said, and moving them typically means creating new conflicts within another bear's natural range.
"Our experience shows us that's highly unsuccessful," he said.
"The solution is not moving the bears away. It's moving the attractants away."
Conservation officers have issued more $230-fines for failing to manage bear attractants on the North Shore than in any other area of the province, but Gravel said, it's not the COs' job to be the "garbage police."
Gravel said he sees a lot of effort being expended by groups like the North Shore Black Bear Society, municipal bylaw departments and conservation officers to educate people but it takes just one sloppy neighbour to ruin it for a bear, which often results in it being killed.
"It's always kind of a failure for us," he said. "I don't know any officer that enjoys doing that. But at some point, we reach a level where the destruction of a bear is the only option left to protect the public and also public property."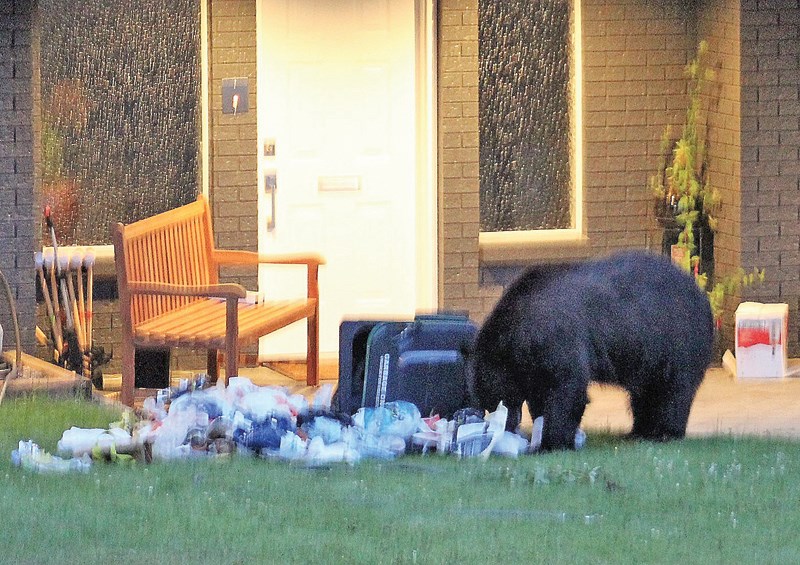 The District of North Vancouver is gradually rolling out new mandatory locking garbage bins but Christine Miller, president of the North Shore Black Bear Society, said she is worried the new cans may be having a counter-productive effect. Numerous photos have cropped up on social media of bears breaking the bins open.
"People who used to store (garbage) in the garage now put them outside because they're big and they think they're bear proof, so there are more bear attractants around because people have the misconception of how sturdy these garbage cans really are," she said.
Homeowners with the new bins should still keep them clean, freeze odorous foods like fish and meat scraps until the morning of collection, wash out food wrappers before tossing them out and store baby diapers indoors, Miller said.