The new Ecole Handsworth Secondary has yet to see students walk through the doors for the first day of classes, but it's a busy place these days.
Workers with shop vacs clean construction dust from under computer desks, while the concrete outside the entrance gets power washed to show off a design. Inside the school, books and supplies are being unloaded daily: upstairs a model of a DNA strand sits on a counter in the science lab, while in the ground floor music room, a bass drum sits in a patch of sunlight. Boxes stand in classrooms waiting to be unpacked, while shelving is filling up quickly.
Four years after the announcement that the 60-year-old Handsworth Secondary would be rebuilt, North Vancouver's newest high school is ready to welcome a fresh generation of students, with a sleek modern three-storey design, full of natural light.
Years in the making
With a budget of approximately $65.7 million, the new school has been years in the making. The announcement of a Handsworth rebuild in 2018 came two years after the province had already identified both Argyle and Handsworth as needing seismic upgrades. But the North Vancouver School District argued successfully that it made more sense to replace the school than sink money into a building that was rapidly reaching retirement.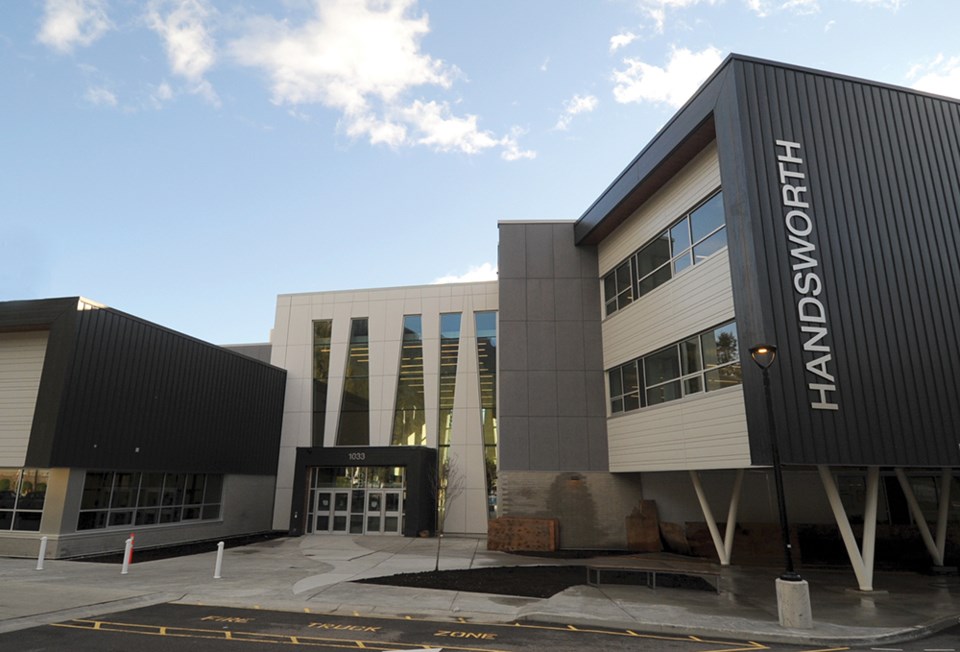 At the entrance, an airy atrium frames the snow-dusted North Shore mountains in high windows. A new 270-seat theatre off the entrance is a centrepiece of the new school, built to accommodate the school's performing arts program. "Historically Handsworth has gone to Centennial Theatre and neighbouring churches" when the high school needed a performance space, said Rupi Samra-Gynane, the school's principal. "But we've got the ability now with our new theatre to host all of the performances."
Performing arts take centre stage
A portion of the money for theatre seats and equipment, like programmable lights that hang over a mesh catwalk above the performance space, came from the province, the school district and Handsworth's parent advisory council. About a third has been fundraised through the school's "Take a Seat" campaign, said Samra-Gynane. A significant contribution has also come from local businessman Len Hovarth, of Quantum Lighting, who has donated expertise and financial assistance in memory of his late daughter, a Handsworth grad from the class of 1988.
A large mirrored backstage dressing room – where a clown costume hangs alongside elaborate dresses on a clothing rack – provides a comfortable place for student performers to get ready for their entrance. "If you've been backstage at the Orpheum, this gives it a run for its money," said Samra-Gynane. A nearby dance studio and music room, where a collection of instrument cases has arrived, completes the new performing arts area.
In the east wing of the school, classrooms for engineering, robotics, and a wood shop all tap into a central digital design studio. A computer lab is also set to host the school's first "business of gaming" academy next year, where students can level up their entrepreneurial skills.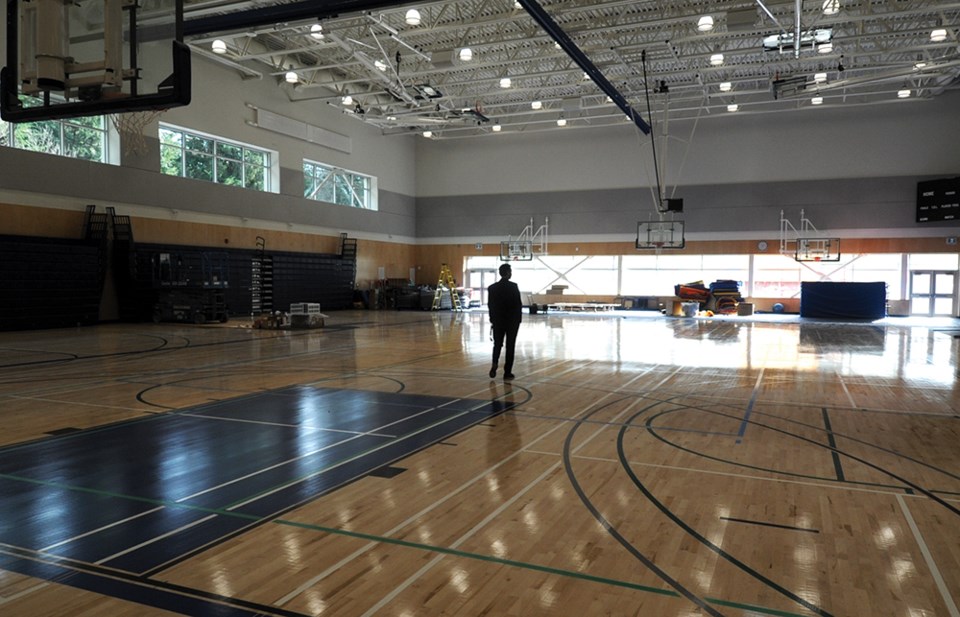 Gym purpose built to host tournaments
At roughly 1,150 square metres, Handsworth's huge gym with gleaming floors is another point of pride for the school. Like Argyle's gym, the space can accommodate three gym classes at once, or open out to host tournaments, with bleacher seating to handle more than 500 spectators. "Athletics is huge on the North Shore, especially at Handsworth," said Samra-Gynane. Special oversized vented lockers near the gym have also been specifically built large enough to hold a large helmet or a field hockey stick. (One amenity the new school won't have is a track, although space exists to add one later if external funding makes that possible.)
To accommodate student demand, the foods lab has also been expanded, so the school can run 16 classes instead of eight each semester.
Upstairs, groups of classrooms, including multi-use spaces, are grouped around learning "commons," with break-out rooms for group work and spaces for teacher preparation. Audio-visual systems are hardwired into each classroom space, while energy-efficient displacement ventilation systems ensure outdoor air is brought into every classroom.
The school also has added more space for inclusive education. In the past, Handsworth's reputation for academics and athletics meant "if you had a child with special needs, you would look to Carson or some of the other more established programs," said Samra-Gynane. But that has changed, she said.
The new Handsworth is built for a capacity of 1,400 students. Current enrolment is closer to 1,500 students, but it's normal for schools to run at 10 to 20 per cent over capacity, said schools superintendent Mark Pearmain.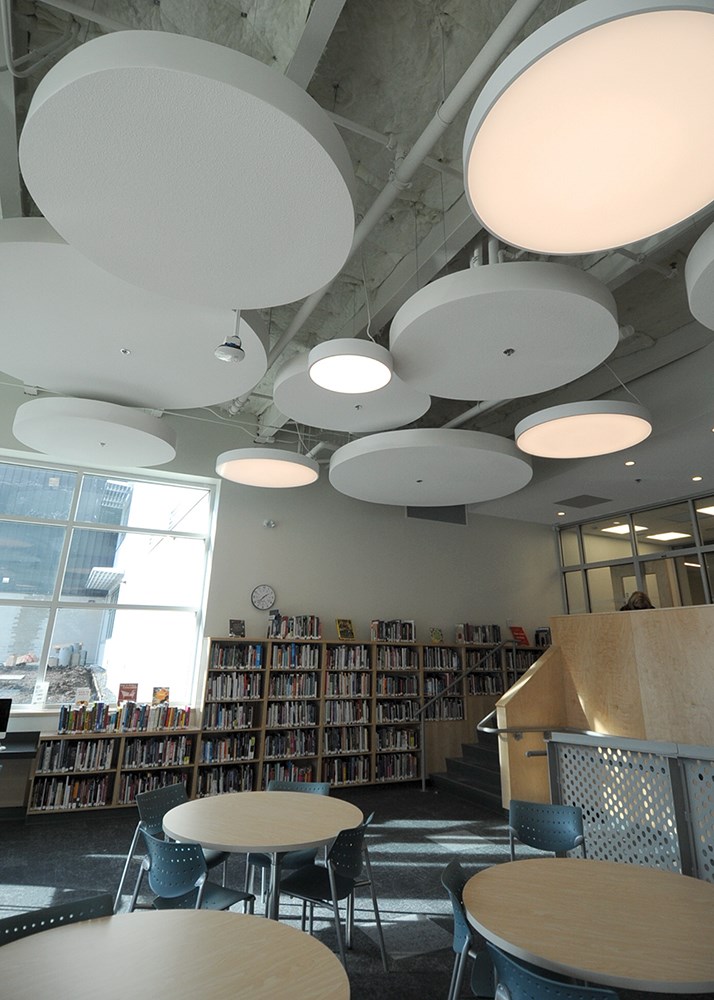 Teachers will move into the building today (Feb. 2) and students will start classes on a staggered schedule starting Monday (Feb. 7).
Samra-Gynane said she wants all the students to come in through the front doors on their first day. "We want all the students to come in and experience that 'wow' moment."
Demolition of the old school will start at the end of February and continue through to August.
Said Pearmain: "I think they'll forget the old building pretty quickly."