Deep in the Seymour River Valley, in an area almost totally reclaimed by the forest, there rests the remnants of a mostly forgotten outpost of early Japanese settlers.
On April 1, the 75th anniversary of internment of 20,000 Japanese-Canadians during the Second World War, the province officially commemorated the former logging camp as one of 56 sites across B.C. with significance to British Columbians of Japanese descent.
The site was nominated for the distinction by Bob Muckle, a Capilano University professor and archeologist who led the excavation of the site.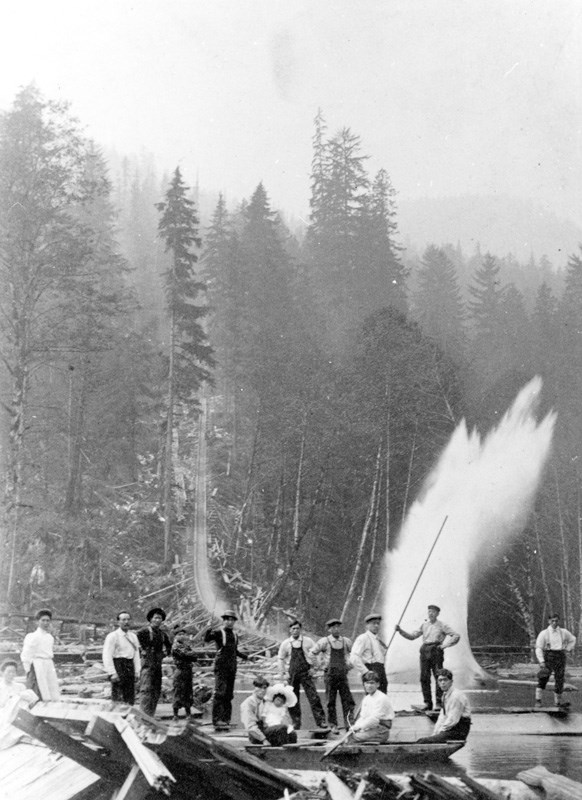 "It's the only one that's ever been discovered like it, possibly in North America, insofar as it was laid out in a typical Japanese way," he said. "As soon as I found out, I knew I was going to nominate this site because it's quite unique and I don't want it to be lost forever."
Muckle first pondered the location, about halfway between Rice Lake and the Seymour Dam, for a possible archeological dig after hearing about some items being found by one of the contractors working on paving the path that now runs through the Lower Seymour Conservation Reserve.
A 2003 test dig at the camp, which was already once forgotten and at risk of being forgotten forever, revealed Japanese artifacts and the foundations of 12 buildings, enough for maybe 40 people – loggers, their wives and children. The settlers who built the village made sure it included structures important to their traditional way of life, including a communal bath house, gardens and an elevated platform that may once have been a Shinto shrine, Muckle found.
The camp was likely built around 1919 when a nearby stand of trees was being cleared for lumber. But unlike most logging camps, this one appears to have remained a settlement, long after the last trees were cut around 1924.
"What makes it more interesting and more significant is there's pretty good evidence that they had sort of a secret occupation there ... probably until they were interned for World War Two," Muckle said.
Muckle's hypothesis is based on the sheer number of things left behind and the condition they were left in.
"There seems to be a preponderance of personal items left behind – the kinds of things you wouldn't expect to be left behind," he said.
Among the roughly 1,000 items retrieved and catalogued: sake and beer bottles from Japan, medicine bottles, clocks and pocket watches, teapots, buttons from clothing, cedar planks that once formed a road, coins dating back to the Meiji era, and hundreds of pieces of Japanese ceramics.
"Most of them are in fairly good condition … which is another indication that people might have continued to live there," Muckle said.
There was also evidence that some items were deliberately hidden, including an expensive cook stove, which is consistent with what other Japanese-Canadians did at the time of internment, with the plan to later return to claim them.
Muckle also has a theory as to why the families would choose to live somewhere so isolated – about an hour's walk to the nearest sawmill. "In that time, there was a lot of racism. ... People could have stayed there and maintained their own culture, with the bath house and the gardens and the shrine, with virtually no interference," he said.
Muckle doesn't like to talk about the exact location. After his dig, Metro Vancouver  offered to put a fence around the area but the professor urged them not to, worrying a fence would invite looting.
Muckle has since presented his findings at the Nikkei National Museum & Cultural Centre in Burnaby and at the North Vancouver Museum and Archives, where Japanese-Canadians have been "astounded" to learn about the key role Japanese settlers played in B.C.'s early colonial days.
"It's important because so few people, including people of Japanese descent, know about the contributions of the Japanese in local logging particularly," he said. "They were one of the dominant forces in the logging industry. It's the reason why a lot of Japanese came to British Columbia. Most people think of fishing and agriculture."
One of the researchers who has helped bolster Muckle's research is Daien Ide, reference historian for the North Van archives, and a Canadian of Japanese descent. Ide welcomed the province's recognition of the camp as a tribute to the people who lived and left their mark there, and a reminder of the racism that drove them out. 
"To me it does mean a lot ... I do get interested in seeing what different nationalities have done and how they came here, what brought them here, what they were able to do here under the circumstances of the time. To me, that just shows a strength of people you want to remember," she said. "From the perspective of a Japanese-Canadian, it's so we don't forget, and we don't let things like racism happen again."