After almost four decades with the North Vancouver School District, this summer will mark the first that John Lewis won't be looking ahead to a new school year in September.
Thursday marked Lewis's last official day on the job after 37 years in the local school district, including the last 10 in the top job of schools superintendent.
New superintendent Mark Pearmain takes up the job of steering the North Shore's largest school district next week.
Lewis leaves the school district on a strong financial footing, with seven new schools built or substantially renovated between 2004 and 2011 and programs expanded to include international baccalaureate, sports and digital media academies, expanded French Immersion and a new home for alternative programs at Mountainside secondary.
Heritage rebuilds of both Queen Mary and Ridgeway elementary schools and replacements of Westview, Highlands, Lynn Valley elementary schools and Sutherland and Carson Graham secondaries – as well as the Education Services Centre on Lonsdale and the Cheakamus Centre at the school district's outdoor school – were finished largely on Lewis's watch, representing a $350-million capital building effort.
Expansion of specialty programs has helped boost North Vancouver's enrolment into a slow but steady rebound.
Unlike many school districts around the province, the North Vancouver school district isn't grappling with a deficit, and generates about $11 million annually towards its $173 million budget, through leases and fees paid by international students.
But none of that has come without significant pain, Lewis acknowledges.
Beset with falling enrolment, aging school buildings and a financial crunch in the early 2000s, the North Vancouver School District closed nine schools between 2004 and 2012, in a process similar to that faced by the Vancouver School District today.
"The school closure process was extremely challenging," said Lewis, for both parents and school staff.
In hindsight, "people came to the realization it was the right thing to do," he said, adding making decisions that are unpopular at the time "takes a great deal of courage on the part of the board of education."
The school board's decision to fund a number of school replacements through the sale of former school properties has also not been without significant controversy.
Lewis said he applauds the school boards, past and present, for "maintaining a focus on the future."
Before joining North Vancouver as an assistant superintendent, Pearmain worked for many years as a teacher, assistant principal and principal in the Vancouver School District.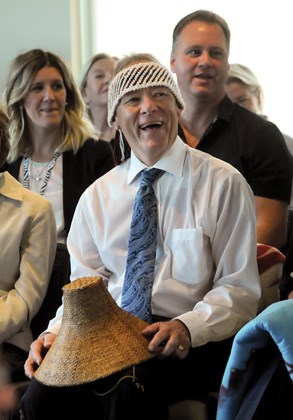 Pearmain, 45, said some advantages of a mid-sized school district like North Vancouver is it's "big enough to allow us to have a variety of programs but small enough to allow us to be nimble and change direction" when required.
Another difference between the Vancouver and North Vancouver school districts is in the politics of the school boards, which informs their working relationships with the provincial government. "The Vancouver system is party based," he said. "The North Vancouver system is not."
As he takes up his new role, Pearmain said the phase-in of the new curriculum will continue to be a focus over the next two years. That will likely include a change in the way student progress is reported to parents, as well as the switch from five provincial exams down to two for senior high school students.
"Any time you bring in change there's going to be angst and some anxiety and some bumps along the way," he said, adding helping people manage that is part of his role.
Acknowledging First Nations culture and supporting aboriginal students will continue to be important, he said. Planning for the district's first new "urban" school in the growing Lower Lonsdale area is also on the horizon.
Pearmain said he hopes to hear from those involved in the school system about what's working well and also about what needs improving. That involves "being open to hearing it," he said, as well as recognizing people may have different opinions.
As a superintendent, part of his job is to be the public face of the school district, said Pearmain, and tell "the story of what's taking place inside our classrooms and the amazing things our kids are doing and our staff are doing."
Those are stories that too often the wider public doesn't get to hear about, he said.