This article has been amended since first posting to include further comments from North Vancouver MP Jonathan Wilkinson.
As mourners drifted from North Vancouver's civic plaza following a Seventh Day Vigil Tuesday night, Upper Lonsdale resident Farhad Touski reflected on the night, the week and the last 40 years of Iran's history.
Approximately 400 people attended the vigil to honour the memory of Ayeshe Pourghaderi, Fatemeh Pasavand, Naser Pourshabanoshibi, Firouzeh Madani, Delaram Dadashnejad, Daniel Saket,  Faye Kazerani and Soheila Massoumeh Moshref Razavi Moghaddam. Those eight North Shore residents were among the 176 passengers who died aboard Ukraine International Airlines Flight 752 after Iran's military hit the plane with two missiles shortly after it took off from Tehran. Iran's military later attributed the missile attack to human error.
Amid songs, speeches, tears and hugs, calls of "Down with Khamenei" recurred sporadically throughout the one-hour vigil. After the vigil, several mourners chanted: "Shooting down the plane is not a human error! The Islamic Regime is a human error!"
Touski didn't join or oppose the protest.
"Practising democracy is always up and down ... there's nothing that can change in one night," he said. "Or one revolution."
While many Canadian Iranians favour regime change, Touski said people in Iran are generally more cautious out of fear the country's beautiful cities will be lost in a botched revolution.
The young generation of Iranians, particularly university students, industrial labourers and the women's movement will change the country, he predicted.
"This generation is going to die and the next generation, of course, won't follow them. Change is coming – but not very fast."
Speaking on behalf of the federal government, North Vancouver MP Jonathan Wilkinson emphasized the need to de-escalate tensions in the Middle East and reaffirmed Prime Minister Justin Trudeau's promise to get bereaved families the information and support they need.
 "Canada will not rest until we have the accountability and the justice and the closure the families deserve," he said before being briefly interrupted by the sound of padded gloves clapping.
Following the vigil, Wilkinson said he was with Prime Minister Justin Trudeau when he met with local families of the plane crash victims in Vancouver earlier this week.
Wilkinson described that as a difficult meeting.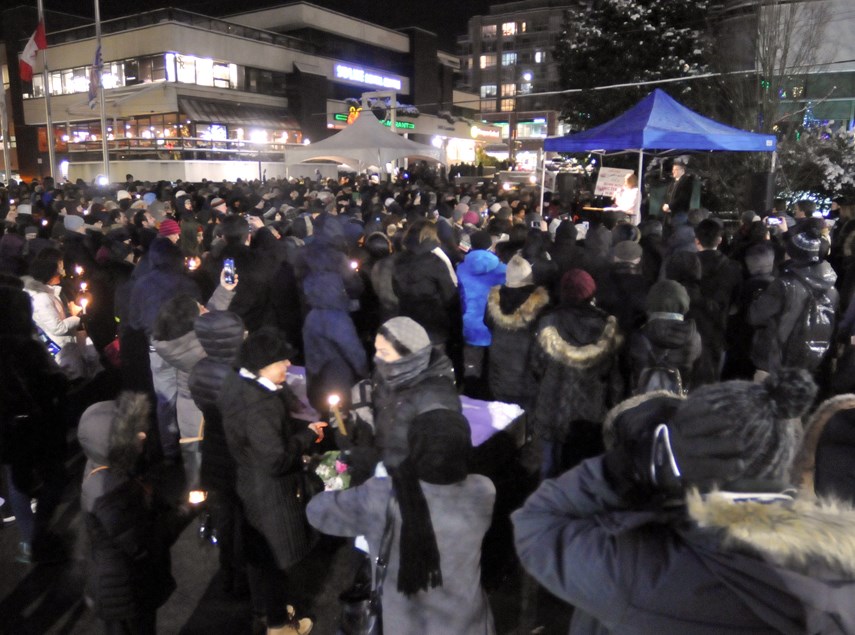 "These are people who have lost their loved ones and obviously are very, very grief stricken. But I would say that the family members we've met with are incredibly courageous people, people who are bearing up incredibly well under terrible circumstances."
Wilkinson said families are looking to the government to help bring the remains of their family members back to Canada, as well as deal with any financial issues, which might include bank accounts in the names of those who died that are still open in Iran.
The fact that Iran does not recognize dual citizenship is a complicating factor, Wilkinson acknowledged.
"I don't want to lead anybody to believe this is going to be necessarily simple," he said. "It's a process. But we are engaged in that process, as we speak with the officials in Iran."
Wilkinson said Canada has a 10-person team on the ground in Iran to help, as well as dedicated consular staff in six cities across Canada, including Vancouver who are working directly with the families of the plane crash victims.
Wilkinson added while he's read reports of the Iranian government putting pressure on some families not to speak with media about their loved ones or their wishes to have remains come back to Canada, the issue hasn't been raised with him by anyone directly.
If that were to occur, he said "we would be looking at where the source of those threats are coming from, but at this point, I have not heard that directly."
North Vancouver-Lonsdale MLA Bowinn Ma discussed the shock of discovering the plane had been shot down during Tuesday's vigil.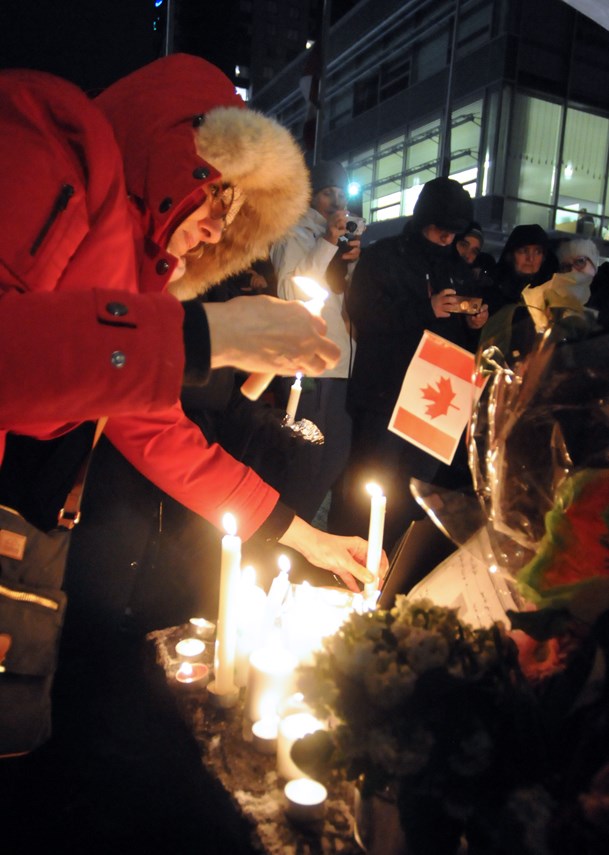 "Some community members tell me that it was like their friends had been killed twice," she said. "We have to acknowledge that this pain is real and there is anger. But for today I want you to look around you and know that you are not alone."
Mourners crammed together on the wet, salt-lined pavement and listened to an ancestral blessing song sung by Squamish Nation Chief Chepximiya Siyam' Janice George and her family.
"To let those tears go, to send those blessings up," her nephew told the crowd.
Flanked by West Vancouver Mayor Mary-Ann Booth and District of North Vancouver Mayor Mike Little, City of North Vancouver Mayor Linda Buchanan said she was overwhelmed by the number of people paying their respects in sub-zero weather.
"I know that your hearts are broken and that there are no words that we can speak that will ease your pain," she told the crowd. "But I hope it helps you to know that your loss is our loss. We grieve with you."
Mourners lifted candles and cellphones, making the city square look like a lake of light on a frostbitten evening.
"It helped a lot," Touski said of the vigil. "People can understand each other."
While much of the media takes an ugly view of Iran, the truth is much more complicated, he adds.
"People over there are fighting day by day for their rights," he said. "I'm optimistic for the future."