The first six months of 2018 brought us brand new schools and broken down docks. In a time when everything seemed to be moving but the traffic, we said goodbye to two long time mayors, watched West Vancouver forging their future while trying to preserve their past, and were awed by the heroes who emerged amid the heartbreak.
But despite all the change, this is still the North Shore. And that means we're obliged to take a look at the real estate.
January
Home prices increase by a bit, industrial land by a lot
The real estate gold rush slowed in 2018, with home sales dipping 43 per cent in West Vancouver and 30 per cent in North Vancouver.
"The top end has fallen off the turnip truck," said real estate agent Brent Eilers.
But while sales dipped, the "million dollar line" that once separated West Vancouver from North Vancouver vanished, as 98 per cent of North Shore homes are now worth at least $1 million.
"A million-dollar home used to be the upper crust of residential real estate. Now it's become the whole loaf," said analyst Andy Yan.
Industrial lands continued their stratospheric ascent, however, with light industrial property jumping in value by 51 per cent in the District of North Vancouver and 39 per cent in the City of North Vancouver.
Peace on the trails, explosives on the range
The Blair Rifle Range – declared off-limits due to liability concerns in 2016 – emerged from its regulatory no-man's land in 2018, giving free rein to cyclists and joggers.
However, the land's history as a military rifle range quickly became evident as five mortar shells were sought and destroyed this year. Department of National Defence contractors ended their range roving in July.
Handsworth to be rebuilt;  school still over-capacity
The province approved $62.3 million to rebuild the 57-year-old Handsworth Secondary. The school is set to open in 2021, providing room for 1,400 students. Handsworth currently has an enrolment of about 1,472 students in a school built for 1,200.
"The last thing we really want to do is to be spending a whole bunch of money putting a new roof on or putting in a new boiler system," said North Vancouver superintendent of schools Mark Pearmain.
Mountainside Secondary is still awaiting a replacement.
Traffic not moving; businesses might
Transportation continued to be a hot horn issue with the North Vancouver Chamber of Commerce reporting 40 per cent of business owners would consider relocating outside North Vancouver, which one courier dubbed the "seventh circle of hell."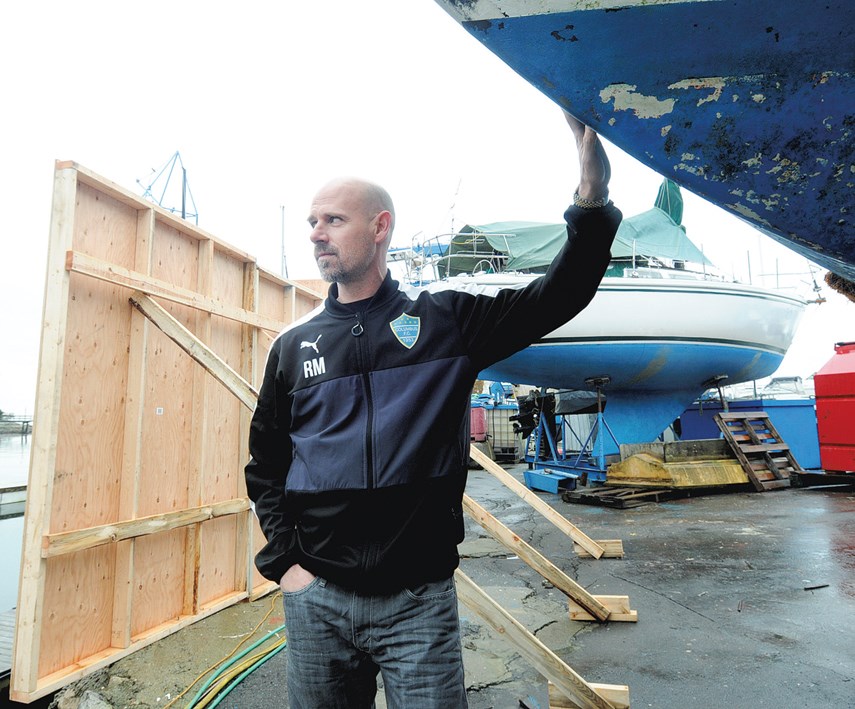 February
Boaters submarined by dock dust-up
With docks listing, support beams rotting and electrical wires dangling, the District of West Vancouver blocked access to the District of West Vancouver Marina's docks, creating a challenge for the owners of the 50 vessels bobbing in Fisherman's Cove.
While boats can still be accessed from the water, "most people don't have a second boat to get to their first boat," said district communications officer Donna Powers.
The district cut off the waterway after marina operator and Kadin Equities director Joe Carhoun failed to respond to numerous requests to address safety concerns.
The aquatic standoff stretched until Carhoun agreed to post a $120,000 surety held by the district and to pay $40,000 in bylaw infractions. The district gave Carhoun six months to bring the dock up to code.
Water tunnel no longer a pipe dream
Work started on a $430-million, five-metre-wide tunnel under the Second Narrows to supply drinking water to much of the Lower Mainland, replacing 70- and 40-year-old mains that would have been at greater risk of collapse in an earthquake.
Workers are slated to drill 68 metres down in Maplewood and punch through 1.1 kilometres of sedimentary rock and soil east of the Ironworkers Memorial Second Narrows Crossing.
 "It's a pretty honkin' big pipe," said Darrell Mussatto, chairman of Metro Vancouver's utilities committee and mayor of the City of North Vancouver.
The project is set to wrap up in 2022.
B.C. budget hits foreign buyers, empty homes
B.C.'s new budget boosted the foreign buyers tax from 15 to 20 per cent while levying heftier taxes on the wealthiest homeowners – a measure that got mixed reviews in West Vancouver.
"I think this is more of a revenue grab than any effort to really solve our housing crisis," said West Vancouver-Capilano MLA Ralph Sultan. "Deep down inside they needed more revenue and thought: 'We'll whack all those high-priced homeowners in West Vancouver and Point Grey.'"
The notion of targeting speculators who park their money in real estate earned a note of support from Simon Fraser University city program director Andy Yan.
"Should you decide to park your money in Metro Vancouver, they're extending the parkade and increasing the parking fees. The era of free parking has perhaps ended," he said.
West Van restores heritage committee
In an effort to wrest heritage homes from the wrecking ball, West Vancouver voted to re-establish a heritage advisory committee.
The committee aims to alert homeowners to the history of their home as well as the merits of heritage revitalization agreements, which can allow subdivisions or extra density in exchange for the preservation of history.
Approximately 150 West Vancouver homes have some heritage value, but some, like the Rockhaven House, have already been lost, noted North Shore Heritage Preservation Society president Peter Miller.
"We all used to come around the bend and look at a house with black paint and red shutters at the water side. Suddenly some demolition fencing went up."
March
West Van grandma sues Airbnb over 'pot ghetto' stay
A West Vancouver grandmother launched a lawsuit after her family vacation to celebrate Canada's 150th birthday in Ottawa was disrupted by wafting pot smoke and late-night revels.
"They were playing beer pong on the front lawn," she said.
Airbnb ultimately sent Joan Gibbs, 79, a refund of more than $6,000, but she noted there was little response until she went public.
Airbnb offered Gibbs a $250 voucher for use towards a future stay. She said she doesn't plan to use it.
City of North Vancouver mayor bows out of local politics
After serving four terms as mayor, Darrell Mussatto elected to step down.
Mussatto helped spur Lower Lonsdale's transformation into a thriving business district while trumpeting a brand of urbanism that earned him the nickname Density Darrell.
Consistently prioritizing housing over parking, Mussatto spearheaded a change that allowed a secondary suite and a coach house on every lot in the city. Mussatto was also at the helm during the 2016 rezoning expected to quadruple the population of Moodyville.
"This is the future. The days of everybody having a single-family home, unfortunately, are not here anymore," Mussatto said then. "We can't cut down trees anymore and put in houses. We can't use the farmland, we can't fill in the inlet, so our only choice is to do better with what we have."
Mussatto's 25-year political career also included four terms as a city councillor, and stints as Metro Vancouver utilities committee chairman and a member of the TransLink Mayors Committee – all of which can "take a bit of a toll on your personal life," Mussatto explained.
District of North Vancouver mayor also bows out of local politics
The district's only mayor to serve 13 consecutive years, Richard Walton frequently championed developments intended to bring the "missing generation" back to the North Shore.
Walton led council in establishing a district-wide official community plan intended to concentrate growth in town centres.
Walton cast the deciding vote on Seylynn Mountain Highway and Fern Street skyscrapers and also supported the 399-unit Lynn Valley mall redevelopment in 2014.
Mussatto and Walton were both blamed for daily gridlock, but Walton argued traffic was "the symptom" of a greater problem, the prohibitive cost of entry-level housing.
Walton took pride in protecting the wilderness ringing the district, noting council hadn't added a single single-family housing lot during his tenure.
"Just because you love your job doesn't mean it's not sometimes better to step aside," Walton said.
District of North Vancouver fights Fibreco lawsuit
An industrial port terminal owes a big cheque to the District of North Vancouver, according to municipal chief administrative officer David Stuart, who cited a difficulty with the terminal's tax designation.
"The difference between what we levied and what we should have collected because of the difference of the designation over the three years was $994,000," Stuart said.
The district threatened to seize the McKeen Avenue property for delinquent taxes and auction it off in 2017, prompting the company to pay up $256,701, the minimum amount needed to halt the tax sale.
Fibreco sued the district, arguing the payment was made under protest and that the district was "unjustly enriched" at Fibreco's expense. Fibreco is asking the courts to force the return of the $256,701, plus interest, declare that the company owes no back taxes, and grant a permanent injunction preventing the district from attempting another tax sale.
District lawyers have filed a statement of defence, arguing Fibreco still owes $1,162,279, including penalties and interest.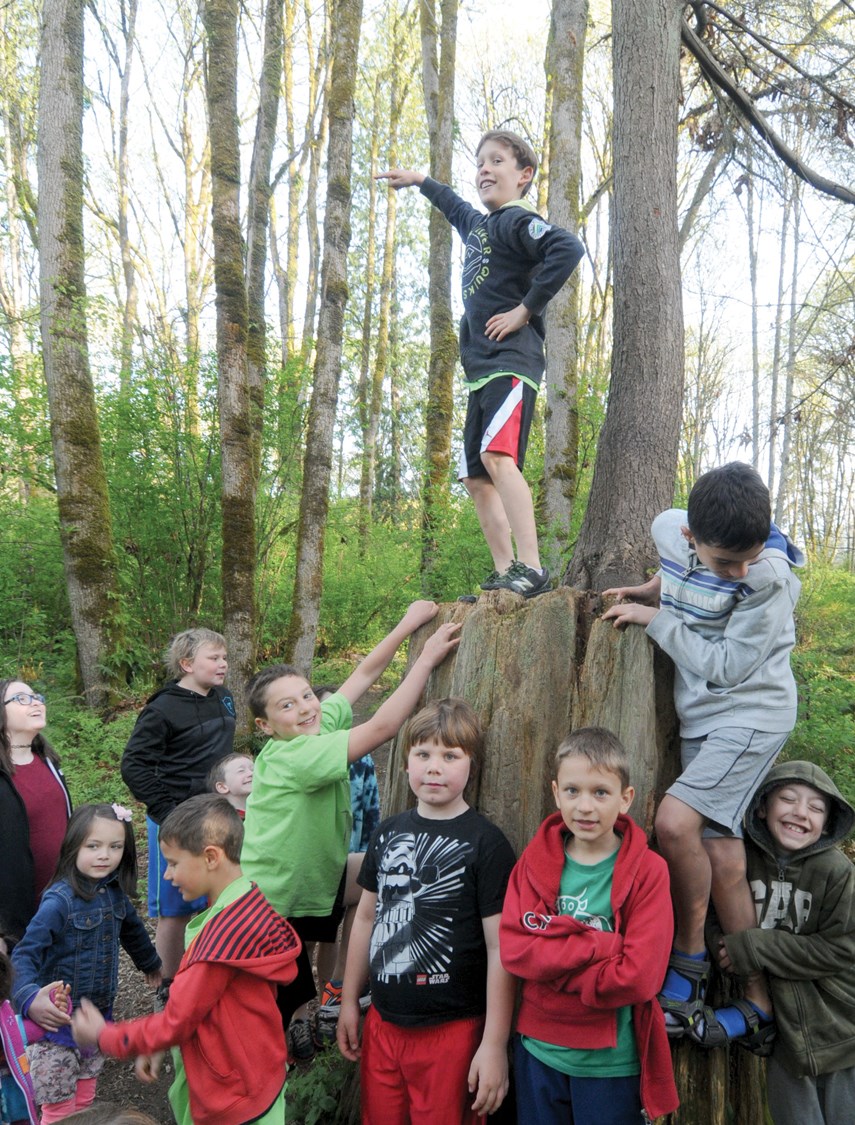 Soccer stumped as District of North Vancouver preserves park
Trees topped turf as District of North Vancouver council voted to preserve Digger Park and kick a proposed soccer field down the road.
Coun. Roger Bassam argued Inter River Park is the only place to put two tournament-ready soccer fields but council balked at the prospect of chopping 130 trees.
"Organized sport is important, but sport development should never be done at the expense of our natural areas," said neighbour and parent Jen Meilleur.
April
West Van punts, delays and OK's Park Royal condos
Nearly six years after it was proposed, West Vancouver approved two towers at the former White Spot site at Park Royal.
Council's 4-3 vote gave Larco the green light to build 203 residential units in 11- and 14-storey towers, a daycare facility and 29,000 square feet of the commercial space.
While some councillors raised concerns over density and a dearth of parking spots, Coun. Mary-Ann Booth pointed to the price of West Vancouver homes and the municipality's low vacancy rates.
"I know there is frustration out there around traffic but there is desperation around housing," she said.
Metro Van votes for, then against, raise
The Metro Vancouver board of directors voted not to go ahead with a planned pay hike and retirement allowance.
"It takes great leadership of this group to actually say 'yes, we might have missed the mark on this,'" said Metro Vancouver chairman Greg Moore.
A majority of the board approved a one-time 15 per cent increase and a retirement allowance retroactive to 2007.
District of North Vancouver Mayor Richard Walton voted against the package as did West Vancouver's acting mayor Mary-Ann Booth. City of North Vancouver Mayor Darrell Mussatto voted with the majority.
West Vancouver Mayor Michael Smith, who'd been in Hawaii when the vote was taken, dubbed the decision: "a total disgrace."
"Honestly, if I'd been there, they would have had to call the riot police."
North Van SeaBus saviour honoured
A SeaBus passenger who went into cardiac arrest halfway across Burrard Inlet likely had his life saved by Brian Counihan.
Counihan yelled for a doctor before performing chest compressions. It was the first time the 41-year-old engineer and father of two used his CPR training. Paramedics took over when the SeaBus docked in Lonsdale Quay.
"They're the ones that really brought this gentleman back to life," he said.
The passenger made a full recovery.
"I would encourage everyone to do first aid," Counihan said.
Highway 1 remedy stuck in traffic
The provincial government unveiled updated $200-million plans designed to ease Highway 1's ubiquitous traffic congestion.
The province plans to add a new northbound on-ramp for Highway 1 and traffic lights at Keith Road.
Cost for the $200-million project is being shared by the province ($76.7 million) and federal government ($66.6 million), as well as District of North Vancouver taxpayers, who are contributing $54.7 million. However, the new Mountain Highway interchange, initially slated to be completed by October, is now set to be wrapped up in the spring of 2019.
Seaspan wheels, deals, cuts steel
With hundreds of potential layoffs looming, Seaspan Shipyards successfully lobbied the federal government to rejig its national shipbuilding schedule, putting an oceanographic science vessel on the backburner while getting to work on the navy's massive joint support ships.
Seaspan officially got their wish, signing a $66.6-million contract with the federal government to start construction on early blocks for the navy's joint support ships.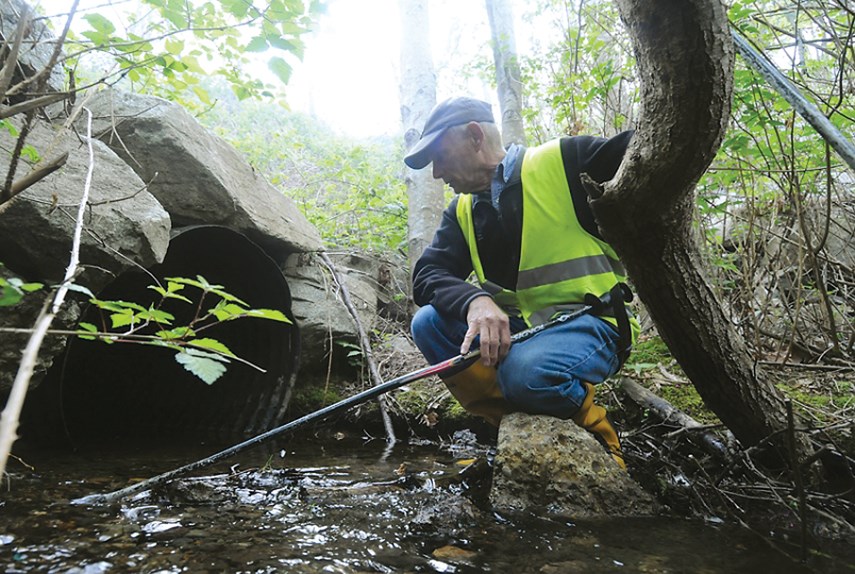 May
Chemical spills wipe out fish in three streams
Pollution oozing into ditches and storm drains was the likely culprit of three mass fish kills in North Shore creeks, including one that likely resulted in the extinction of a local population of cutthroat trout.
A construction contractor disposed of water that "infiltrated the ground and caused turbid water to flow underneath the surface to a nearby culvert and then enter Larson Creek," according to a statement from the Ministry of Transportation.
"If there's a kill there, that's the end of it," said West Vancouver streamkeeper John Barker.
DNV backs rolling Quarry Rock closures
In an effort to give Deep Cove residents a little space amid the crowds, district council voted unanimously to allow park rangers to close Quarry Rock during summer days when more than 70 hikers are atop the Instagram hot spot.
Safety has been a concern around Quarry Rock, as district firefighters were forced to manoeuvre past traffic bottlenecks 30 times in the summer of 2017 to respond to injuries and emergencies on the trail.
"We've had a soft approach long enough. Now's the time to say, 'No, there's no more room at the inn,'" said Coun. Doug MacKay-Dunn.
District wharf-fare ends peacefully
While the District of North Vancouver may not be fine with people jumping off its wharves, it opted not to fine them for doing it; passing and then rescinding a $200 penalty.
West Van chastised for dilapidation of Klee Wyck
West Vancouver artists blasted their municipal government for allowing an arts hub to fall into ruin.
Klee Wyck was a haven for classes, workshops and summer theatre camps, until the roof started leaking, said arts advocate Ingunn Kemble.
"At some point a conscious or unconscious decision was made to just let it rot," Kemble said.
The district is considering the fate of Klee Wyck.
"I'd love to see children running in the garden. I'd love to see music being played there and art being created," said Peggy Stortz, who ran a drama program at Klee Wyck.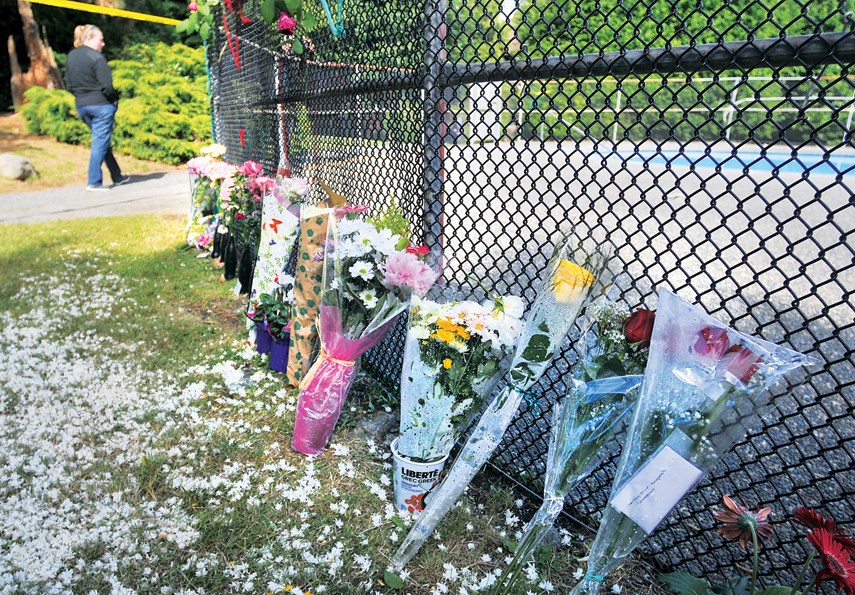 June
Two dead in Lynn Valley apartment fire
A mother and her young son died after an overnight fire seared through a two-storey apartment complex in Lynn Valley.
"By 2:40 a.m. it was like looking at hell," said neighbour Jean McCreesh.
McCreesh described a young father frantically waving his arms to get help after most of the residents had rushed to safety.
The victims were identified as Narges Casnajad and her eight-year-old son Sepehr Koshkoye Delshad.
Three residents may have saved the life of a disabled woman who lived on the first floor of the building.
Neighbour Jim Thompson recounted rushing to the scene and finding the fire had torn through the corridor and was at his neighbour's door.
Along with two other tenants he didn't know, Thompson helped lift the woman out of her side window and to safety.
"If it hadn't been for those men she would have died," McCreesh said. "That woman had guardian angels."
Split council approves Emery Village development
District of North Vancouver council voted 4-3 to approve the 411-unit Emery Village development, displacing 37 households.
Rather than playing "musical chairs with people's lives," council is abiding by an official community plan that concentrates density in town centres, explained Mayor Richard Walton.
In uprooting the current residents, the development violates community values like compassion, inclusivity and mutual respect, argued Coun. Jim Hanson.
The project consists of 327 stratas and 84 rental units.
Emery Place resident Kelly Bond said she was disappointed but not surprised at the decision, describing herself and her neighbours as "sacrificial lambs."
"I know there's tears. I guess there was hope," she said of her neighbours.
Bond and several of her neighbours as well as one other frequent litigant launched a lawsuit alleging a lack of "procedural fairness" in August.
West Vancouver on the eve of change
After two decades at a relative standstill, West Vancouver council approved a new official community plan that envisions the municipality's population ballooning by 10,000 by 2041.
That means another 5,000 units of housing over the next 25 years, predominantly clustered around Ambleside, Dundarave, Taylor Way and Horseshoe Bay village centres.
Council's decision to craft a new official community plan was the "single most important motion" Coun. Nora Gambioli had voted for during her time in office.
Part 2 of our 2018 Year in Review, covering the top news stories that ran in our paper from July through December, will appear in our next edition, Friday, Dec. 28.