The second half of 2018 was rich with protest and political upheaval, with both the Trans Mountain pipeline expansion and TransLink's B-Line bus plan prompting bitter blowback.
We also bid farewell to West Vancouver's blunt mayor, said hello to legalized blunts, and saw the immediate consequences of municipal elections with the re-examination of the Harry Jerome rec centre and the rejection of the Delbrook affordable housing project. (The first part in this two-part year in review can be found here.)
July
Repulsed by pipeline, protesters rappel from Ironworkers
Seven Greenpeace protesters spent two days suspended from the Ironworkers Memorial Second Narrows Crossing; stopping one oil tanker's passage with their aerial blockade.
The two-day hangout ended when police arrested the airborne septet – as well as the five slightly more acrophobic protesters who stayed on the catwalk – for public mischief and "jeopardizing the safety of a vessel."
"It's no surprise this involves breaking the law," said Greenpeace Canada member Alex Speers-Roesch. "We find the laws are not on the side of justice."
The dangling dozen did not face criminal charges.
Maplewood chopped down in council chambers
 The plan to bring 1,500 condos and townhouses and 4,500 new jobs to the Maplewood village town centre proved too big to make it out council chambers.
Despite Coun. Roger Bassam complaining council was "abrogating our responsibility," a majority voted to defer a vote on the innovation district until after the October municipal election.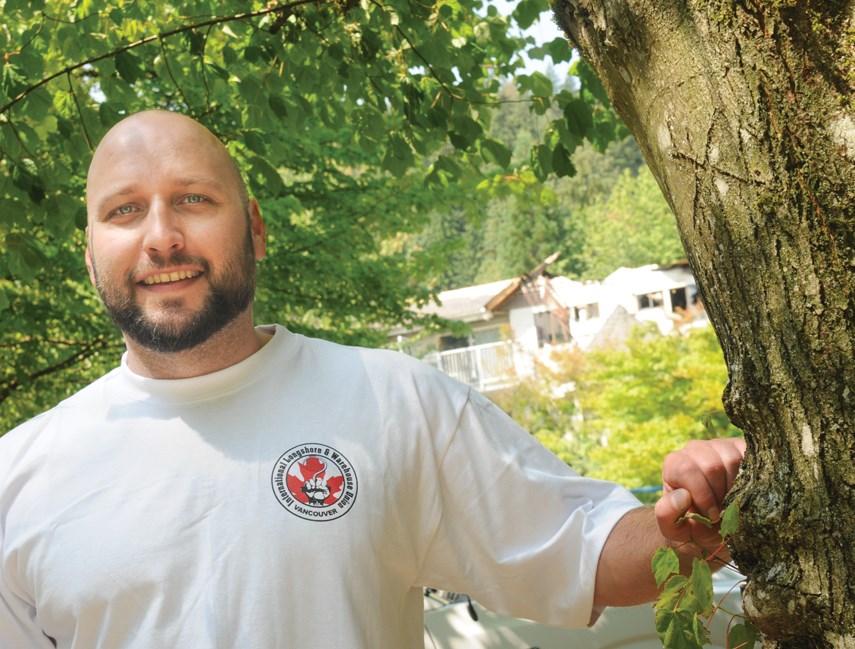 Lions Manor fire leaves seniors homeless
Sixty-six seniors lost their homes after a fire tore through Lions Manor in Deep Cove.
Resident Stephanie Alexandra described smoke enveloping the facility as she knocked on doors and yelled at her neighbours to get out while she fled her home in her bare feet.
The fire was like a "crackling campfire times a hundred," according to Deep Cove resident Nick Coles, who was preparing to eat lunch nearby when he spotted the rolling orange flames and raced to the scene.
Coles and another Good Samaritan soon found themselves manoeuvring a man in a wheelchair through a side door when they heard the cries of a woman with a broken leg calling for help from a fourth floor balcony.
The two scaled the building from outside, helping the woman onto the ladder when firefighters arrived and took over.
Many of the seniors then struggled to find replacement housing according to Ashley Swartz, who noted the travails of her mother.
"There's nothing on the North Shore," she said. "There's a two-year wait-list and my mom's 88."
Suddenly homeless seniors were dealt another blow when their landlord issued a notice stating there was no guarantee they'd be able to return to their homes.
The rebuild is expected to take up to two years.
August
Federal court plugs pipeline; oil in trouble
The Trans Mountain pipeline expansion halted after a court ruled the federal government failed to adequately consult the Tsleil-Waututh and Squamish First Nations.
"I remember people saying this is a David and Goliath fight. And it's true. The spirit of the people that I feel behind me was too big for Kinder Morgan," said Rueben George, manager of the Tsleil-Waututh Sacred Trust Initiative.
The federal government announced plans this spring to buy the pipeline and expansion project for $4.5 billion from Kinder Morgan.
September
Teens start fire, school district launches lawsuit
The North Vancouver School District is suing the parents of four teens who set fire to Dorothy Lynas Elementary in 2016, causing about $70,000 in damage.
Four 13-year-old boys climbed atop the school's roof and started a bonfire, at one point tossing in an aerosol can which subsequently exploded.
According to the school district's statement of claim, the teens' parents were negligent in failing to supervise and control the actions of their children.
The school district is attempt to recoup some of their costs.
The four boys were dealt with outside the court system.
West Van's outspoken mayor calls it a day
Weary of long meetings and consistent opposition to what he deemed necessary change, West Vancouver Mayor Michael Smith announced his retirement from politics six weeks before the municipal election.
Smith's legacy includes kickstarting redevelopment in Ambleside and pushing for a greater variety of housing. In backing Park Royal's two-tower proposal for 752 Marine Dr., he warned the gallery that rejecting the project might lead to a community of: "moaners, whiners and retirees that are happy just with no life."
Asked what advice he wishes he'd received before becoming mayor, Smith replied: "I should've taken a course on tolerance and patience."
Following a unanimous vote that gave council a 36 per cent pay hike in 2012, Smith donated his $9,085 raise to the West Vancouver Foundation.
"I haven't seen anything to prove that the more you pay, the better candidates you get."
Escaping gridlock's grip
North Shore residents got their first look at a plan to unclog congested roadways with the release of a comprehensive report produced jointly by three municipalities, two First Nations, four provincial ridings, a federal riding and TransLink, all of whom were rallied by North Vancouver-Lonsdale MLA Bowinn Ma.
The Integrated North Shore Transportation Planning Project calls for a lower level road connecting West First Street in North Vancouver to Park Royal in West Vancouver.
The report also emphasizes improving pedestrian and cycling networks, and introducing priority bus lanes to the planned Dundarave to Phibbs Exchange B-Line bus out of gridlock.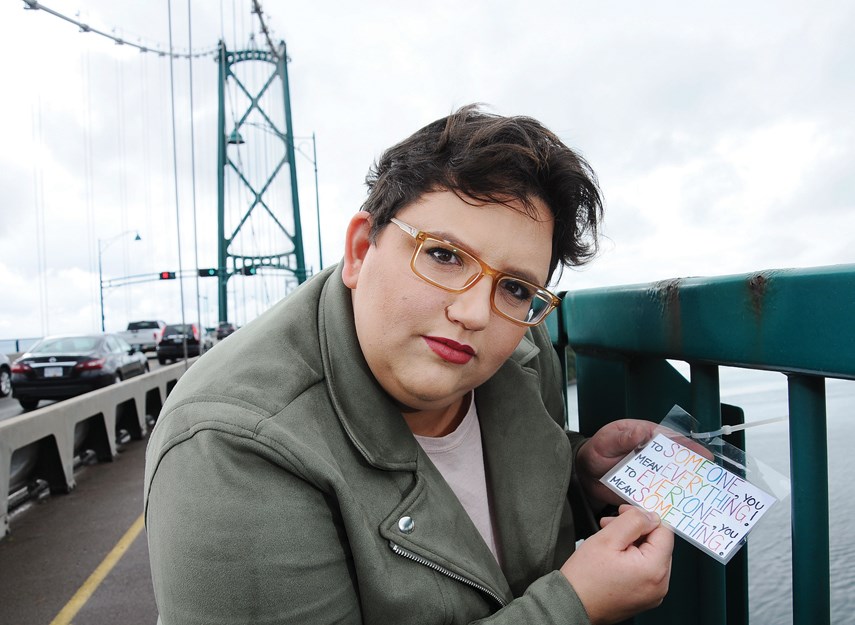 Bridge gets messages of hope
A Vancouver woman posted messages on the Lions Gate Bridge in an attempt to support anyone struggling with depression.
The 70 messages are meant to tell people life is worth living and that feelings of despair aren't permanent, explained Mindi Reynolds.
"There's a lot of stigma behind the topic. ... It's important to many of us that the stigma is ended," Reynolds said.
For the birds (and fish)
 While Maplewood may not be rezoned any time soon, it is slated to be restored.
The Tsleil-Waututh Nation and Vancouver Fraser Port Authority are planning an $8-10-million habitat restoration in the tidal area contaminated by decades of heavy industry including dredging, gravel extraction and log storage.
The port sought permits to dredge out a new channel to move upwards of 100,000 tonnes of sediment to create "habitat benches" to enhance the area for fisheries.
If approved, it would result in 19,000 square metres of new intertidal flats, meaning eelgrasss beds and rock reef, turning the area into a buffet/hideaway for juvenile salmon migrating into Burrard Inlet.
Men's addiction recovery centre opens
After years in development, a 10-bed facility offering help to men with alcohol or drug addictions opened its doors on Burr Place.
The centre doesn't accept court mandated patients, explained Turning Point Recovery Society executive director Brenda Plant.
"We only take people who have recognized they have a problem and want help," she said.
City approves 187-foot tower, pockets $17 million
City of North Vancouver voted 6-1 to approve an 18-storey, 162-unit strata building with a seven-storey podium on East 13th Street between Lonsdale and St. Georges avenues.
Coun. Don Bell was the lone voice of opposition during council debate, noting the total office space would drop from approximately 50,000 to 31,718 square feet.
In order to put more density on the site, developer Millennium Northmount Properties will spend $17.1 million on a floor space ratio bonus and in buying space from a city-owned site.
October
Short-term rentals prompt lengthy dispute
A woman who ran a 14-bed hostel and welcomed as many as 20 guests a night out of her three-bedroom Central Lonsdale townhouse was found in contempt of court and fined $4,000 for violating her strata's prohibition on short-term rentals.
Emily Yu appealed the initial ruling, arguing her short-term rental operation should be grandfathered in because she'd been running the hostel, marketed online as "Oasis Hotel" for three years before the strata enacted the ban.
The justice sided with the strata, ruling that Yu has been "obdurate in her defiance of the court order."
Montroyal parents plead for safer passage after teens injured
Following an Oct. 9 crash that landed two teens in hospital, Montroyal parents and neighours lobbied District of North Vancouver council to make their neighbourhood safer.
"It was the worst day of our lives," said mother Susanna Li. "But it was also the luckiest day of our lives."
Neighbours advocated zebra-striped crosswalks, a three-way stop, extra speed humps and improved signage.
North Van school board ends tumultuous term
A four-year term that included allegations of acrimony, bullying and overall dysfunction ended with outgoing trustee Susan Skinner filing a complaint alleging sexual harassment by a colleague.
"That's not a fantastic way to end a tenure but it's something that had to be done," she said.
Skinner, who attended three public school board meetings in person over two years, said sexual harassment was the reason for her frequent absenteeism.
The board's checkered term included power struggles with senior staff, a screaming incident in a bar and approximately $200,000 spent on various types of mediation, coaching and governance facilitation over the past four years.
"And no matter how many independent people recommend change, nothing changes," a trustee wrote.
Despite a report suggesting their dysfunction was linked to their preference for closed-door meetings, the North Vancouver school board voted 4-2 against a motion that would have directed the next school district board to hold most of its meetings in public.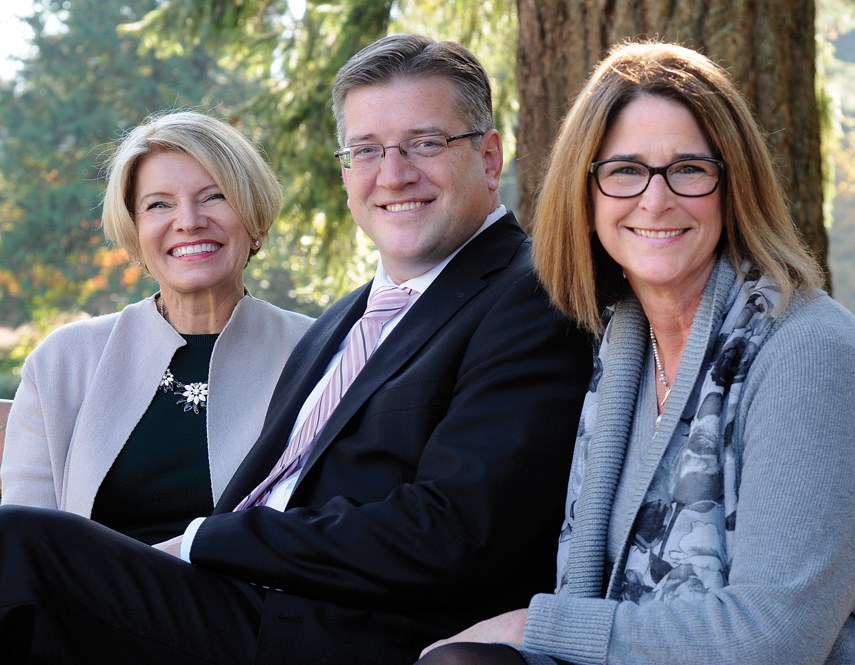 Booth edges former mayor in race, recount
By a margin of 21 votes, councillor Mary-Ann Booth bested former mayor Mark Sager in a dramatic contest for West Vancouver's chain of office.
"It was like Secretariat and Sham in 1973 – neck and neck," Booth said following the election. "That was nerve-racking."
The nerve-racking race continued after election night, as district staff converted the Gleneagles Community Centre gym into recount office after a judge granted an application from outgoing mayor Michael Smith and defeated council candidate Jim Finkbeiner to count the votes again.
The 21-vote margin was unchanged.
Incumbents Craig Cameron, Peter Lambur, Nora Gambioli, Bill Soprovich, as well as newcomers Marcus Wong and Sharon Thompson also earned a spot on council.
Linda Buchanan elected mayor in CNV
With 29.7 per cent of the vote, Linda Buchanan made the transition from the councillor's chair to the mayor's chair; beating three slow-growth proponents including former councillor Guy Heywood, who received 26 cent of the vote.
"I'm just honoured that the citizens have put the faith in me to carry on with the city and I am thrilled with who else has been elected," Buchanan said, referring to new councillors Angela Girard, Tony Valente, Jessica McIlroy, Tina Hu, as well as incumbents Don Bell and Holly Back.
Heywood took some responsibility for the split among himself, Rod Clark and Kerry Morris, each of whom advocated slowing development.
"The three of us did the community a disservice by not giving them the opportunity to get behind one candidate."
Emery Village spurs change at DNV hall
With 59 per cent of the vote, former councillor Mike Little was elected District of North Vancouver mayor.
Little singled out Emery Village mother Kelly Bond for uniting returning incumbent Coun. Lisa Muri, himself, and newly elected councillors Betty Forbes and Megan Curren.
"Your efforts this spring brought us all together," he told Bond. "You now have a new council to work with."
That new council also includes incumbents Jim Hanson and Building Bridges member Mathew Bond as well as Jordan Back, who squeaked by Barry Forward by 101 votes to earn the last spot on council.
Coun. Lisa Muri continued to be the most popular councillor among district voters, finishing with more than 12,000 votes – 2,300 ballots more than runner-up and frequent ally Hanson.
"We have a majority now," an ecstatic Muri said.
District voters were keen on amalgamation, with 79 per cent of voters favouring a $100,000 study on reunification with the City of North Vancouver.
District residents also voted yes – albeit by a razor-thin margin – to spend a maximum of $150 million to create at least 1,000 units of non-market housing by 2029. The final poll listed 51.64 per cent of voters in favour and 48.36 per cent opposed.
November
District decides price too high for affordable housing
Citing concerns over height, density and traffic, District of North Vancouver council shot down a below-market housing project that would have replaced a parking lot with 80 units of rentals and a seniors' respite centre.
"If we are serious in our desire to create more rental housing in the midst of a housing crisis, I would urge my fellow councillors to move this project forward and not use it as some sort of political hot potato," said Coun. Jordan Back.
While he said he supported affordable housing and respite, Coun. Jim Hanson assured his colleagues the district could do better, noting concerns about design and community impact.
"We need to find win-wins," he said.
Cannabis legal but pot shops high, dry
With only one North Shore pot shop operating on Oct. 17, legalization day celebrations seemed anticlimactic.
Michael Wuest of Weeds pot shop said he attended a party thrown by a federally licenced cannabis producer Oct. 17 but noted ironically "there was no cannabis available."
After announcing plans to allow a maximum of six pot shops, the City of North Vancouver received approximately 60 applications within 24 hours of opening the virtual doors.
Earlier in the year the city used civil court injunctions to shut down the unlicensed marijuana dispensaries, one of which had been operating for three years.
Cannabis stores are banned elsewhere on the North Shore, although District of North Vancouver council is preparing to take a fresh look at the issue pending a staff report.
Pot shop proprietors in West Vancouver can apply for individual rezonings.
Harry Jerome rec centre project reaches finish line! Wait . . . not so fast
Four months after the outgoing City of North Vancouver council approved a $210-million Harry Jerome rec centre project, the newly elected council froze the project until its financial risk could be mitigated.
Citing the project's potentially to plunge the city into financial ruin, Mayor Linda Buchanan has continually advocated for a more modestly-priced rec centre, much to the chagrin of Coun. Holly Back.
"Please let this council respect and honour the very difficult decision that has been made," Back said, arguing that further delay would only burn tax dollars.
The new Harry Jerome rec centre's design – which is now subject to change - included curling and skating rinks, a 50-metre pool, the Silver Harbour Seniors' Centre, a fitness centre, gym, and multi-purpose rooms.
The city previously planned to help pay for the centre with $90 million in bridge financing and $20 million in internal borrowing, as well as the $183-million the city is set to receive by leasing land between 21st and 23rd streets along Lonsdale Avenue to Darwin development company.
Province funds two housing projects
North Vancouver is set to get 196 affordable housing units following the province's funding announcement.
The Kiwanis North Shore Housing Society will receive $10.6 million towards its 106-unit, six-storey seniors' housing project on Whiteley Court. The Sanford Housing Society and Hollyburn Family Services Society have been granted $9 million for a 90-unit family-oriented project adjacent to Phibbs Exchange.
While she said she was ecstatic with the funding, Joy Hayden of Hollyburn Family Services noted the acute need for permanent affordable housing.
"Give us another 2,000 units and now we're talking."
West Van cop sent nude pics to victim of domestic violence
A West Van police officer was fired after committing 25 acts of police misconduct, including sending nude photos of himself to victims of domestic violence and harassment.
"The police officer breached the trust of the public and police department to such a degree that anything short of dismissal would be unworkable," stated West Vancouver Police Department Chief Const. Len Goerke.
The officer also used his work phone and email account to contact women he met during a harassment investigation, traffic stops or impaired driving stops, as well as conducting unauthorized searches of women on confidential police records databases.
Three of the women he contacted were affiliated with drug dealers and gang members, according to a report from the Office of the Police Complaint Commissioner.
December
West Van needs $14.5 million for deteriorating assets: report
District of West Vancouver council may have to choose between the expediency of demolition and the high cost of maintenance when it comes to Klee Wyck, Nelson Creek Bridge, the Larson Bay tennis court and two neighbourhood playgrounds, all of which need substantial upkeep.
The municipality needs about $14.5 million to maintain their capital investments, according to a staff report that listed more than a third of district buildings as being in poor condition.
Turning a blind eye to issues or hoping another level of government will pay has been "a popular strategy in the municipal world," according to district finance director Isabel Gordon.
North Van schools diss honour roll
North Vancouver school district is in the process of phasing out its honour roll.
Grade 10 students were discharged from the honour roll in 2018, following the removal of Grade 8 and 9 students in 2017. Some schools are slated to remove the roll entirely in 2019.
The move is meant to be part of a transition from "grading culture" to "learning culture," according to school district spokeswoman Deneka Michaud.
The change was unpopular with some parents including Anna Kraus, who said her daughter strived for honour roll status.
"I feel that the whole system is really getting
dumbed down."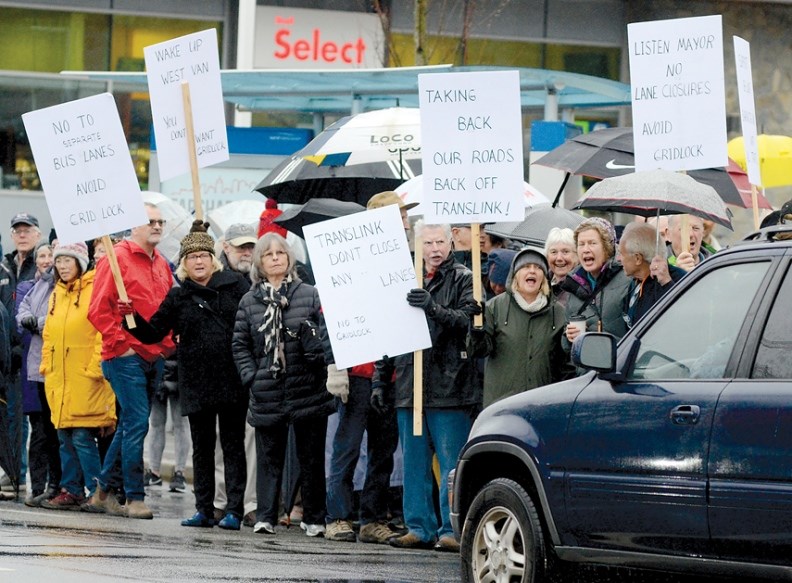 Ambleside businesses take sides in B-Line brouhaha
Incensed at the prospect of Marine Drive's outside lanes being allocated to B-Line buses, approximately 150 Ambleside and Dundarave business owners and residents jammed the corridor in protest, briefly blocking one westbound lane. While drivers would still be able to use curb lanes to turn right or park, some merchants argued losing 15 parking spots over a 20-block stretch to facilitate left-turn bays and bus stops would decimate business.
"These residents rarely if ever use a bus and will never do so," said protest organizer and Ambleside merchant Nigel Malkin.
A TransLink representative suggested separating left-turners, right-turners and through traffic would decrease overall travel times while easing the parking shortage by allowing commuting employees to take the bus instead of driving.
"The North Shore has not had an east-west option like this ever," he said.
The final decision rests with West Vancouver council.
North Shore readers dazzle
In a tremendous display of both literacy and community engagement, a few North Shore residents read the entire Year in Review article, skimming only here and there. Happy new year!
– Jeremy Shepherd