The once-approved, now-stalled Harry Jerome rec centre replacement will remain sidelined until this fall following council's unanimous decision Monday to await the completion of an overall city recreation strategy.
The previous council approved a $210-million rec centre replete with a curling rink and a 50-metre pool, in July 2018. However, the newly elected council voted to freeze the project prior to the construction tender phase until financial mitigation measures were in place.
"We are committed to building a community recreation centre," Mayor Linda Buchanan said Monday, addressing the gallery crammed with swimmers and curlers. "But we need to make sure that the community recreation centre will be right-sized for our city."
Council may mull halving the 50-metre pool and cutting curling from the rec centre as part of a plan that could save $27 million in capital costs.
The smaller pool would reduce the price of the rec centre by $4.6 million. That sum "doesn't sound like it's much different than a house in North Vancouver," said swimmer Erin Roddie.
Roddie was one of several speakers who expressed frustration at council's decision to hit pause on the rec centre plan.
"I feel that bureaucratic roadblocks over the years have us stuck in a never-ending cycle of inaction," Roddie said.
She was supported by swimmer Sandra Edwards, who underscored the need for a bigger pool.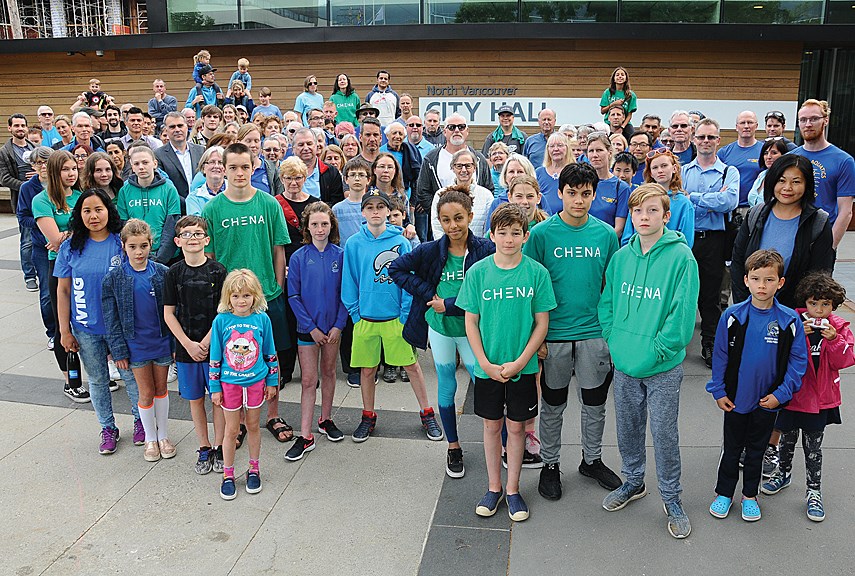 "I currently swim with the masters program at Harry Jerome in the same pool I trained in 47 years ago," she said, noting she regularly drives her children to bigger pools in Coquitlam, Vancouver and Burnaby.
North Vancouver curlers face similar commutes, said Rob Gardner explaining that his wife, daughter, son and mother all cross bridges to get to curling rinks.
While they voted with their colleagues, Couns. Don Bell and Holly Back each expressed disappointment with the pause.
"Costs are escalating as we wait, and wait, and wait," Back said.
Based on a six per cent escalation rate on construction costs, a six month delay could add $4.8 million to the rec centre's cost, Bell noted.
"I'm going into my eighth year on council and we've been discussing Harry Jerome every year," Bell said. "It's not like this is a sudden decision."
It's prudent to take "one last sober look at the project," explained Coun. Angela Girard. It's imperative to consider the city's recreational assets and usage, "which I understand wasn't fully considered with the current design," Girard added.
Coun. Jessica McIlroy concurred.
"I have been actually frustrated by the fact that we don't have a North Van rec strategic plan," she said.
"To me it doesn't make sense to start on a major project . . . when we don't have that vision."
The city needs to be cautious, Coun. Tina Hu said, noting risks posed by inflation and rising interest rates.
"Having said that, we also need to move forward with building this recreation centre," Hu said.
While suggesting he was supportive of a pool "which meets our future requirements" as well as curling, Coun. Tony Valente suggested there may be ways to reduce the city's dependence on bridge financing.
"It's worth doing this right because we're only going to get one shot at this."
The new rec centre will be for all residents, according to Buchanan.
"It's about planning holistically and really looking at equity for all people," she said.
While noting concern over delays, Buchanan emphasized the size and complexity of the rec centre replacement.
"It's the biggest project of this magnitude that the City of North Vancouver has taken upon itself," she said.
While the rec centre replacement will likely be shelved until next fall, construction on the new lawn bowling pitch near Mickey McDougall is slated to go ahead following a motion put forward by Bell.
Noting that a construction delay could cost lawn bowlers their season, Bell suggested the lawn bowling facility be treated separately. The amendment was supported unanimously.
Leaving curling in the cold would save the city $12.7 million in capital costs and between $150,000 and $250,000 in annual operating costs, according to a city staff report.
The smaller pool would save between $200,000 and $1 million in yearly operating costs.
The city could trim $2 million from the project by dropping the south building from four to three storeys.
Other savings could be achieved by removing and relocating $5 million worth of underground parking spots and doing away with a $3-million rooftop walking track and sports court.