More than three years after winning approval to build a massive commercial/residential project south of the Northshore Auto Mall, Concert Properties has yet to apply for a building permit or a development permit for the Harbourside project.
The development was debated again Monday as City of North Vancouver council voted 4-2 to grant Concert's request to delay the construction of a seniors' rental-assisted living facility, push some of the commercial space originally earmarked for the foot of Fell Avenue farther west, and fast-track the construction of market rental housing.
The changes chagrinned Coun. Pam Bookham, who excoriated Concert for taking so long to begin building the 800 strata and rental units and 300,000 square feet of commercial space on the strip of waterfront property between Bewicke Avenue and Bodwell High School.
"The vibrancy which basically sold this project . . . is now in danger of never being realized," she said, joining Coun. Rod Clark in voting against the change.
"I don't understand why we would be supportive of Concert when they seem unable or unwilling to move forward and deliver the vision that they sold to us, and sold to the community," she said.
It was a vision Bookham never bought into, suggesting the project "flies in the face" of planning principles that target high-density projects for areas with quick access to transit.
The project includes a 24-seat community shuttle bus, which would offer complimentary service from Harbourside to Lonsdale Quay. The shuttle would cease operations once TransLink increases service in the area.
Given the steady stream of traffic that backs up along West First Street when Seaspan workers end their shift, "it's about bloody time" there was rental housing in the area, stated Coun. Craig Keating.
"It'd be great if in fact we could have a bit more housing capacity down there so we're not overloading the roads with people who just want to come here to work at good industrial jobs," he said.
The project should "help to address historically low rental vacancy rates," according to a city staff report. The city's vacancy rate was pegged at 0.3 by the Canadian Mortgage and Housing Corp.'s 2016 survey.
However, there is also a "strong need" for rental housing for seniors, the staff report noted.
Concert's bid to reconfigure the commercial space "has the potential to weaken" the city's goal of creating a vibrant commercial junction at the foot of Fell Avenue, according to a city staff report.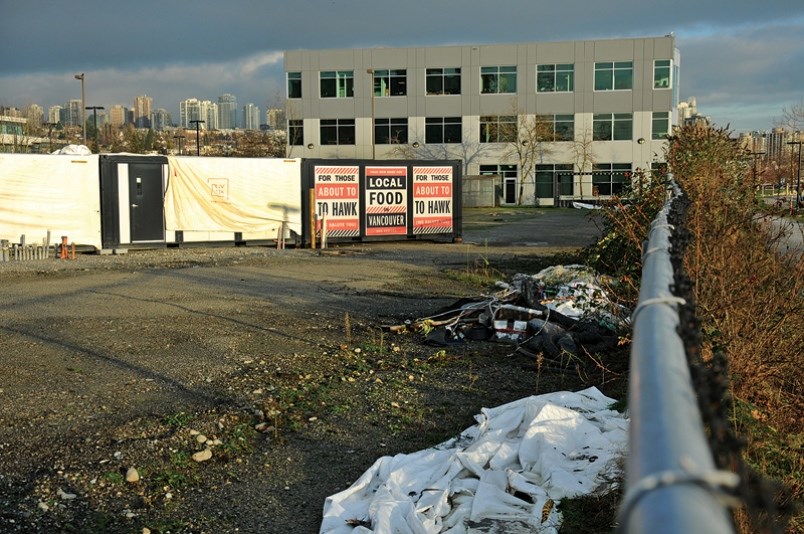 That was a concern for Clark, who questioned if the city had created a "gentrified community" with a large portion of dental, medical, and legal offices.
"Are we at risk of diluting the commercial node at the bottom of Fell?" Clark asked.
Dilution is a concern, said city planner Michael Epp. However, there will still be a plaza surrounded by commercial space.
"I do think that the node does still function," Epp told Clark.
Clark also expressed frustration with Concert Properties' sluggish pace.
"I want to see action and I want to see it soon," he said.
The project's initial plan prioritized the neighbourhood's commercial centre and employment-generating office space, with the largest residential portion set to be delivered later in the process. That process was negotiated to provide the city "with a greater degree of comfort that the amenities would be delivered, particularly in the event that market conditions change," noted a city staff report.
Building regulations related to flood risk have made the commercial component more challenging, according to Epp.
"They just haven't been able to achieve the amount of commercial development at the ground floor that they previously anticipated," Epp said.
However, the changes are "relatively minor," as the majority of the commercial development is still slated to be built in the first two phases of the four-phase project, noted a staff report.
The change is intended to be a "precursor to some serious action on the site," Epp said.
Mayor Darrell Mussatto concurred, referring to a meeting with Concert Properties.
"They want to get moving on this, and they see this as critical," he said.
Mussatto also supported building housing first. "I think it's the right thing to be doing."
 Concert Properties initially pitched a major project for the waterfront in June of 2009.
The site is currently vacant, despite initial plans to create an outdoor plaza at 925 Harbourside Dr. ringed by cooks, chefs, and craft beer brewers. Plans for Hawker's Wharf were discarded despite entrepreneur Chris Jerome and Concert Properties reaching an agreement with the City of North Vancouver in 2015.
The Harbourside project would likely take 10 years to complete, according to city staff.
Coun. Don Bell did not attend the meeting.