It might better be described as a green rush than a gold rush.
On Monday, the City of North Vancouver opened the virtual doors to cannabis store applications.
Approximately 60 applications were submitted on the first day, vying for six potential city pot shop licences, said Connie Rabold, spokeswoman for the municipality.
The city is accepting applications on a "first come, first served" basis until Nov. 30. Council is expected to begin considering specific requests for pot shop rezonings beginning in January.
Rabold said she couldn't provide information on which companies have applied for cannabis store licences – whether those are retail chains hoping to set up shop in multiple communities or local mom-and-pop-style operations.
Two of the larger marijuana stores that had been operating in the city prior to legalization on Oct. 17 are among the applicants.
Owners of both the former Weeds store on Marine Drive and Lotusland on Second Street said they have submitted applications.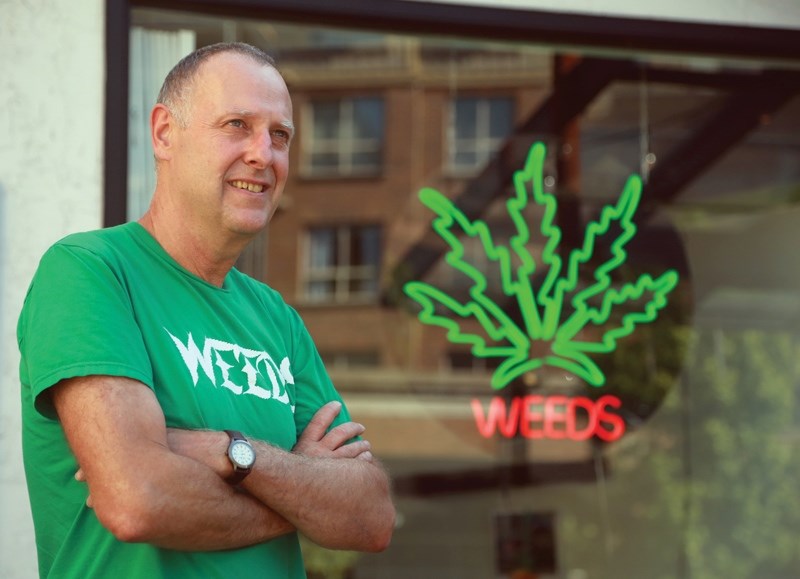 "We do have a bit of a proven track record," said Michael Wuest, who ran the Weeds store on Marine Drive and hopes to reopen in the same location as a legal cannabis store. "I would hope that would help us."
Wuest said he's also hoping having an existing lease in one of the allowable locations for marijuana stores will work in his favour. Wuest said he's heard from local Realtors, that "they've been inundated with interested parties."
North Vancouver commercial real estate agent Ross Forman said he gets calls about pot shops three times a day, but he said available space is limited and landlords generally aren't keen - because of the potential impact on  insurance, mortgages and other tenants. Forman said he's even seen landlords shy away from inquiries for government-run cannabis shops, adding it may take a couple of years before landlords are more comfortable with cannabis retail.
Weeds and Lotusland both shuttered the shops that had been operating for several years just ahead of the Oct. 17 legalization date, after reaching court settlements with the municipality. Nobody who is currently running an unlicensed marijuana store will be considered for a licence.
Another former pot shop – WeeMedical on East First Street – was raided by North Vancouver RCMP on Aug. 9 and shut down after the municipality was granted an injunction in B.C. Supreme Court at the end of July, forcing the shop to close.
Currently one cannabis store – Herban Art Collective – continues to operate without either a provincial or municipal licence in North Vancouver while the city and shop owner Kevin Anderson are battling in court.
The municipality is seeking an injunction in B.C. Supreme Court to force the closure of the pot shop as well as seeking fines for breaking city bylaws in provincial court.
Meanwhile, Anderson has also filed a lawsuit against both the landlord of his store at 360B East Esplanade and the municipality.
In the lawsuit, filed Nov. 9 in B.C. Supreme Court, Anderson states that the landlord was aware he was selling marijuana from the store. When his lease ran out in June, the landlord agreed to let Anderson continue operating on a month-to-month basis, according to the court petition.
The landlord also accepted more than $10,000 in rent in advance, covering the time from Sept. 1 to Jan. 31, 2019, according to Anderson's lawsuit.
But after the city threatened to remove the landlord's business licence this fall, on Nov. 6, the landlord gave the pot shop six days to get out, according to the lawsuit.
Anderson stated in the lawsuit that the legal action against his shop should be put on hold until a decision is made in a similar case in B.C. Supreme Court. In that case, the Karuna Health Foundation is arguing it should be allowed to remain open as a provider of medical cannabis, on the grounds that forcing medical patients to buy marijuana through the mail is unfair.
An employee who answered the phone Tuesday at Herban said the shop remained open. Meanwhile, court documents indicated Anderson planned to be in B.C. Supreme Court seeking an 11th hour reprieve from his landlord's plans to bring a bailiff to the store.
Pot shop applicants who are granted provincial approvals and are applying for a store within allowable areas of the city will have to pay a rezoning fee of just over $4,000, as well as a $5,000 application fee, a $1,500 application processing fee and an approximately $3,700 annual business licence fee on top of provincial fees.
Council is expected to consider the first of the applications to meet all of the criteria beginning in January.