The company behind the massive new grain terminal on the North Vancouver waterfront says it will continue making tweaks to its aircraft warning beacons after the first few days of operations left residents in the nearby Calverhall neighbourhood feeling a bit blinded by the light.
According to G3, a technical malfunction was to blame for bright white lights flashing throughout the night April 23.
The automated system at the terminal, which is still in its testing phase, switched on its red and white flashing lights at the top of its tallest structures, as required by Transport Canada for aviation safety.
Like most safety beacons, they are supposed to flash white during the day and red at night, so as to be less disturbing.
"The automatic controls however did not operate as intended resulting the white lights flashing after dark," a statement from the company read. "Steps are being taken to resolve this issue immediately. We apologize for any disturbance this issue has caused our neighbours."
Neighbours who spoke to the North Shore News described a sleepless night of "horrendous light pollution" and like being "inside Studio 54."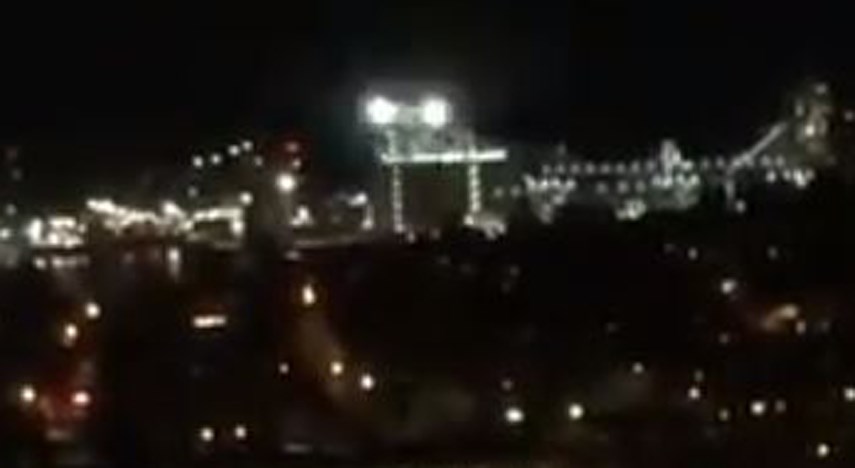 The company has since ensured the white lights won't be cutting through the night sky anymore, but residents say even during the daytime, they are too obtrusive and impossible to ignore.
"Your eyes are just drawn to it. You can't look at anything else except these lights that are blinking at you," said Anthony Riglietti.
The waterfront is lined with terminals that don't pose the same problem, Riglietti noted.
"There's got to be a solution where maybe the light is dimmer during the day," he said.
Anthea Mallinson, who lives next to Cloverley Park, said she doesn't want to look out her window anymore.
"We can't cast our eyes to the south because they will jar us in the eyes," she said.
Mallinson's husband said the lights are akin to the ones he uses in filming, which can be damaging to eyesight if looked at directly.
"I can feel very quickly the muscles in the back of my eyeball tightening up and tensing and aching," Robert Morrison said. "I see it as not only as a major disturbance to the quality of life for all the people that are in eyesight of these things, but also an ongoing health issue."
Mallinson took it upon herself to research Canada's aviation regulations, which specify:
"Where … lighting is in a congested residential area, a suitable shield is installed on the appropriate lights to minimize the glare effects of the light."
If they can't be removed or replaced with something less offensive on the eyes, that's what should be done, Mallinson added.
"I would like to see them shielded so that they shoot upwards and don't shoot sideways into the mountainside or into people's apartments," she said.
In a statement sent Monday, the company says it is still working out the kinks in the system.
"We are continuing to work on aviation safety lighting at G3 Terminal Vancouver. The red and white flashing lights, recently commissioned, are required by Transport Canada," it read. "Working with our construction contractor, we are exploring if there are options to mitigate the effects of the aviation lights on surrounding neighbourhoods. Our relationship with our neighbours is very important to us. We appreciate your patience."