The following News article, reprinted in its entirety, appeared in the North Shore News on June 28, 2002.
Following a recent tragedy at Cleveland Dam, where a torrent of water was released that flowed down Capilano River leaving one man dead and another missing, the North Shore News is re-publishing this old article which highlights the story of a malfunction at the dam nearly 20 years ago that left four fisherman stranded.
Fishermen rescued from river
North Shore News
Fri June 28 2002
Page: 1 / FRONT
Section: News
Byline: Katharine Hamer

FOUR fishermen were stranded in the middle of Capilano River Wednesday morning after a malfunction at Cleveland Dam sent water levels soaring.
According to Paul Archibald, administrator of systems operations for the GVRD, an automatic drumgate that controls the flow of water through the dam malfunctioned at around 7 a.m., causing one of the gates to open.
GVRD staff had resolved the problem by 8 a.m., but by then the water levels had already risen by 1.2 metres.
Archibald said the incident happened very quickly. He said there was no time to alert anyone on the river to the possibility of rising water levels. Langley resident Daryl Power was fishing with his friends Jamie Urbash of Maple Ridge and Peter Bereditsch of White Rock shortly after 9 a.m. when without warning the water levels rose.
"I turned around and reeled in and said, 'Let's see if Pete's got anything,'" Power told reporters as a rescue operation got underway.
"Then the water just turned brown."
Bereditsch had been separated from his friends. Along with North Vancouver resident Mohammad Hosseini and two other locals who were fishing at the same spot, he was trapped on an island that was formed in the middle of the river by the rising water. Urbash and Power clambered up the western embankment of the river and found a West Vancouver Fire and Rescue(WVFR) crew on their way back from auto extrication training at the Klee Wyck training site on Keith Road.
WVFR Lieut. Greg Holt was approached by Power and Urbash.
"They said, 'Were you guys called here?'" Holt recalled. "I said, 'No, do you guys have a problem?' They said, 'Yeah, the river came up, and there's four guys on an island and they're gone.'"
Holt was unable to spot the men from the bank. Fire crews set up a cordon at the Capilano Bridge near Park Royal. Spotters were also positioned at the Capilano Road overpass, with a Coast Guard boat and North Vancouver District fire boat waiting at the mouth of the river.
North Shore Rescue then arrived on scene with a helicopter, which was used to lift the stranded fishermen to safety at nearby Klahanie Park. Tim Jones of North Shore Rescue said initial reports had the fishermen swept away entirely.
"I didn't know what the dynamic was until we landed (on the island)," he said. "I didn't know why (the fishermen) were surrounded by water. They didn't look wet and they didn't look underdressed."
"It was dry, and then it was up to here," said Power, marking his waist. "If it had been little kids there, trying to get back ..."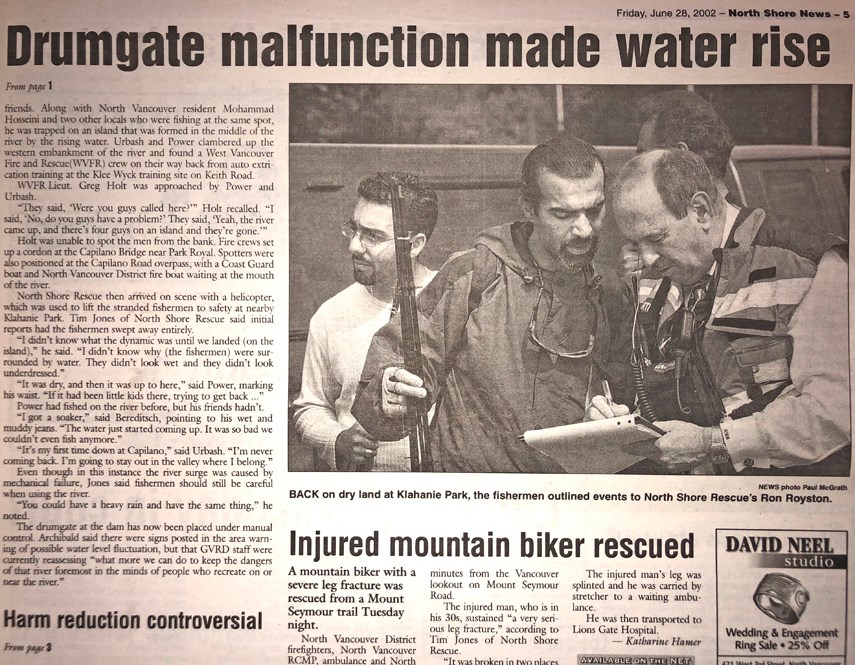 Power had fished on the river before, but his friends hadn't.
"I got a soaker," said Bereditsch, pointing to his wet and muddy jeans. "The water just started coming up. It was so bad we couldn't even fish anymore."
"It's my first time down at Capilano," said Urbash. "I'm never coming back. I'm going to stay out in the valley where I belong."
Even though in this instance the river surge was caused by mechanical failure, Jones said fishermen should still be careful when using the river.
"You could have a heavy rain and have the same thing," he noted.
The drumgate at the dam has now been placed under manual control. Archibald said there were signs posted in the area warning of possible water level fluctuation, but that GVRD staff were currently reassessing "what more we can do to keep the dangers of that river foremost in the minds of people who recreate on or near the river."