Burnaby's 2022 Illicit drug toxicity death toll has risen to 19, new data released by the BC Coroners Service shows.
Seven deaths were recorded in February, followed by four the next month.
Data also showed 165 were lost provincewide, the second-highest number of lives lost in the month of March. It's also the 18th consecutive month that more than 150 deaths were recorded.
"It is encouraging to see a decrease in the number of lives lost in February and March relative to previous months, but we know the illicit drug market continues to present enormous risks to our community members," BC chief coroner Lisa Lapointe said in a news release.
"We encourage people using substances to exercise great care, use only a small amount first, and make sure someone is nearby to provide emergency aid if necessary. The volatile illicit market remains unreliable and unpredictable, and continues to take the lives of loved ones across the province."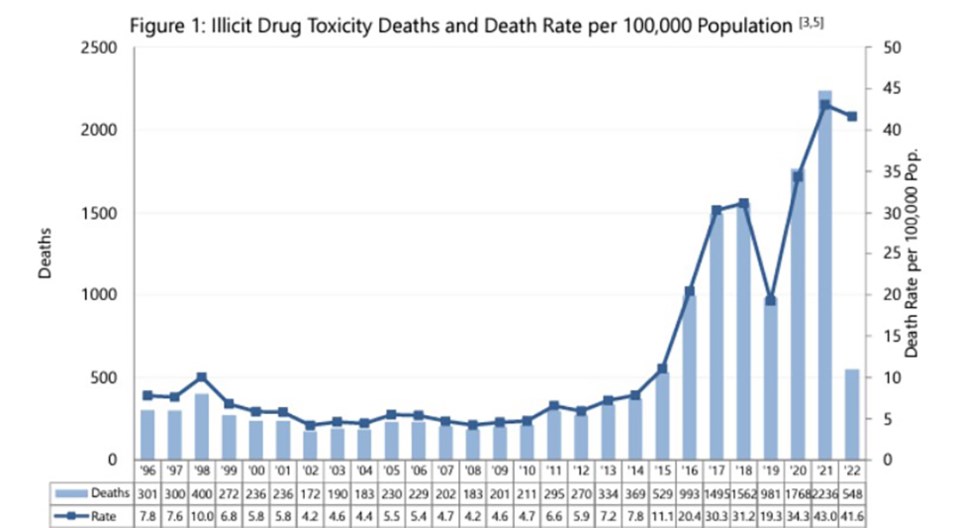 The 165 deaths last month equated to 5.3 deaths per day, the coroners service says.
The townships experiencing the highest number of illicit drug toxicity deaths so far this year are Vancouver, Surrey and Victoria.
"It's tragic that 165 people lost their lives to the toxic drug crisis in March. My heart is with the families and friends who are grieving, and my thanks to the front-line workers and peers who tried to save them," Minister of Mental Health and Addictions Sheila Malcolmson said in a separate news release.
"Every life lost is a tragedy. Our government remains committed to doing what it takes to turn the tide on this crisis. Almost every week, new mental-health and substance-use supports are added to save lives, yet the terribly toxic street drug supply continues to take lives.
"We know there is more work to do, and we won't stop until we turn this crisis around."