Though it may have the appearance of an enclave for the very affluent, West Vancouverites aren't bringing home as much bacon as they used to, according to Statistics Canada.
The agency released a batch of census data Wednesday showing the median pre-tax household reported income was $89,808 a drop of 1.2 per cent since the last full census in 2005 (measured in 2015 dollars). Only two other municipalities in B.C. saw their pre-tax income fall – Port Alberni and Quesnel.
The District of North Vancouver topped the list of income earners locally at just under $104,000, up 14.1 per cent since 2005. Only four other municipalities with populations over 5,000 in B.C. made it into the six-figure club.
The City of North Vancouver showed the highest local growth in reported incomes since the last census at $67,119, up 14.7 per cent since 2005. But the city remains below the national median household income of $70,336 and below the B.C.'s median of $69,995.
Nationally, the median income is up 10.8 per cent, according to numbers pulled from income reported to the Canada Revenue Agency. Metro Vancouver, ranks 15th in the country for metropolitan areas, which raises a host of questions given the cost of living here, said Andy Yan, director of Simon Fraser University's city program.
"In the face of our rather energetic housing markets, for both renters and owners, you don't see necessarily the connections in income. If anything, you see a decoupling and a disconnect with incomes," he said. "Vancouver, in a way, occupies its own kind of special place compared to the rest of the country."
Almost one-third of West Vancouver and District of North Vancouver households reported income of $150,000 or more. The city had the highest proportion of households earning less than $30,000, at almost 20 per cent.
The Real Estate Board of Great Vancouver's latest benchmark price for a single-family detached home in West Van is $3,189,500 (up 109 per cent over the last 10 years), or $1,128,000 for a condo (up 56.6 per cent).
"You need that global income to afford a home in West Vancouver," Yan said.
But, while median incomes are on their way up, for the most part, the percentage of the population that must get by on low income, which Stats Can defines as earning less than half of the national median, hasn't changed significantly. In the city, 16.5 per cent of households are considered low income. In the District of North Vancouver, that number falls to 10 per cent. The prevalence of low-income families is highest in West Vancouver at 18.3 per cent, almost five per cent more than 2005.
"That raises a really important point. We haven't necessarily seen the kind of upswing – the positive rising of the tide – towards taking more people out of poverty on a scale that really matters," Yan said.
Yan has some theories for why West Vancouver is bucking the trend and seeing a decline in reported incomes.
"You have people just aging out of the workforce .... Coupled with that us under-reporting (of income) or non-resident occupied units, of which West Vancouver actually has the highest in the region."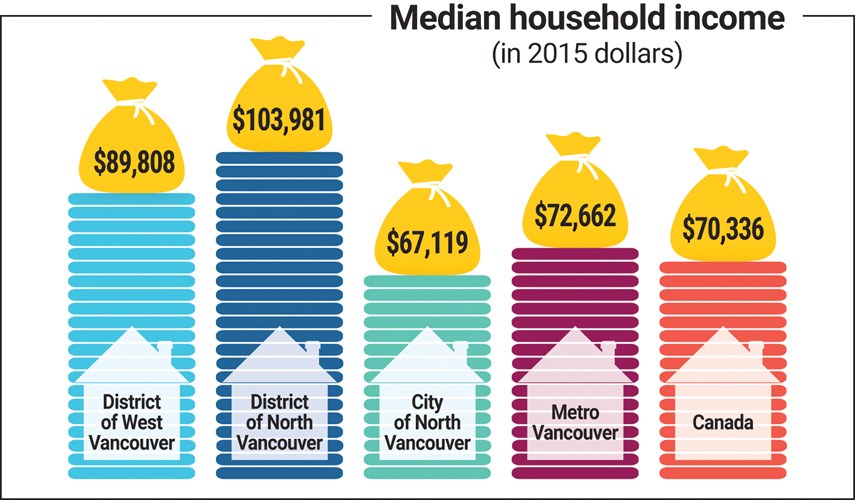 Canada probably lacks the tools necessary to really measure how much money from the global economy is making its way into local bank accounts, Yan noted. American residents must report the income they receive from outside the country. Canadians do not.
"Let's face it. If you truly somehow … accounted for all the wealth that probably is in West Vancouver, it probably is one of the most affluent communities in North America," he said.
While the neighbourhoods above the highway tend to show the highest median incomes, the incomes of residents clustered around Dundarave, Ambleside and Park Royal, Yan noted, are a much more in line with what would be considered working class.
"Between the two, you have a really interesting dynamic and a changing community, which I hadn't really anticipated in my image of West Vancouver," he said.
Towns that saw their incomes grow faster than the national average or were most successful in pulling people out of poverty tended to be near oil, gas or other natural resources that experienced a boom in commodity prices over the last 10 years, the census showed.
That underscores the fact that Canada's economy is still tied very much to resources, something governments will have to reckon with in the future.
"We need to have a real economic assessment of our economic development and really how do we deal with that given what we know about what's happening in the world in terms of globalization and the role of natural resources… but also the fact that we are in an era of climate change," Yan said.
Statistics Canada will release more data in October with details on the country's immigration and ethnocultural diversity, housing and Aboriginal peoples, and in November for education, labour, commuting patterns, language spoken at work and mobility and migration.