A group of sporty citizens is aiming to turn the worn-down running track and soccer field at West Vancouver secondary into a jewel of the North Shore sports scene.
The West Vancouver Place for Sports Fundraising Committee – a group made up of representatives from several community stakeholders – is hoping to raise $5.7 million by next February so that construction of a new six-lane track and artificial turf soccer field can begin by spring of 2017. The committee recently went public with plans that have been five years in the making, announcing that $600,000 has already been committed to the facility upgrade.
Clint Undseth, chairman of the fundraising committee, said he envisions this not just as a sports centre but also a place where the whole community can come together for events like art in the park or music under the stars.
"What an amazing gem, right here in the centre of West Van," said Undseth, emphasizing the views out to Burrard Inlet and across to Vancouver that the location offers. "I'll go up there sometimes and I'll just look over the view just to envision the project we're going to do. It's just an awesome location. To me it's one of those best-kept secrets."
The upgrade is much needed considering the state of the old track and grass field, said Undseth, who is a coach with the West Vancouver Soccer Club. The club no longer uses the facility, which was created 70 years ago and is showing its age. The track is still used for meets and practices but is far from ideal.
"The six-lane track is cracked and uneven in many areas," said Undseth. "Many people in the sport would say we can't use that, it's unusable."
The upgraded facility could host any track and field event except for javelin, hammer throw, and races that need more than six lanes. The project currently has commitments of $250,000 each from the West Vancouver Community Foundation and school district, as well as $100,000 from the West Vancouver Soccer Club. Others stakeholders already on board include the Norwesters, West Vancouver, and Hershey Harriers track and field clubs, as well as the West Vancouver Seniors' Activity Centre.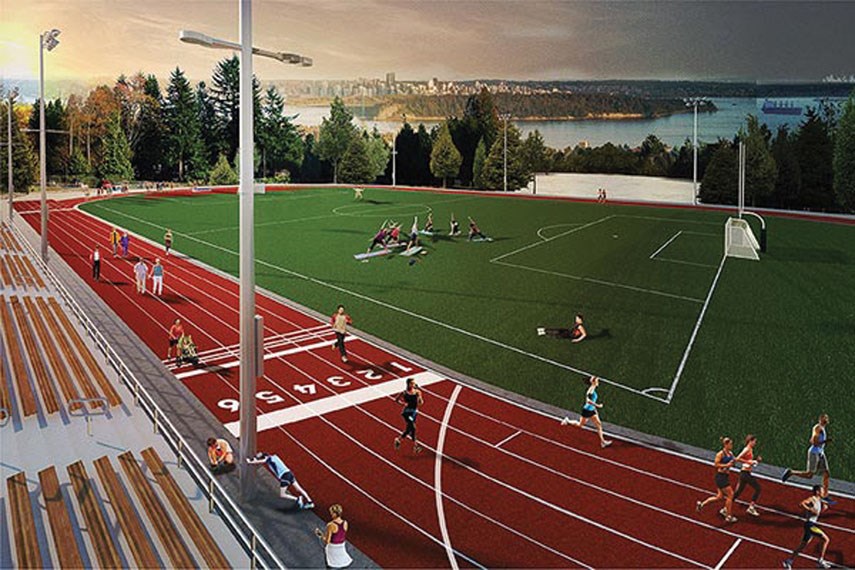 Government grants could come into play, said Undseth, but he is not counting on them, instead looking for individuals, families and corporations to get the project up and running.
When completed, the facility would be maintained by the school district and municipality, with student sports and activities taking precedence on school days and other community groups gaining access on evenings and weekends.   
A campaign kick-off event will be held tomorrow from 7 to 8:30 p.m. at the Kay Meek Centre in West Vancouver. The event will include high-profile guest speakers, choreographed routines, youth bands, choirs and much more, said Undseth, adding that it is free to attend but space is limited so guests should register at kaymeekcentre.com.
Undseth admitted that raising the more than $5 million left on the track's sticker price in less than a year may seem like an aggressive timeline, but he's "very confident" about their chances of getting it done.
"I haven't had anybody in the community yet say, 'Oh, that's a bad idea.' It's received positively everywhere we go," he said. "This isn't just another soccer field or sports venue. This is really a community asset, an opportunity to bring all of our community together."
For more project details visit wvpfs.org.