By land, by air and by sea, rescue volunteers from North Shore Rescue and Royal Canadian Marine Search and Rescue had their work cut out for them over the Canada Day long weekend, including saving one woman suffering a bad acid trip on a mountaintop.
A group of young women from Seattle dropped LSD early Sunday afternoon and decided to hike to Eagle Bluff on Black Mountain. But by 8 p.m., other hikers on the trail noticed things were going badly for them and called 911.
"One of them was having a very bad trip and a very bad day," said search manager Doug Pope. "(She) was screaming, yelling incoherently and was quite violent as well…This girl was in real difficulty. She was going in and out of consciousness and needed to be evacuated."
Pope dispatched a team with an ER nurse, a physician, and two West Vancouver police officers. By the time they arrived, the woman had "come down" from her psychedelic crisis but she and her companions still needed an escort out to a waiting helicopter. Even if they had their heads straight, they were not prepared for the hike, especially with rain and temperatures just above freezing on Sunday night, Pope noted.
"I explained to them that hiking and drugs don't mix. They were putting themselves in a life and death situation," Pope said.
Late Monday night, the team received a call from an ultra-marathoner who'd bitten off more than he could chew. The Vancouver man had started his day at sea level in Deep Cove, climbed Mount Seymour and continued north along ridgelines to Mount Bishop, a remote peak east of the Seymour Falls Dam.
When he realized he was too deep in the backcountry to make it out on his own, he called North Shore Rescue requested a helicopter to come fetch him. He was indignant to learn though that Talon helicopters cannot fly after dark.
"He was quite worried about overnighting in his t-shirt and shorts up on the mountain in the snow," Pope said.
Pope persuaded the man to stay put on the promise rescue volunteers would take off at first light Tuesday.
"He had a real cold, miserable night," Pope said.
Also Monday, two people were taken to hospital after their outrigger canoe capsized just outside the First Narrows.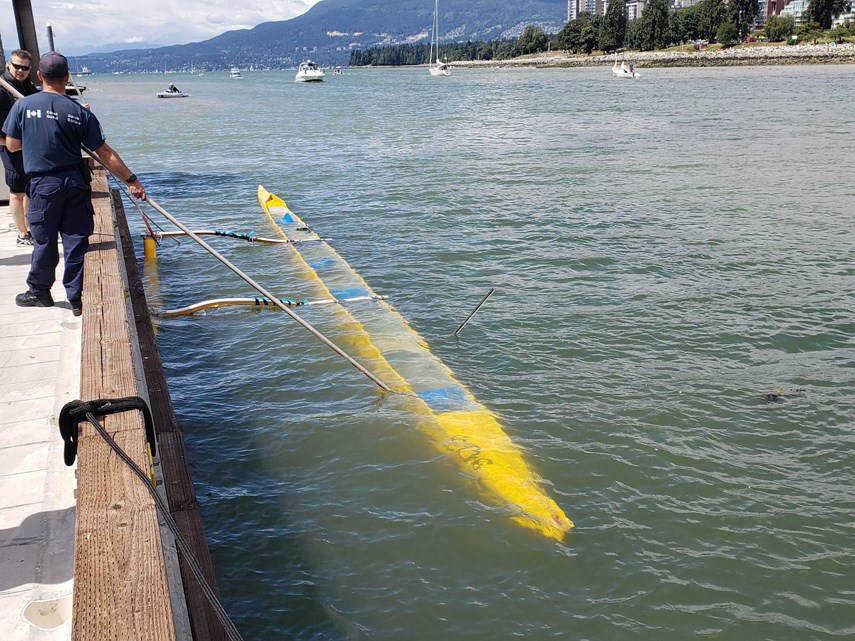 They were part of an organized canoeing group but high winds on the water and steep waves proved too much to handle. Strong currents carried them as far as Dundarave before someone called for help, said RCMSAR coxswain Randy Strandt.
The rescue zodiac made to them within eight minutes, as did the Vancouver Police Department marine unit and civilian sailboat to start pulling people out of the water.
"The ones we retrieved were certainly hypothermic," Strandt said. "They had a hard time communicating at that point. They couldn't get themselves onto our boat…. They had no strength left at all."
Rescue volunteers hoisted them aboard and began rewarming them. The victims were eventually handed over to ambulance crews and the Vancouver Fraser Port Authority towed the canoe back to shore.