Extinction Rebellion took action to protest the Trans Mountain pipeline expansion once again in Burnaby, this time blocking a railway in a more public space and drawing a handful more people out.
Roughly 40 demonstrators showed up to the demonstration Friday afternoon, blocking a railroad at the intersection of Government Street and Cariboo Road. Protesters did not block the road during their protest, however, police briefly blocked traffic turning from Government Street onto Cariboo Road to allow an officer to broadcast a reading of the court injunction against the protesters.
Protesters began gathering in the Costco parking lot at noon on Friday, before marching on down the sidewalk along Government Street to the intersection, where they overtook the railway.
Police largely stood by and allowed protesters to gather peacefully, meeting a couple of times with organizers to determine their intentions.
Several drivers passing by the scene honked in support of the demonstrators, while a couple others yelled their opposition out their windows.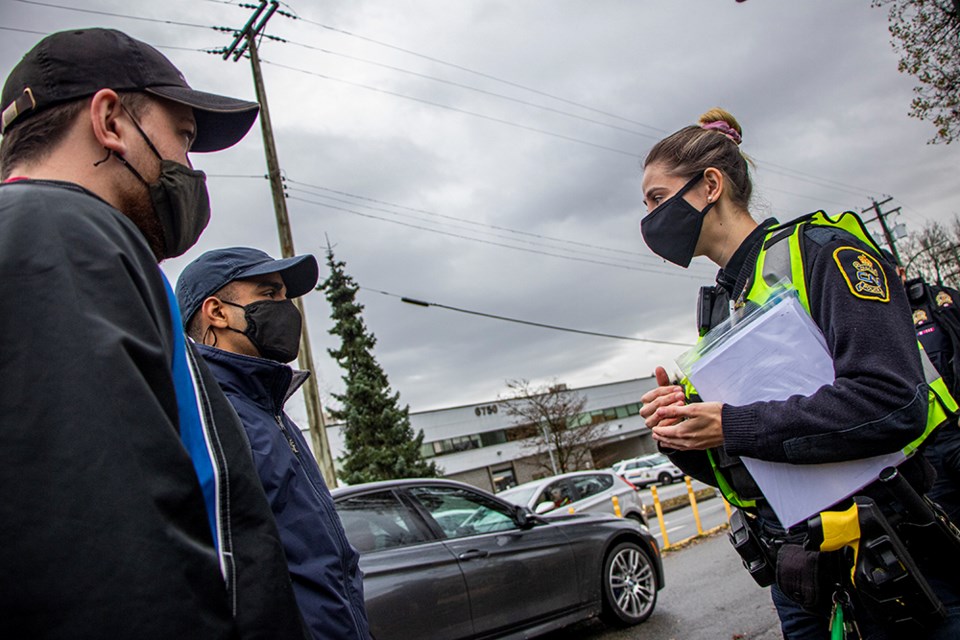 Zain Haq, a volunteer spokesperson for the local Extinction Rebellion group, said nobody intended to get arrested for their civil disobedience on Friday, and police gave demonstrators until 5 p.m. to clear the railway before any action would be taken.
Haq said protesters had intended to stay around that long anyway.
He added the intention of protesters was to break the mould of NGO-style environmentalism, saying all legal avenues to challenging the pipeline had failed, and carbon emissions have continued to increase, despite pressure from non-profit groups.
He said people need to come out "in the tens of thousands" and take action now to stop preventable deaths in the future due to famine, floods, fires and storms. Weather-related events are predicted by scientists around the world to increase in frequency and severity as the global temperature rises.
Will George, of the Tsleil-Waututh Nation, said he was out there to support demonstrators against the pipeline.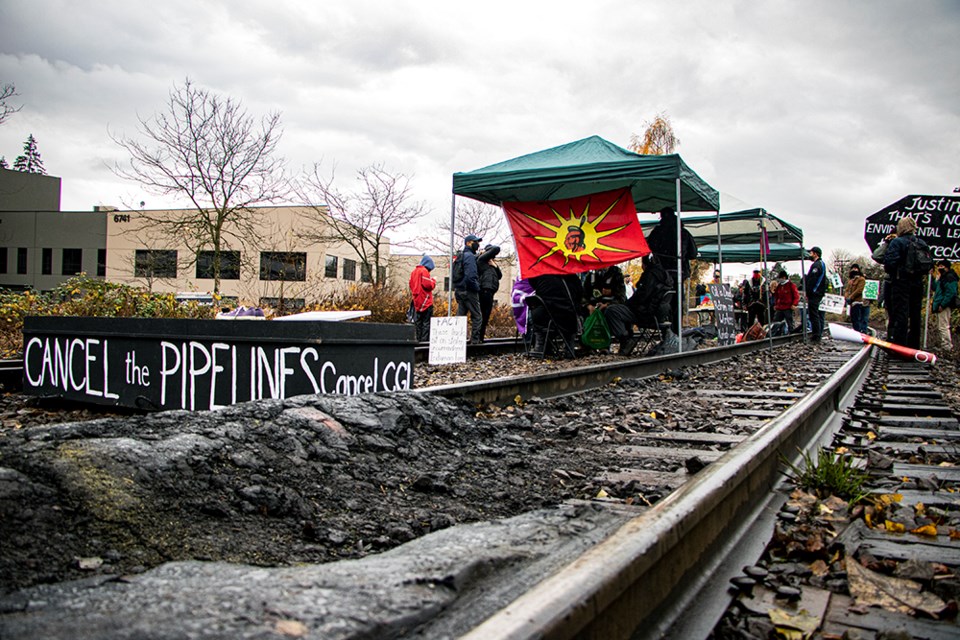 "I'll support anybody who's willing to stand up against the Trans Mountain pipeline. I'm willing to support anyone that's Indigenous or non-Indigenous, people coming together," he said.
The Tsleil-Waututh Nation was one several that had sued the federal government over its requirement to consult Indigenous communities when planning major infrastructure projects like pipelines. Those lawsuits, while briefly successful at halting the pipeline expansion, have since been quashed, and pipeline construction is now beginning in the Lower Mainland.
Follow Dustin on Twitter at @dustinrgodfrey
Email dgodfrey@burnabynow.com