Const. Jeff Palmer was cycling hard on the Barnet Highway into Burnaby when he felt it – an uncomfortable burning deep in his throat.
With the rest of the cyclists in the group, he powered up a steep hill near Burnaby North secondary. The feeling low in his throat persisted, but Palmer – an officer with the West Vancouver Police Department – brushed it off. He'd felt it before. After about 40 kilometres on the bike, it would go away on most rides.
He was feeling good. This was Palmer's second Cops for Cancer fundraising Tour de Coast and his training had gone well. In the run-up to the nine-day tour, he was logging between 100 to 200 kilometres a week on his bike.
In the summer, he'd practised hill climbing in the desert heat of Osoyoos. Back on the North Shore, he'd get up early at his home in North Vancouver, ride uphill to the first lookout on Cypress, then back down to work.
That morning, on Sept. 16, 2015, his Tour de Coast teammates had teased him. "Palmer, you're not climbing as well as you usually climb. What's the matter with you?"
He laughed it off: "You guys are just in better shape."
Before the ride had started, Palmer was in the office early. Sept. 16 was a tough day for West Vancouver officers. Three years before, a colleague, Const. Louis Beglaw, died of cardiac arrest while working out in the detachment gym.
Palmer remembers Beglaw as a hard-working guy who was always prepared, always fit and professional. Behind the scenes, Beglaw had indications of heart disease but had been cleared for work by doctors. When he seemed to be taking an unusually long time in the gym, a sergeant went to check on Beglaw. It was already too late.
Witnessing his colleague's death at 50 was part of what motivated Palmer to start training on his bike again. Since 2014, he'd dropped 20 pounds while training for Cops for Cancer, a fundraising bike tour organized by the Canadian Cancer Society that raises money to help kids with cancer and their families. He was looking forward to taking on the cause again, and spending time with many of the riders he'd met the year before.
The throng of cyclists coasted downhill into Deer Lake elementary, where they rode into the gym behind a motorcycle escort, high-fiving the kids. "It was tons of fun," recalls Palmer.
On the way out, Palmer rode near the back of the group, crossing Willingdon and cycling west on Moscrop. "I started feeling light-headed," he said. When the strange sensation started getting stronger, Palmer decided to pull over. "As I was thinking that, the next thing I felt – the only way I can describe it – was like warm water rushing from the centre of my chest out into my arms. It's just like a warm rush," he said.
"Then the lights went out."
From the moment Palmer hit the ground the clock was ticking.
Fifty per cent of all deaths occur in the first hour after a heart attack, said Dr. Roger Philipp, a North Shore resident who is head of cardiac services at Royal Columbian Hospital, the busiest cardiac care unit in the province.
That 60 minutes is a "golden hour," he said, where life and death hang in the balance.
Jamie McPherson, a B.C. Ambulance Service paramedic, was on her first Tour de Coast as a volunteer ambulance staff member last year.
She was told she'd be dealing with minor injuries – scrapes and cuts from riders falling off their bikes or at worst, a broken bone.
She and her ambulance partner saw Palmer fall, his head disappearing from view just ahead of them. When they got to him, "there was no pulse and we started CPR," she said.
"I didn't know him. I didn't know his name."
She remembers looking up at her ambulance partner and saying, "Jazzi. AED please."
Everyone on the scene that day knew exactly what that meant.
Julian Ponsioen, a transit cop trained as a paramedic, got on the radio. They needed an advanced life support team. Now.
Paramedics on the scene – McPherson, Jazzi Griffiths and Bob Lee – used the automated external defibrillator to jump-start Palmer's heart, but he went into another cardiac arrest less than a minute later. They repeated the process and got him back again.
In her regular job as a paramedic in 100 Mile House, McPherson does about seven cardiac arrest calls in a year. "He's actually the only person I've revived," she said.  "A lot of people think the survival rates from CPR alone are high. ... That's not reality."
A lot depends on how soon cardiopulmonary resuscitation is started and how soon after that a defibrillator is used to start a person's heart.
Chances of surviving a cardiac arrest drop between seven and 10 per cent each minute that passes without defibrillation.
What immediate CPR does is buy time, keeping the blood circulating to crucial organs, including the brain.
According to the B.C. Heart and Stroke Foundation, in B.C. in 48 per cent of cardiac arrest cases, CPR is done by a bystander.
That's a factor in our province, which has some of the highest survival rates for cardiac arrest anywhere in the country. Nationally, survival rates are about nine per cent. In B.C. that's now closer to 14 per cent.
A program to put automated defibrillators in high-traffic public places – including several on the North Shore – has also boosted survival rates.
Emergency dispatchers will talk bystanders through using the devices and through CPR if needed.
Even people who aren't trained can make a difference, said Shelley Parker, resuscitation program manager with the Heart and Stroke Foundation. At its most basic, CPR is, "Hands in the centre of the chest. Push hard and fast," she said. "Time is the enemy."
The next thing Palmer remembers is people yelling and talking over him as he felt the plastic board under his back being used to lift him into an ambulance. As advanced life support paramedics took over and rushed him towards Royal Columbian Hospital in New Westminster, he was told he'd had a major heart attack. Just keep breathing, they told him. But he felt himself drifting. Then everything went black again.
Once a person loses their pulse, it's hard to get an IV into their veins because they don't have enough blood pressure. To get around that in emergency situations, paramedics have a device that drills directly into the bone marrow. "They basically drill it into your shin bone," said Palmer. "They can start feeding drugs into you through the bone marrow in your shin. I got one of those."
When he came to again, he could hear people saying, 'He's back. He's back.'" He knew that something very bad had happened. "You don't really process that as your heart's been stopped for several minutes."
He concentrated on doing what the paramedics asked. Breathe in. Breathe out.
"They're so good at what they do," he said. "Unfortunately it's because they get a lot of practice."
Prior to his heart attack, Palmer said to all outward appearances, "my overall cardiovascular health would have appeared to be quite good" for a 56-year-old man.
His blood pressure was good – 111 over 75. Because of his training, his resting heartbeat was around 48 beats per minute. He'd always been active, playing sports and using his bike to commute for decades.
He wasn't perfect when it came to diet – like most North Americans, he enjoyed a good steak, and a bacon and egg breakfast every now and then.
He was also aware of a family history of heart disease. "That was among my motivations to exercise the way I did," he said. A cardiac stress test that spring had been inconclusive and he was told to come back for more tests in the fall.
"There were clearly blockages that were developing," he said. Also, "I wasn't recognizing angina."
Most risk factors for heart disease are reasonably well known: smoking, diabetes, high cholesterol or blood pressure. What's less well known is that many people are unaware they have them. Approximately 50 per cent of people with diabetes don't know they have it, said Philipp. It's the same for high cholesterol and high blood pressure, which can exist without causing any symptoms.
Yet heart disease is a very common cause of sudden death.
"B.C. has a very active population that's very health conscious," said Philipp. "Because of that we see heart disease catching many by surprise."
"I've treated women as young as their 30s with a heart attack to people in their 90s. It affects all kinds of people."
After their mid-50s, women are as likely as men to die from heart disease. "Most women fear breast cancer," said Philipp. "More women die from heart disease than from breast cancer."
And although aging is certainly a risk factor, younger people can also have heart attacks. Parker said not too long ago, she heard the story of a 29-year-old woman who collapsed at a wedding. "A lot of people think, 'It can't happen to me because I'm 40, 45, 50,'" she said. "It does happen."
In the year between April 2015 and March 2016, ambulance paramedics responded to 94 suspected cardiac arrests in North and West Vancouver, up from 88 the year before and from 79 the year before that.
In most cases, a heart attack – the blockage and muscular damage to the heart which often leads to the heart stopping, known as a cardiac arrest – doesn't have an obvious trigger. For most people, a heart attack is signalled by an intense pain in the chest that doesn't go away when resting. But for some, the symptoms are more confusing and are felt in different areas of the body.
In rare cases, patients have felt pain in their jaw or neck rather than their chest.
"I've had people go to the dentist," said Philipp. "I've had people go to the chiropractor."
When he arrived at the hospital, doctors told Palmer they were going to do surgery to get the blood flowing to his heart again. "How are you feeling?" they asked him.
"I feel a bit dizzy," he remembers telling them. Then everything went black again.
Doctors restarted Palmer's heart again, then immediately took him into Royal Columbian's cardiac catheterization lab dedicated to cardiac care. Guided by X-ray, a small tube was fed through Palmer's leg artery all the way to blood vessels that feed a coronary artery going into the left ventricle of the heart.
That particular artery has earned the name "widow maker," said Palmer. "If you have blockages in there, it has an excellent chance of causing a fatal heart episode."
A wire was used to cross the blocked artery, followed by an angioplasty balloon to stretch it and a stent – roughly the shape of a spring in a ballpoint pen – to keep it that way.
Approximately 95 per cent of patients with heart attacks due to blockages in their arteries are treated like this – it's fast and it works.
In the Lower Mainland, Vancouver General and St. Paul's hospitals both have "cath labs." Most heart attacks that happen on the North Shore are directed there.
Advances in technology have helped with survival. Ambulance paramedics can now do an electrocardiogram  reading of the patient's heart and send it electronically to a cardiologist en route. That determines which hospital to direct the ambulance to and how urgently the patient needs to get there.
Four hours after he hit the pavement, after his heart had stopped and been restarted four times, Palmer was wheeled into the cardiac recovery ward.
He's had time in the year since then to think about those who saved his life – from the paramedics to the doctor and hospital staff. "Every one of those people is like a thread," he said, threads that pulled him back from death and kept him anchored to life.
"I've had some very good fortune to survive when most people don't," he said. "That had a lot to do with the people who were there to help me."
Palmer was released from hospital six days later and showed up to greet riders at a Cops for Cancer lunch stop in Coquitlam that afternoon.
He was off work for four months, and began to gradually return to duties in January. These days, Palmer is back on the job full time.
"I enjoy my job and the community I'm involved in," he said. He's received advice and support from the First Nations elders he knows. He recently presented a drum with a depiction of a bear – representing protection and a heartbeat – to the cardiac care team at Royal Columbian that helped save his life.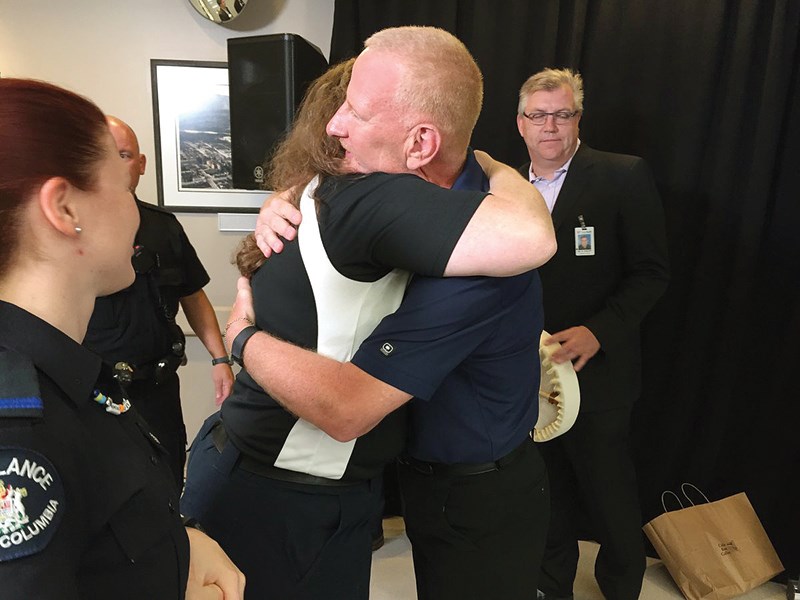 He is one of the lucky ones, with no detectable permanent heart damage. In the months that followed, however, there was a time of learning to trust his body again. "You trusted your heart for five and a half decades to just be there and run and now it suddenly stopped," he said. "It took a while before I could – I won't say relax – but I could walk around and say, 'OK, I can be alive. I don't have to walk around trying not to die.'"
The irony of a heart attack that hit after two years of intense physical training isn't lost on Palmer. Or that after 14 years as a cop, it was his own body that presented such a dangerous close call.
Palmer, who is volunteering with this year's Tour de Coast in a support role, said he never questioned joining Cops for Cancer again this year. "It feels good to stay involved with something that's very positive."
McPherson, who is also back this year – this time as a rider – said she felt the same way. "This tour is family."
So far this year, McPherson has raised $18,000 for the Canadian Cancer Society – more than any other rider on the Tour de Coast. A plug from Palmer for family and friends to donate certainly didn't hurt.
Cancer remains the number 1 cause of death in Canada, followed closely by heart disease.
When she met up with Palmer at a Cops for Cancer orientation in February, "I wasn't sure if he knew who I was. I didn't expect him to recognize me," said McPherson. "He came up to me and gave me a big hug."
As a police officer, Palmer has seen his fair share of people in crisis. It's helped give him perspective on the importance of "living every day of your life."
"If there's a person in your life that you love, when you finish a conversation with them, you tell them that you love them. You don't wait until the next time," he said, "because you really don't know what could be the last time."
Many police officers, paramedics and firefighters he knows feel that way, he said.
"Life is valuable and you fight for it every day and you accept it and enjoy it every day that you can."
Palmer said that lesson is one he's also learned from the families of children facing cancer that he's met through the Tour de Coast – that life is valuable and worth fighting for. That those invisible threads held by others can hold you aloft and make every difference.
"You're either in the fight or you're not in the fight," he said. "As long as you have a chance to continue living, you stay in the fight and you keep going."