Jane Clark: The Changing Landscape of BC, mixed media, at Ferry Building Gallery until Sept. 15, ferrybuildinggallery.ca.
Jane Clark might have a reputation for making helicopter pilots nervous.
Like a maestro conducting a symphony, Clark wasn't afraid to tell the pilot what she wanted – the angles she needed, the views she sought – when she was aboard a chopper recently, the aircraft swerving and darting its way through the crisp northern B.C. air as the artist aboard attempted to capture its dramatic environments.
 "I'm sketching and I'm saying to the pilot, 'You've got to come around – I need this view,'" explains Clark, a 91-year-old landscape artist from West Vancouver.
Armed with a sketchbook and a cunning sense of where she wanted her chopper to go – lest some of the intricacies of her natural subject were missed – Clark ventured to where the southern Yukon meets northern B.C. back in July. Her goal was once again to take in the vast and isolated wilderness of Canada.
Twenty-five years ago, Clark, a U.K.-born painter and writer, took a dramatic retreat up north, endeavouring to capture through large oil canvases and brilliant brushstrokes the majesty of Bear Glacier, Salmon Glacier and Great Glacier. Her new exhibition, The Changing Landscape of BC, presents a collection of paintings and sketches culled from that period in addition to newly produced paintings of the same glaciers as they appear today, positioned side by side at the Ferry Building Gallery.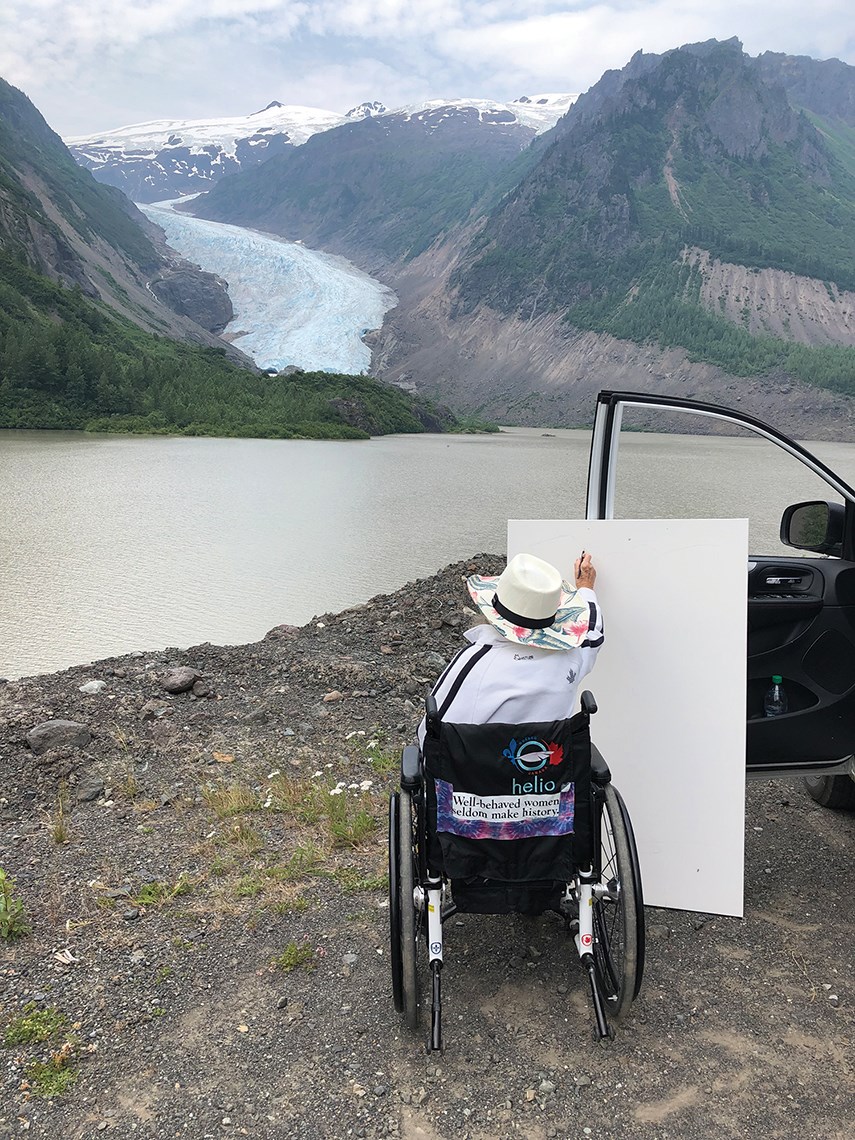 It doesn't take a discerning eye to notice the vast toll a quarter century has taken on these serene environments. While Clark's earlier paintings show dense bodies of ice – vast, brilliant, colourful – her newer works of the same glaciers demonstrate a changed setting. There are more crevasses and crags in the ice, the ablation zones are bigger, and what would have once solely belonged to frozen water has since given way to patches of raw earth, glacier water and patches of forest.
But while Clark revisited these glacial backdrops in order to join the conversation on climate change, she sees herself as more of a neutral observer, a documentarian of the ways the natural world is changed and is always changing, than a political artist.
"We're all of us better read and we're more informed than we've ever been," says Clark. "Periodically, we will be faced with the fact that we live in a changing world."
 She was instantly aware of the "striking difference" of the glaciers now compared to 25 years ago, but found herself still as moved by the natural marvels' beauty, even as a warming climate portends to change them irrevocably. There is no overt social message in Clark's work, with the artist instead wanting to give viewers a sense of peace or excitement at natures' presence in Canada.
"If humans could die and look as grand as that, it would be great," muses Clark. "I expected it to look different, I'm not really sure I expected it to look that different."
For the most part though, Clark accepts change as it comes – she's been forced to. A stroke in May 2018 almost upended her plans to travel north. Following the stroke, Clark is now a wheelchair user and has lost the ability to use one of her hands.
"It was like a mental block I had. I couldn't put pen to paper, and then the moment I could I knew I had to go out and start my life again. That was a turning point in the hospital," she explains.
Born in the U.K., Clark says she moved to Canada after the Second World War, when she realized "there was nothing left for me in England." Endeavouring to "live and see the world," she moved to Canada in her 20s, first landing in London, Ont.  After living in Ottawa – and determining it was no place to raise a family – Clark and her family (including her son, rocker Bryan Adams) eventually settled in Lynn Valley. She has painted her whole life, at first as a way to express her distain at what was happening to her country during the violent and turbulent wartimes and then to channel her love and fascination with Canada's vast wilderness.
"I think there's a lot of energy in my paintings," she says, adding that the act of making art is also what gives her energy.
While it was a challenge to learn how to open paint tubes with one hand following her stroke, Clark's adventurous spirit compelled her to work on getting better so she could travel again and complete work on her latest exhibition. She never really felt like she had a choice.
"There was never a moment in my stroke time in hospital when I wasn't thinking, 'When I get out of here, I'm going to get painting.'"