There may be scaffolding in the lobby, but that only goes to prove there's electricity on the stage.
"There's so much happening here over the next year, I think people are going to feel a sense of excitement whenever they're here," says Rob Gloor, executive director at Kay Meek Arts Centre.
As the new season gets set to enrapture audiences with a mixture of live music, theatre and cabaret, the West Vancouver arts space is in the midst of raising funds for a facelift which will help the centre better serve the community.
Kay Meek's current capital campaign is looking to raise $4 million aimed at improving the centre in a number of areas, explains Gloor.
"We have a number of activities that are focused on interior renovations related to accessibility. That also includes some improvements to existing spaces to just make them more useful in a number of programming capacities," says Gloor.
In May, Kay Meek was awarded a $1.48-million grant aimed at making the arts space more accessible for people living with disabilities. Noting the presence of scaffolding in the lobby, Gloor says that's where the new elevator is going, which, when installed, will transport people from the upper level lobby entrance at Mathers Avenue down to the main level lobby where the main theatre is located, all the way down to the studio theatre level.
"It's a huge, huge improvement. The elevator has a number of domino effects that change how some of the other spaces work: it displaces the box office – we're rebuilding a new box office area – and it displaces a dance studio upstairs," says Gloor, adding that a new, purpose-built dance studio is going to be built in the back stage section of the theatre.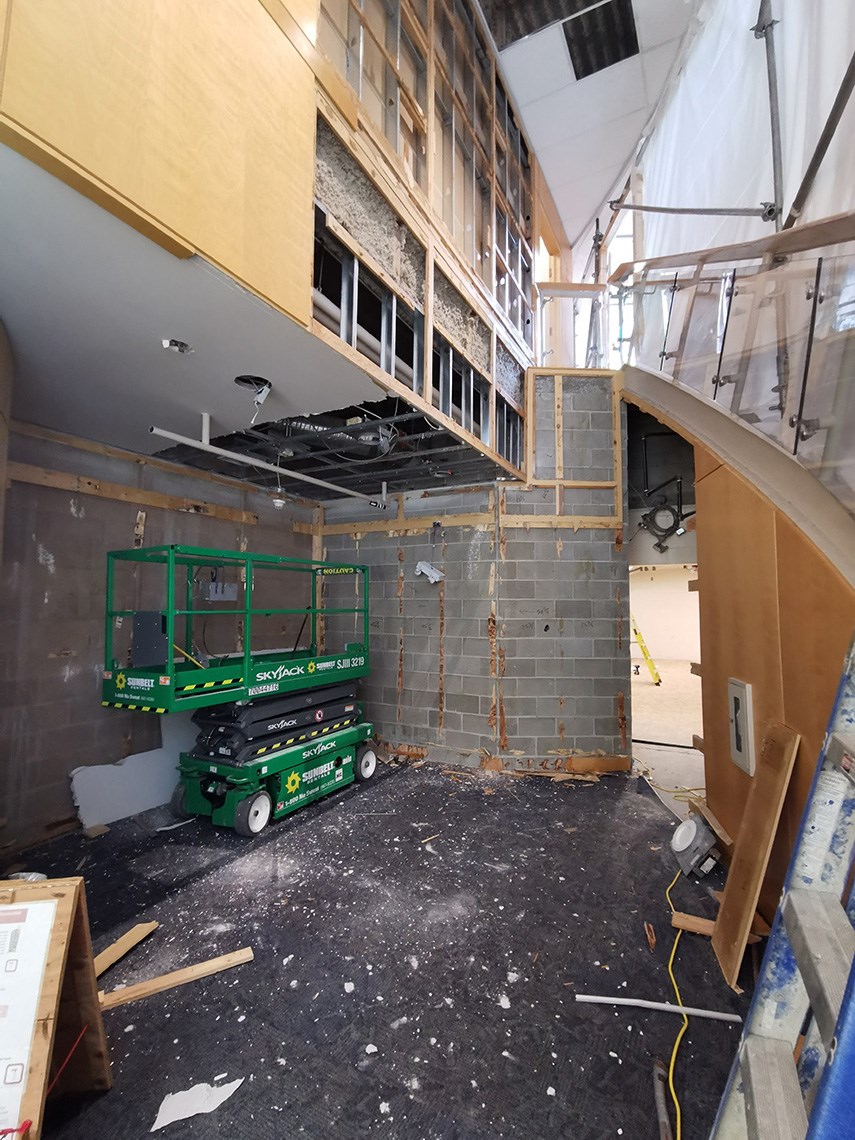 In addition to funds and support received from all three levels of government, PARC Retirement Living donated $400,000 this summer to kick off the public fundraising portion of Kay Meek's capital campaign.
Earlier this week, the arts centre announced the creation of the Faris Family Courtyard as a result of a sizeable donation from Reema Faris, whose donation will also go towards funding a commissioned sculpture from artist Marie Khouri in honour of Reema's mother, Yulanda Faris, who worked for decades on behalf of the Vancouver arts community.
"We always have to find community support to meet our goals for each piece," says Gloor, "and Reema Faris has stepped up to really be our champion for improving the exterior approach and that courtyard area to realize the vision of a sculpture garden there."
With the addition of a bevy of other individual donations, the arts centre's campaign has so far raised $2.8 million to-date, with plans to complete the capital campaign next September, according to Gloor.
But while Kay Meek looks towards some major changes – some cosmetic, others functional – this season's programming slate will continue unabated, says Gloor.
Kicking off the season on Sept. 30 is Grammy-winning Brazilian jazz singer and pianist Eliane Elias, who will be "an extraordinary way to start the season," insists Gloor.
Other big names slated for the upcoming season include 1960s-icon Judy Collins, performing Dec. 15, and the Brubeck Brothers Quartet, who will be honouring the centennial of their famous father, jazz icon Dave Brubeck, with a show next May.
Next April, in celebration of Beethoven's 250th birthday, classical music fans can take in a special performance by the Rolston String Quartet, featuring Kay Meek artistic director and West Vancouver resident Ian Parker on piano.
Gloor also touts Kay Meek's Cabaret Series, calling it a "little secret gem."
"People love coming to a show where they sit at little jazz club tables, have a glass of wine," says Gloor. "Our Cabaret Series has been selling so well we had to add an extra night for some of the shows."
Visit kaymeek.com/season-2019-20 to see more of what's on tap at the performing arts space this season.