The Vancouver Playhouse hosts the world premiere of Anthony Shim's debut feature, Daughter, tonight at 7 p.m. as part of this year's Vancouver International Film Festival.
Shim, 33, was born in Seoul, South Korea, and moved to Coquitlam with his family when he was eight years old. He began studying acting in 2003 with Kate Twa at the Lyric School of Acting and later on co-founded both Blind Pig Theatre and the Railtown Lab.
Daughter features a stellar cast of Vancouver acting talent, including Deep Cove native Teagan Vincze and veteran actor John Cassini in lead roles.
Shim spoke to the North Shore News on Friday as he was making last-minute preparations for today's screening.
North Shore News: The day before the world premiere of your debut film - how's everything going?
Anthony Shim: It's stressful. It's chaotic but it's so exciting. Tomorrow can't come fast enough.
North Shore News: How did Daughter come about? What was involved in getting your first film made?
Anthony Shim: My background is in the theatre. I started as an actor and theatre director. At the time I was co-curating a theatre company along with one of the producers on Daughter, Bryan Demore. He and I were co-curating this initiative where we develop and nurture original theatre works out of Railtown Actors Studio which is an acting studio where I teach. The artistic director at Railtown is also John Cassini, who is the lead and also one of the producers of Daughter. At the time I was writing a one-act play to workshop and put up at the lab and that turned out to be the genesis of what Daughter became and then I realized it could be more than just a one-act play. I started to develop it out of there. We rehearsed and cast and developed the whole film out of Railtown Actors Studio.
North Shore News: Instead of workshopping a play you workshopped a film?
Anthony Shim: Precisely. The majority of the cast and many of the crew and volunteers and extras are alumni of Railtown Actors Studio. The team is largely made up of Railtowners.
North Shore News: How long was the process of writing, workshopping and filming Daughter?
Anthony Shim: I began writing it roughly three years ago. I decided to make the film and John Cassini came on board. We sat on it for about a year and took a bit of time to get the money together and then once we got the money it was about four or five months of preproduction. After all that time we shot it in 12 and a half days and I cut and finished the film in May of this year.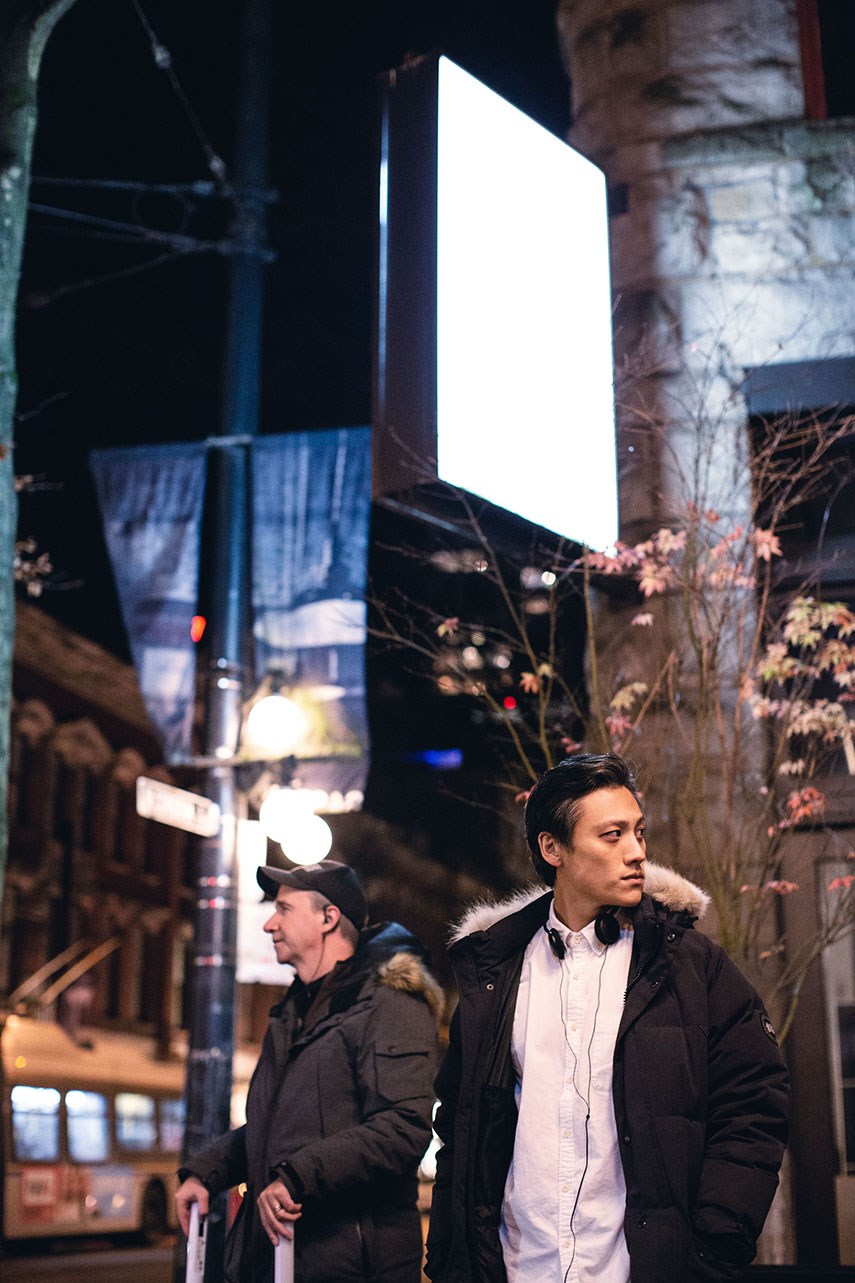 North Shore News: The film is a great showcase for Vancouver.
Anthony Shim: Oh yea, it was designed that way. I've grown up with all these actors and I've known them for so long. I have a personal connection with them as well as being a fan of their work. I know just how talented the acting community in Vancouver is because I've been seeing it firsthand. I wanted to create a project, a film project specifically, that could hopefully showcase the range and the depth of the abilities and the talents of the actors I know.
North Shore News: Did you write any of the characters with a certain actor in mind?
Anthony Shim: Obviously, just because I know John, he kept popping into my head and the part of Anna, John's character's wife, is his real-life wife, Jenn MacLean-Angus. She was always in my mind for writing the part of Anna as well but I don't like to write for people. I don't like to think of actors as I write. I just kind of let them be fictional characters but it was pretty hard not to have Jenn's voice in my head as I was writing those lines.
North Shore News: The content of the film is fairly sensitive material. How did you approach that in developing the film?
Anthony Shim: We didn't approach it any differently than any other story. For myself it's always important to approach every character in every story with as much love and compassion and empathy and care as possible. When it comes to the subject matter of suicide or sexual abuse you do want to be very careful of how it's done in a way that's considerate and mature and try to tell these stories with as much heart and honesty as possible. There were a lot of conversations, many rehearsals and a lot of research just to make sure we all knew exactly what we were saying and how we were saying it. We weren't leaving it up to chance - the scenes were carefully designed and thought out.
North Shore News: How does working on a film differ from working in TV or theatre?
Anthony Shim: What's different about this is the financial part of it. Obviously theatre costs money as well but it's just on a different scale. There are many more moving pieces so the time-restraint and the budgetary restrictions were always the most challenging part of it all. There's so many people involved and it's such a collaborative experience to make a film. You cannot make a film by yourself. You have to trust and be willing to collaborate with many people. When I'm acting I try to just be an actor, I'm not trying to wear multiple hats. When we got to the creative process I would say it's not that different from the way I approach theatre. You're more or less talking about the same things and you try to provide the best direction and put the actors in a position where they can do the best job they can. 
The world premiere of Daughter takes place tonight at the Vancouver Playhouse at 7 p.m.
The film will be shown again at the Rio Theatre on Tuesday, Oct. 8 at 6:15 p.m.