Dinner's in one hour. You're cooking.
And it better be spectacular.
Those were the guidelines for Upper Lonsdale resident Tristan Toderan recently as he sliced and diced his way through most of the competition at the 2017 World Master Chefs Competition for Cantonese Cuisine in Hong Kong.
Born in North Vancouver, Toderan grew up in Squamish, learning the basics of baking as a child at his mother's hip.
"I just really enjoyed it," he says of their weekend sessions around the oven.
At 19 years old, Toderan had the fortune to come of age amid a golden age of cooking shows.
Just a few years earlier, Gordon Ramsay was a fine restaurateur and a promising candidate for anger management counselling. But during Toderan's youth he became a television icon.
And so, as episodes of Hell's Kitchen, Kitchen Nightmares, and the numerous iterations of Iron Chef dominated cable television, Toderan got a glimpse of what he wanted to do.
He enrolled in culinary school at Vancouver Community College, attracting the eye of a few of his instructors who would pull him aside and let him know he had potential.
"That was my realization that I'm kinda all right at this," he says.
A chef needs a keen eye and a good sense of smell, but what sometimes separates a talented chef from a good chef is organization, Toderan notes.
"Mise en place," he answers, when asked about the attributes of good chefs. "Everything in its place."
When cooking on a line, a chef needs all their ingredients prepared and every utensil within reach.
That way a chef can focus entirely on the food rather than scrambling for a missing melon baller while his chicken breast sticks to the frying pan.
Toderan was studying in VCC's Asian culinary program when his chef told him about an upcoming competition in Hong Kong.
"I wasn't going to just let that pass, that sounds sick," Toderan recalls.
Like an athlete preparing for competition, Toderan started training.
"They were pretty stressful," he says. "A lot of brainstorming, a lot of trial and error."
Toderan headed to Hong Kong in September, revelling in the city he describes as a welcoming, vastly denser version of Vancouver.
Things were going fairly smoothly until he was forced to switch gears at the competition.
He'd been planning to prepare a duck breast with a blueberry gastrique (similar to a balsamic reduction) pea puree, and grilled cabbage. The only problem was that he was no longer permitted to use duck as a protein.
Luckily, as the clock started to wind down from 60 minutes, he had a backup: tea-smoked croaker fish with lemongrass broth, soy caviar, deep fried egg, bok choy, and Lotus root chip.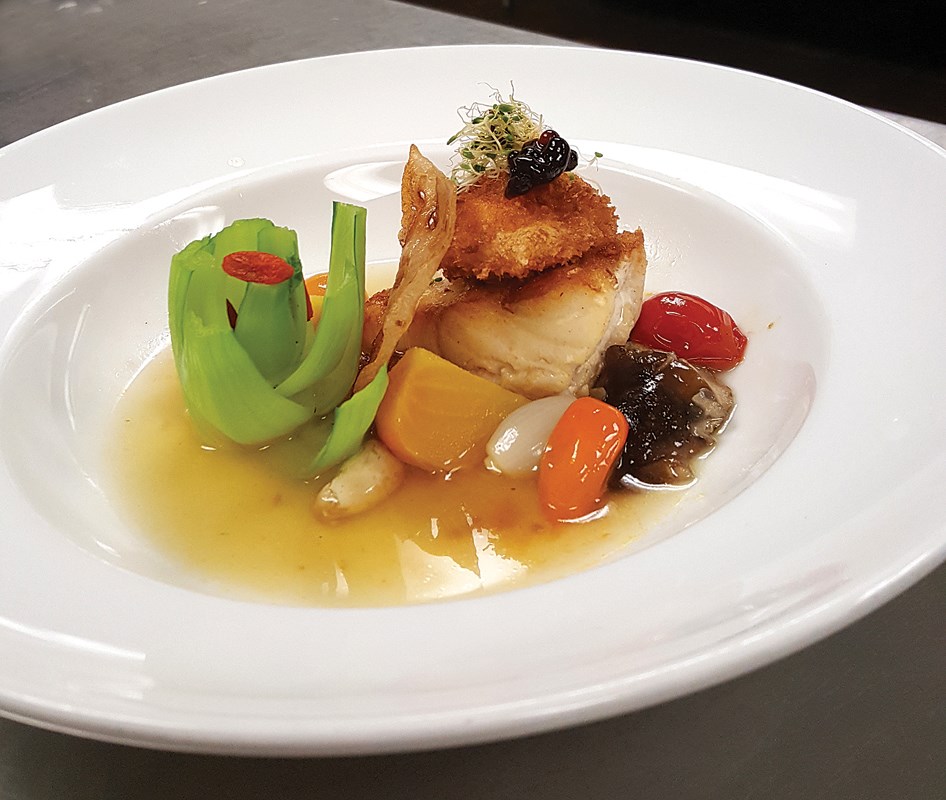 The dish worked, although Toderan says he wasn't "overly happy with it."
The judges penalized him for having varying sizes of egg yolk on the dish.
"It's not that bad but it's kind of bad," Toderan says, explaining that a few of their poached eggs needed to be replaced at the last minute.
There was also a concern that the lemongrass broth sapped a little of the tea-smoked flavour from the croaker.
The winning dish came from a Hong Kong team.
Toderan says he has no idea what it was, but that it looked amazing.
All in all, it's a pretty good outcome for a young chef.
"I hope it just gets my name out there," he says.
The competition also may have helped him grow a bit as a chef, he says.
"It puts a different type of stress on you and it really makes you work hard in that one hour to crank out whatever you can imagine," he says.
"Do it fast, but make it look good."
Following the competition, Toderan is back at Noman Rudy's in Squamish, preparing for the autumn menu switch, which he promises, will be sick.