This is a column about assumptions, about judging a book by its cover. It's about the influence of marketing and the tendency to generalize based on inference. You see, I had strong misgivings about Van Cha, West Vancouver's new teahouse.
These misgivings were born of content I encountered online, much of it Van Cha's own brand positioning. I inferred from it that this place was an elitist temple for the cult of tea and not, as it turns out in reality, an inclusive space supporting the culture of tea.
Let me start at the beginning.
Earlier this summer I had the unique pleasure of dining at Schwa, a Michelin-starred restaurant in Chicago. In a rare demonstration of foresight on my part, I had booked a table for a colleague and me a couple months in advance, taking advantage of a free evening during a scheduled business trip. The story of Schwa is remarkable in its own right and could occupy this entire column, but for our immediate purposes I will focus only on the first dish of the extensive taster menu I experienced during my visit. The central element of the opening salvo of Schwa's 12-course assault on the palate, which also included a cocoa nib consommé with cardamom marshmallow and madras spice dusted puri, was a long wooden board on which numerous intense curry paste concentrates were piped. The brightly coloured pastes were arranged in neat dots and lines to spell Welcome to Schwa in Morse code. It was a remarkable dish in all respects, from concept to flavour, but the theatre of it, the absurdity of spelling a message with food, felt thoroughly understood by all involved; I never got the sense that the Schwa team was taking itself too seriously. There aren't any front of house staff at Schwa; the kitchen team runs all food and clears plates too. Hip hop and heavy metal blast from the sound system and, on my way back from the washroom mid-meal, I was invited by the kitchen to slam back a shot of Tequila with the sous-chef. The sensory carnival that is Schwa defuses pretence by demonstrating at every opportunity that finesse and artistry need not be attended by haughty airs. The culinary crew that runs that place understands that it can reach untold heights of sophistication on the plate while keeping the aggregated dining experience thoroughly grounded.
Now what does this have to do with Van Cha, you might ask? Well, I prejudged Van Cha based on a manifesto of sorts that I encountered on one of the business's social sites. I found their published mission statement off-puttingly righteous. It seemed to speak of tea like a sacred ritual, a transcendent vehicle through which a higher plain of consciousness could be achieved. Certain phrases and word combinations stood out more than others, including: "mindfully acquainting oneself with the … rhythm and cadence of each tea;" "multiple vignettes of each varietal;" "purpose built environment;" and "a point of intersection between the timeless in time."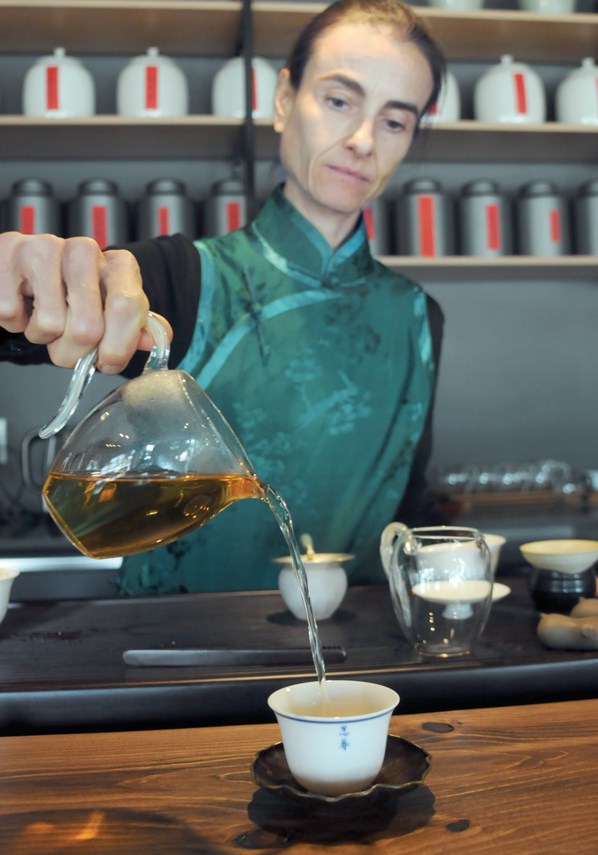 Look, I studied philosophy as an undergraduate, so I am familiar with lofty ideas and ethereal language (not to mention never-get-old quips about being professionally qualified to serve fries at McDonald's). I have perpetrated some word salad in my day, to be sure. But my immediate concern about Van Cha as I headed in for a review was: am I in for an elitist, humourless, self-congratulatory experience in which a tea novice like me will be made to feel somehow deficient for just wanting to try a good cup of something different? I have enjoyed a lot tea in my time and have a few favourites that I return to now and then when I'm in a certain mood, but for me the whole phenomenon has never felt that … what, exactly? That important, maybe.
My wife, who is English, drinks lots of tea. But she just drinks it, without waxing poetic about its transformative value. And herein, I have come to learn, lies the fundamental difference between the Western and Eastern tea experiences: it is the difference between habitual consumption versus cultural engagement.
I visited Van Cha with my eldest daughter, Blondie, on a mercilessly hot Sunday afternoon. Upon entering the large space (situated at Ambleside near the corner of 16th Street and Bellevue Avenue) I was struck immediately by how calm the room felt. There was a welcome coolness to it (both in temperature and design) and though there were a number of people already engaged in various phases of tea sampling, the room was remarkably quiet. Subtle, almost hypnotic sounds of gong reverberated from an unseen speaker.
The far back wall of the space is painted with a map of the world's important tea growing regions, with an emphasis on China, the tea traditions of which are celebrated in Van Cha. The stylized map, with its bold lines and watercolor topography, points to the geography of the six fundamental styles of tea that comprise the Chinese repertoire: flower, oolong, green, white, black, and pu-erh.
Blondie and I took a seat a the far end of the restaurant and were approached by a friendly and informative Van Cha team member who shared the concept of the operation to us, explaining that Van Cha's mission is to provide a space in which westerners may encounter the Chinese tea tradition, guided as much or as little as they wish. The interior design, the décor, the seating, and the tableware are all traditionally Chinese and contributed to the feeling, for Blondie and me at least, of being transported somewhere else, the sun-baked, urban noise of nearby Marine Drive receding further and further away as the minutes passed.
From a large catalogue of available teas I chose Phoenix oolong from Guang Dong province, a storied tea from groves that date back almost a millennium. The tea was steeped out of site and then brought to the table in a small glass pot. Ornate saucers supported delicate ceramic teacups from which we sampled the brew (Blondie relishing the ritual of it all), and bite-sized, tea-friendly snacks were transported to the table in rustic wooden hand baskets.
Blondie and I ate a delicate, beautifully fragrant pineapple cake, which was like shortbread wrapped around concentrated desiccated fruit. We also tried a bowl of extraordinary won ton soup featuring carefully made, one-bite dumplings filled with seasoned pork in a subtle, light broth with kelp and dried shrimp. The small food menu also included other sweet confections, roujiamo (a popular, burger-like street food from Shanghai), and gua bao (pork belly steamed bun).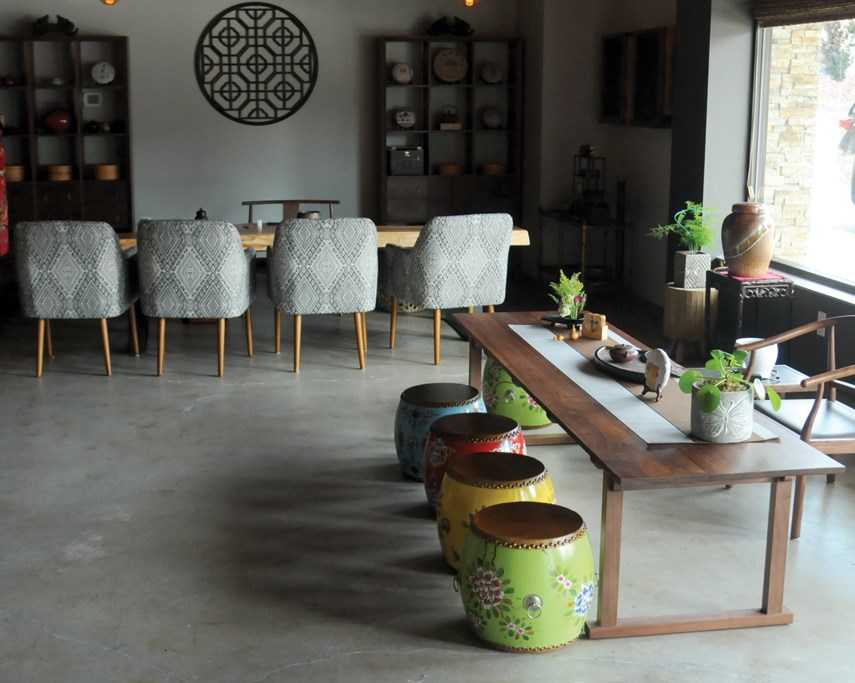 The tea, which was diligently replenished every time I drained the pot (until I effectively tapped out), had an extraordinary tropical nuance to it with little tannin and a bright acidity.
Now, I should be clear on this point: Van Cha serves exceptional quality teas in a sit-down environment; do not pop in here expecting a takeaway Chai latte. With high quality comes an attendant price tag, as well. My Phoenix oolong, for example, was $25 and prices range dramatically, from $14 entry level teas to exceedingly rare, vintage teas, such as the Win Ge Zhuan pu-ehr that dates back to the 1970s and sells for $220 per pot.
Van Cha offers a unique experience to the North Shore. It's best not to think of it as a tea shop, but rather as a cultural centre. From this perspective, the price tag applies to an experience rather than a product and the seemingly lofty language used to describe that experience suddenly feels much more legitimate and grounded.
Van Cha, 205 16th Street. West Vancouver. Vancha.ca.