It starts with a meal and ends with an education.
The sweet smell of orange blossom fills Honada Alparawi's kitchen last Friday, as she prepares a traditional rice dessert.
"I hope to open a Syrian food restaurant in North Vancouver and make my special dishes," says Alparawi, brimming with newfound optimism.
There have been unfathomable obstacles in her life up until this point that didn't give Alparawi much hope for the future.
Her husband made the perilous journey first, while the family waited behind in Syria.
One month later Alparawi and her three children fled Damascus on foot amidst all the "killings, bombings and shootings" and travelled for four hours to make it to a refugee camp in Beirut.
As Alparawi carried her youngest son in her arms the whole way, she tried to avoid stepping on the dead bodies of refugees who didn't make it and were caught in the crossfire.
"Two of our children have disabilities and the youngest one was in very poor condition because his finger had been crushed in a door and he had two surgeries to fix it," says Alparawi, aided by a translator.
Once the family made it to the border they waited for 14 hours until they were allowed into Lebanon.  
Living in limbo in the Lebanese refugee camp for four years was dreadful for Alparawi and her family. 
With no income, they couldn't afford to get sick because it would cost money to see a doctor. Alparawi suffered through a debilitating kidney condition without proper medical attention.
There was no spare change to even buy water for the kids. 
Four years later, and finally some good news: The family would be sponsored to come to Canada.
Alparawi says the long odyssey to a foreign land was made easier because of the kindness of strangers.
"I feel like I am with my family. When I was in Beirut, I felt that I was living with strangers, but as soon as I arrived at the airport, I felt like I was with my family."
Orbiting around her central North Vancouver apartment on Friday, Alparawi is preparing for a feast.
An Evening of Syrian Cuisine – a multi-course traditional dinner, finished with dessert – is a fundraiser to support a school in Turkey set up by Canadian volunteers from the Syrian Kids Foundation.
Al Salam School is located about one mile away from Turkey's busiest border crossing with Syria.
On the day the school opened in 2012, Syrian Kids Foundation volunteers expected 300 students. However, the demand was incredible: 1,000 children were lined up at the doors.
The school tries to be an island of stability in a sea of instability, explains Syrian Kids Foundation board member and Lonsdale resident Lauryn Oates, who is co-hosting the special dinner on Saturday night.
"When it comes to refugees, the focus is usually on emergency assistance like food and shelter," says Oates.
"Sometimes education is considered a luxury. It's not. I can't emphasize its importance enough. Some day the war in Syria will end. They will need educated people to help rebuild and recover."
When the Syrian kids arrive over the border in Turkey, they can't speak the language. At the Al Salam School they can continue their education in Arabic while they start to learn Turkish.
"There are also services for their psychosocial needs, which are significant, as many of these kids have witnessed horrific things," explains Oates.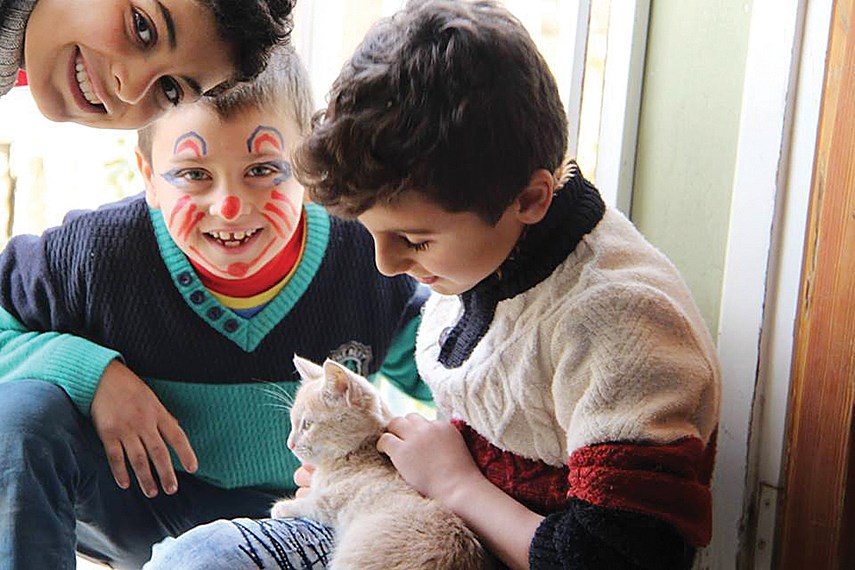 Since 2012, the Syrian Kids Foundation has offered free education to more than 10,000 displaced Syrian children in grades one to 12. There are 1,000 children on the waiting list.
In addition to receiving an education, the students' health and well-being has improved through the efforts of the Syrian Kids Foundation.
A dental clinic resides at Al Salam School, providing free dental care to all the students and staff.
Two-hundred orphans who attend the school are provided with free education, clothes, psychological support and other necessary items. Free transportation is also provided to all the students.
Funds raised for the registered federal charity Syrian Kids Foundation cover operational costs of the school such as teachers' salaries (all the teachers are also Syrian refugees), transportation for students, the free dental clinic, psychological support, and school infrastructure.
"The school survives off donations from Canadians; it doesn't have any large institutional donors," says Oates.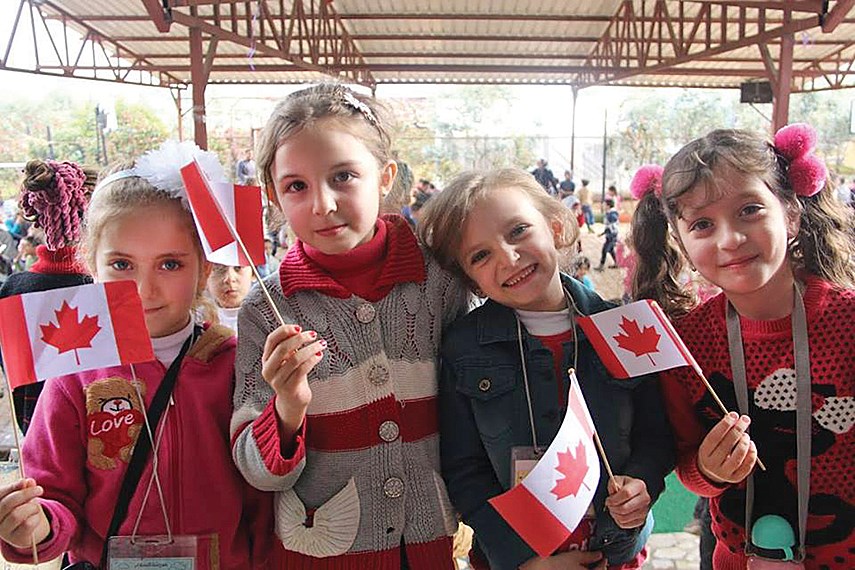 Back at Alparawi's apartment the menu for Saturday is being finalized.
Diners will be served multiple courses while Alparawi, the chef, reveals the ingredients and cultural significance of each Syrian dish.
When do people eat this dish? What occasions is it served on?
Alparawi will prepare some familiar culinary suspects, like falafels, but mostly lesser known dishes as she exposes guests to the full array of richness in Syrian cooking.
There will be an eggplant appetizer, a savoury stuffed zucchini dish, and mujadara – a lentil dish with caramelized onions in it and crispy onion on top.
"This is a classic dish that has deep, deep roots in the Arab world. Apparently, it can be found in an Iraqi cookbook dating to the 1200s," says Oates.
Joining Alparawi and Oates at the table is Tom Phipps, who is part of a North Shore group that sponsored a Syrian family of four who just arrived last week.
Are You Syrious works through the St. Mary Magdalene Anglican Church based in Vancouver.
"The name comes from a well-established European group, because some of those active in our group were themselves refugees during wars in former Yugoslavia and this group was formed by their family members in Zagreb," explains Phipps.
"We felt compelled to extend their successes."
There are only 35 tickets available for An Evening of Syrian Cuisine, as the organizers want keep the experience somewhat intimate to allow guests to really dive into the history of the cuisine. 
Oates is no stranger to humanitarian efforts in war-torn countries. She has been championing women's rights and education on the ground in conflict zones for more than two decades, including as a program director for Canadian Women for Women in Afghanistan.
In January, Oates hosted a successful sold-out fundraiser, called An Evening of Afghan Cuisine.
"Tom and I had been thinking about how to raise funds locally for the Al Salam School and thought we'd try out the same format, but with Syrian food," explains Oates of the genesis of the dinner.
"I think this kind of event not only raises awareness about the situation in these war-torn places like Syria and Afghanistan, but also showcases a positive side that people may be less familiar with: the rich tradition of cooking and eating, the culture, the music. This is something that unites cultures, and helps us learn about a place's cultural heritage."
In lending their support for this educational project in Turkey, the philanthropic friends, Oates and Phipps, who met years ago in Farsi/Persian class at Capilano University, felt that support for refugees who stay on the Syrian borders hoping to go home is just as important as helping those who seek a new country for their home.
As for Alparawi, she says she still loves her homeland, but wanted to make a better life for her kids in Canada.
"I am looking forward to getting my Canadian Citizenship," says Alparawi. "I am working hard at English classes, so that I can study to become a Canadian Citizen. I want this very much. Canada is my country."
In some ways, Vancouver reminds Alparawi of Damascus, "with the nice weather, green, and flowers."
But it's the people who make the difference.
"The people here are very different and more accepting," says Alparawi.
" I have children with disabilities and people there used to call them names and make fun of them, so they were afraid to talk and go out and they were depressed. They have improved 90 per cent since they have come here. They are happy now and not as shy – and they feel safe."
Those interested in joining in for the Syrian dinner Saturday night can purchase tickets here.
The venue is just off Lonsdale Avenue. Seating is at 6 p.m. A vegetarian meal option is available.