Christoph Haase is embracing Bowen's "awful" reputation. 
Haase is inviting cyclists to complete what he calls "Canada's worst ride:" Bowen Island Man. (That's the name of the route, like Ironman, but Bowen and just biking). 
The route: every paved section of Bowen road that's not classified a driveway (though some roads look like glorified driveways), some 130 kilometres. "Unless it says no trespassing or private or whatnot, it's a road," says Haase.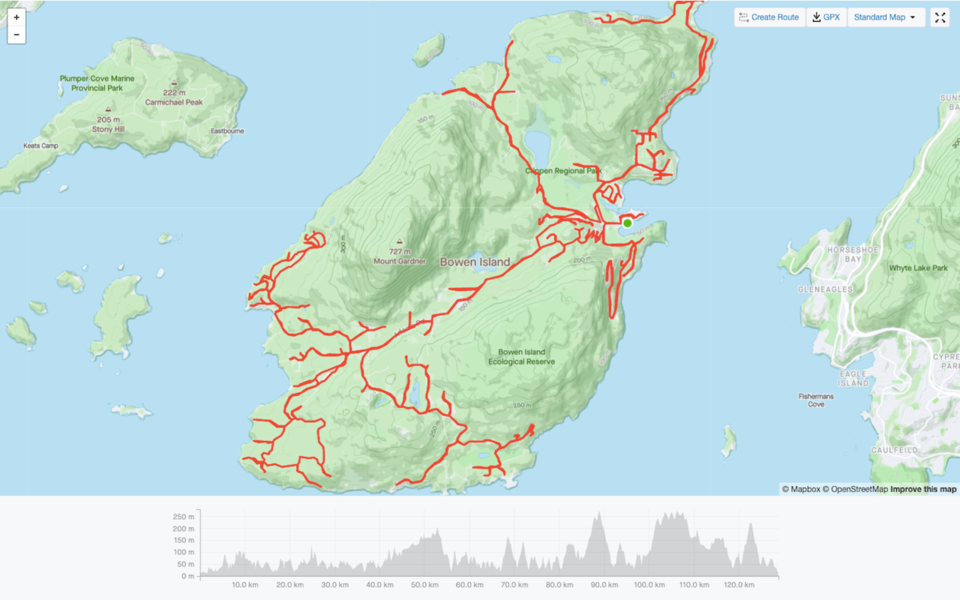 The islander of five years took on the challenge this summer. 
"It's something I always wanted to do…ride every road on Bowen and see how that goes," he says. 
After pushing back the date of the intimidating ride a few times, his family left for a few weeks of vacation and a friend accomplished a similar route, so Haase decided it was time to get into gear.
At about six a.m. on the day in question this summer, Haase parked his car at BICS and headed down to the base of Trunk Road.
 The saying goes, if in a labyrinth you just keep turning right, eventually you'll find the exit. Same thing applies when you're trying to ride every paved road on the island. 
Starting out in the cove, Haase rode out to Miller's Landing and Eaglecliff at a measured pace, back and then down to Mt. Gardner, then cycled out to the west side. 
"I was surprised at how many little side roads there are and how they add up," said Haase. Half the roads were roads he knew, the other half were side roads he'd never been on. "Dipsy doodle roads that end up being longer than I thought they would be."
"All those climbs add up and every little steep bit just makes you burn another match and then you end up somewhere and you have no matches left. For me that was down at the golf course," said Haase. But he knew he had to finish the course. 
The entire route took Haase seven and a half hours. As he polished off the switchback roads of Valhalla, the burger and beer reward kept him peddling. 
Unfortunately, the day Haase picked was the hottest day of the year. "It was as awful as it sounds," he says. 
"That's part of cycling, to kind of suffer through it sometimes," says Haase. "And I figured other people should have that pleasure too."
Haase is inviting others to complete the truly miserable course. "I thought it would be fun to actually give [off-island riders] something to achieve here to put Bowen on the cycling map and have a little fun."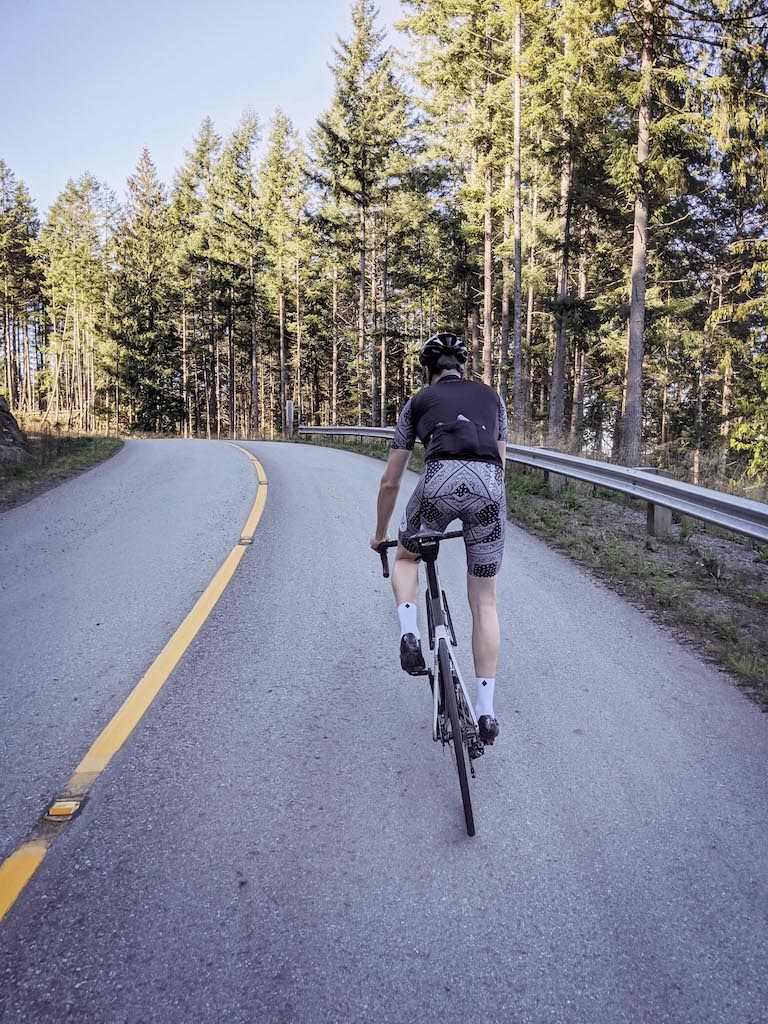 Distance versus steepness wise, the North Shore's triple crown (Seymour, Grouse and Cyprus mountains in one ride) doesn't come close to Bowen Island Man's 4,000 metres of vertical gain, says Haase. 
He notes some of Bowen's other challenges: lack of road shoulder, potholes and deer that dart out from nowhere. 
"Given all that, I would like to see a ride that's worse than this," he says. "The difference on Bowen is that it is not enjoyable for a few reasons and that makes it enjoyable."
The name of the route, Bowen Island Man, didn't start off as anything to do with cycling. In April 2019, Haase was out for a bbq with his family at the beach and saw the spectacular sight of whales chasing sea lions chasing seals, and had the presence of mind to film the encounter. The video got national media attention, where anchors referred to Haase as "Bowen Island man." Haase thought this was funny and bought the domain name. It wasn't until a year later the cycling route started percolating. 
One can download the Bowen Island Man route map at bowenislandman.com.