Dine Out Vancouver Festival 2020 event, Farm in the City: BC Farm to Table, presented by Gaia Kitchen at Sweetery Cafe + Dessert, 340 West Second Ave., Vancouver, Saturday, Jan. 18, 5:30-10:30 p.m. Two seatings. Cost: $89.56. Dine Out Vancouver runs Jan. 17-Feb. 2. For more information visit dineoutvancouver.com.
West Vancouver chef Regina Lee will showcase the talents of B.C. artisans in a special evening presentation on Jan. 18 as part of this year's Dine Out Vancouver.
In developing her new business, Gaia Kitchen, over the past year, Lee has become increasingly involved with the local suppliers of the materials she uses to create her artisanal savoury and fruit pies.
"I feel so lucky to be living in B.C. and thought it would be fun to feature them in a collaborative event," says Lee.
For the long table dinner, organized and hosted by Lee and Sweetery Cafe + Dessert, the chef will serve five different signature pies each made with ingredients from local suppliers paired with different craft beer selections from Strange Fellows Brewing. For example, Gaia Kitchen's steak stout mushroom pie with bone marrow features organic grass-fed beef from Aurora View Farms paired with Strange Fellows' Blackmail Stout.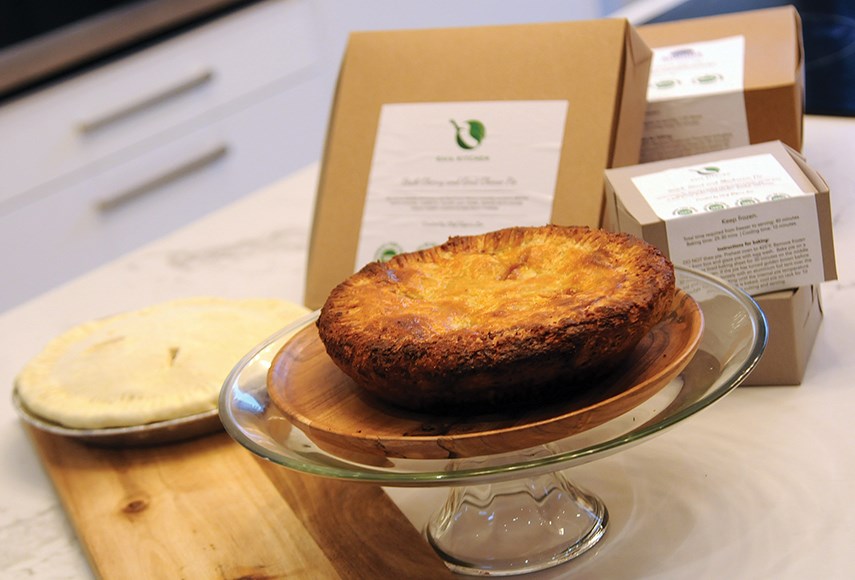 Aurora View Farms played an important role in the start up of Lee's Gaia Kitchen last summer by supplying the beef for her first savoury creations that were sold in farmers markets at Lonsdale Quay and Ambleside on the North Shore.
Other suppliers featured during the Jan. 18 event include Fraser Valley Specialty Poultry, Johnston's, Organic Ocean Seafood, Forstbauer Farm and Driediger Farms.
The food will be served on salvaged wood materials commissioned for the occasion from local artisans with the charcuterie boards made by Vancity Live Edge, condiment bowls and spoons from Axewood Inc. and serving bowls by Galpon.
Country artist Todd Richard will also perform.
Gaia Kitchen's pies are sold direct to customers from their website (gaiakitchen.ca). They will also be available at farmers markets this summer.
Jan. 18 Menu:
Fraser Valley Specialty Poultry Duck Cherry Goat Cheese
Duck raised without anti-biotics, cherry compote, goat cheese.
Aurora View Farm Steak Stout Mushroom and Bone Marrow
Organic grass-fed beef and beef marrow, Blackmail Stout, mushrooms, onions.
Johnston's Three Little Piggies
BC pork, organic grass fed beef, bacon, crackling.
Organic Ocean Seafood Salmon En Croute
BC wild caught salmon, spinach, basil pesto cream cheese.
Forstbauer Farm BC Earth's Bounty
Gaia Kitchen New Plant based crust, vegan cheese, onions, potato gratin, tempea, sea vegetables, mushrooms.
Pickled Dill and Beet, Carrot and Radish Sauerkraut.
Strange Fellows Brewing beer pairing available for each dish.
Driediger Farms Smashed Berry Pavlova.
Food presentations on natural B.C. salvaged wood crafted by:
Vancity Live Edge: Charcuterie live edge boards
Axewood Inc.: Condiment bowls and spoons
Galpon: Serving bowls
Live entertainment from country musician Todd Richard.
Tickets are $89.56, each inclusive of gratuities and ticket service fee, available via Tickets Tonight.
For more information, visit chef Regina Lee's Facebook page and Dine Out Vancouver Festival.