While working as a cab driver many years ago, Graham Harrop once picked up a passenger while wearing a gorilla suit.
But he had a good reason. It was his brother's birthday, after all.
He got a call to go to his brother's office and when his brother got into the backseat of the cab, Harrop turned around in the driver's seat wearing a full gorilla suit.
Surprise!
"It was actually hilarious," recalls Harrop.
Harrop's practical joke makes more sense when you know what he does for a living: Harrop is a cartoonist. For more than 25 years, he drew the comic strip Back Bench for the Globe and Mail.
"It was neat, it really was. It was really an amazing opportunity," says Harrop of working at the newspaper. He agrees it's a unique venue for artists because his work was seen and published by a large audience on a regular basis. "It doesn't get much better to be honest."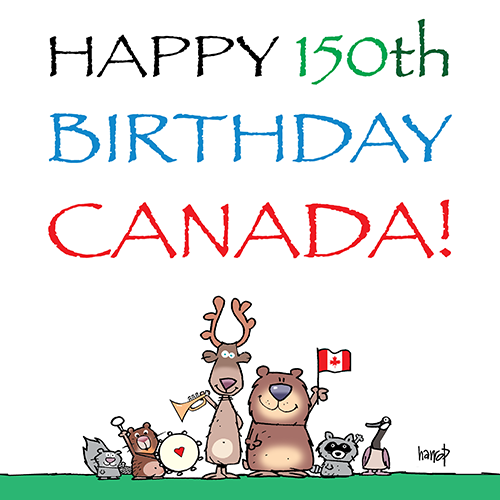 Harrop now has an online comic strip called Ten Cats, and draws the editorial cartoon for the Vancouver Sun.
The Norgate resident also just released a new book called Happy 150th Birthday Canada! featuring cartoons of iconic Canadian animals enjoying a "wildlife party" in honour of the country's anniversary this year.
"I've always seen the fun side of things," says Harrop of his personality, noting he knew as early as high school that he wanted to draw for a living. "I always knew that I was going to be a cartoonist."
In 1960, at the age of 16, Harrop became a copy runner at the Vancouver Sun.
In the days before any part of the production process was digital, copy runners would stand in the newsroom and wait for reporters to finish typing a story (on a typewriter) and hold the paper up, yelling "Copy!"
The copy runner would then collect the story and deliver it on foot to the news editor. It was Harrop's first foray into the world of newspapers, but it wouldn't be his last.
He was already getting some of his cartoons published in the Powell River paper and would soon start sending ideas to larger syndicates. In the meantime, he moved on to work in a variety of different jobs, including as a cab driver and at a paper mill. He also sold his homemade greeting cards door-to-door.
In the 1970s "there probably wasn't an office building I hadn't gone into," he says, admitting there were also a number of buildings, including the airport, he got thrown out of for trying to sell his cards. Finally he was hired as a full-time editorial cartoonist.
As politics and all things Canadiana were the subjects of his Back Bench comic, he was never short of material or inspiration.
A lot happened in politics over 25 years, and although Harrop doesn't have a particular favourite event, he says he always enjoyed drawing former B.C. premier Glen Clark because it was fun and people enjoyed it.
"He was very easy to draw," says Harrop. "He was great to draw because he had the moustache and he had little tufts of hair that came out on either side. He was just such a fun individual to draw."
No topic was off limits, but Harrop explains all had to have something inherently humorous about them.
"Politics sometimes is baffling, it really is baffling," he says. "I try to understand what the reality is of the situation then see if there's something that I can make humorous."  
Editorial cartoons have to be clear, understandable, and something people will react to, he adds. And that's all in one panel. About five years ago Harrop started an online comic called Ten Cats after being inspired by his friend's cats.
"I love cats," he notes. "They're lovely and (have) individual personalities."
But a multi-panel comic requires a different type of approach than a one-panel editorial cartoon.
"With a comic strip you can tell a bit of a story, you've got four panels to tell a story," explains Harrop.
There's timing involved too.
"You can tell the story and you can pause on the third panel where the character reflects, and the fourth panel is the punchline. It's quite different. With the single panel it's just the immediacy of it."
These days, Harrop also enjoys sharing his talent with his two kids (who he says are both very artistic) and his grandkids. He draws personalized cartoons for his grandkids and sends them in the mail.
It is a unique way to connect with them, but then Harrop has made a career out of connecting with people and being unique.
Harrop says his style has evolved over the years (and hopefully improved, he adds with a laugh), and he has no plans to stop.
"I like the idea of making people laugh," he says. "I believe that's what I'm supposed to be doing, so for as long as I can I will do that."
Harrop's latest book Happy 150th Birthday Canada! is available on the North Shore at 32 books in Edgemont Village, Under the Umbrella on Lonsdale Avenue, IGA in West Vancouver, Indigo Park Royal, and on his website gryndstoneandfusspotpress.com. Links to his other work can be found at grahamharrop.com.