A group of Handsworth artists went on a mission – 2194: an ocean odyssey.
The 50 students time-travelled in their minds, creating a picture of what the ocean will look like seven generations from now.
Life will be plastic underwater, the students predicted.
Handsworth has been afforded a unique artistic platform at a major B.C. attraction for the past two months.
The school teamed up with the Vancouver Aquarium to create an art exhibition titled Seven Generations – reflecting on the Indigenous belief that our actions today impact those living seven generations in the future.
Single-use plastics was the driving focus of the students' artwork. Combining found materials and ocean plastics, the artists commented on how that waste impacts ocean creatures, explains Handsworth art teacher Kory Bogen, who oversaw the project.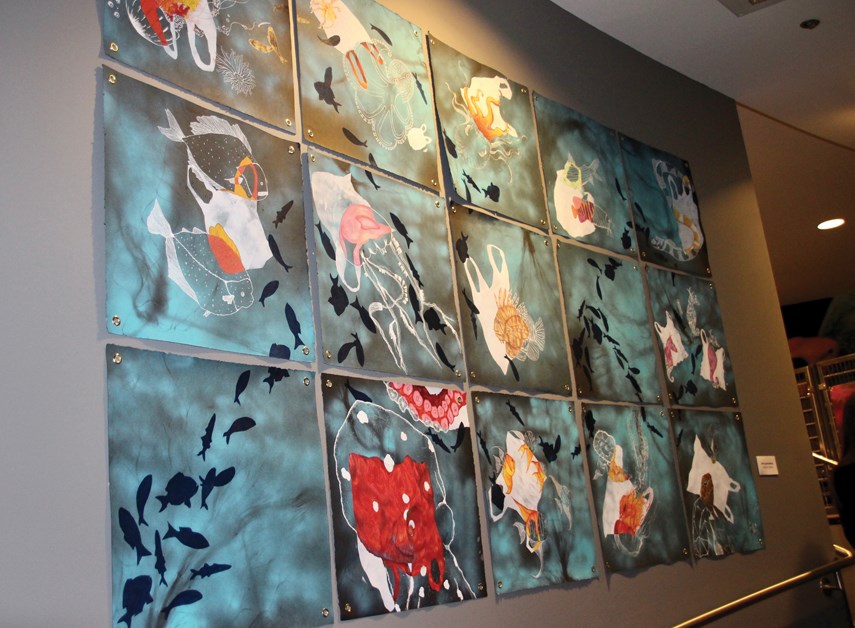 Grade 12 student Lenna Ius digitally drew a sea turtle with its eggs shown in a plastic bucket, instead of on a beach.
As the turtle evolved, the bucket became its shell.
"It's really terrifying," Ius says. "You look not only at what will [the ocean] be in seven years but what it was so recently. It was so clear and now it's disgusting. There's life in the ocean and we're just ruining it."
 Prior to colouring in the lines for this project, the students took a field trip to the Aquarium to learn its current focus on ocean plastics and how they can create art through that lens for a large exhibition space.
The students were also inspired by West Vancouver author and artist Douglas Coupland's current sculpture exhibition at the Aquarium, called Vortex, which highlights ocean plastic pollution.
Seeing videos of birds being dissected with plastic inside them was shocking for the students as they did research for the eye-opening art project.
"The biggest thing is just the sheer volume of garbage and how things in the ocean are self-sustaining because it's an underwater, contained environment," says Bogen.
Taking the theme of waste culture and its impact on the ocean, the Grade 10 to 12 students were separated into three groups which played to their strengths in graphic design and conventional art forms.
In March, Handsworth delivered to the Aquarium monoprints that combine ocean garbage and plastics, large-scale pencil crayon drawings with spray paint – and the life cycle of a creature created digitally through Illustrator.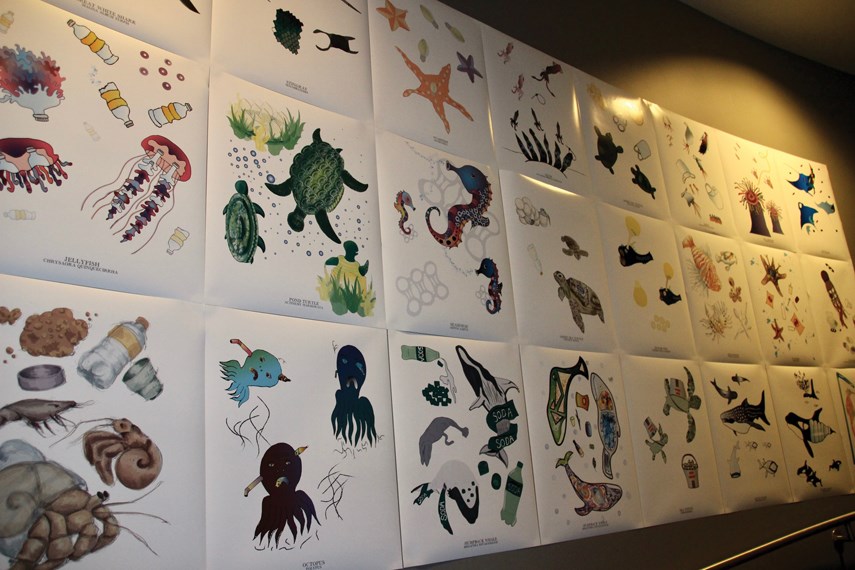 It's been exciting, explains Bogen, for his students to see their art currently displayed in a large foyer area of the Aquarium, in close proximity to Coupland's exhibition.
"It really made the kids take a lot of pride in their work," says Bogen.
The Aquarium also hosted a Seven Generations reception for the student exhibition with hundreds of people in attendance.
It's rare for high school artists to get this kind of exposure at a popular attraction, adds Bogen.
"I think it's amazing," says Ius, of the exhibition. "It's really cool for me, especially because I didn't start doing art until this time last year."
Ius plans on taking a fine arts program at Langara College after graduation, with aspirations to become  an art teacher.
Seven Generations is on display at the Aquarium until April 23.