Looking for a gift idea for this year's holiday season that is cool, COVID safe, supports local businesses and helps raise funds for the food bank as well a North Vancouver school?
The parent advisory committee at Deep Cove's Sherwood Park Elementary has come up with a fundraising plan that somehow checks every single one of those boxes.
The PAC is now selling gift boxes featuring a selection of curated, eco-friendly products all sourced from locally-owned businesses and community artisans, with proceeds going back to the school as well as a donation to the food bank. Since opening up the program to the community the response has been overwhelming, with the volunteers surpassing their initial goal of 100 orders after just two days. They've now adjusted their target, hoping to sell 300 boxes before the online ordering deadline of Nov. 29, with delivery day scheduled for Dec. 12. 
One of the driving forces behind the project is the push to support the local community, an ideology all the more important now as businesses and neighbours alike adjust to the shrunken world of the COVID-19 era, said Jeanette Schisler, one of the organizers of the campaign. 
"The time is now to stay and shop local and support local," she said. "Right from the messaging from Dr. Henry right down to walking around in your own community, you see signs everywhere asking people to stay local and shop local. And we really wanted to emulate that message to our children and our entire community. We work closely with our small businesses in our community as it is, and we have in past years, but even more so now we think it's that much more essential to support local."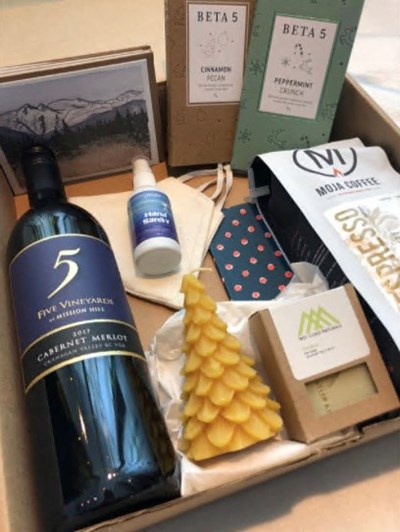 The plan started with PAC volunteers approaching local businesses and artisans to see if they wanted to supply products, typically at or near wholesale prices, for inclusion in the gift boxes. The reaction was "overwhelmingly positive," said Schisler.
"When I approached vendors, every time, every interaction I had just reassured me that we were doing the right thing, with the gratitude that each vendor showed us and thanking us for not going to big box [stores] and for thinking about them and wanting to support kids, and in turn other businesses around them too," she said. "Especially the artisans that normally would depend on public venues and craft fairs that can't do that, they're so pleased that a school thought to do that and thought to approach them."
Six local businesses stepped up to sponsor the program, while volunteers took charge of curating the products for the gift boxes which are being sold at three price points, $49, $75 and $99. Schisler said she expected most purchasers to go for the $49 box, but by far the most popular seller has been the $99 offering.
The funds coming in will be a welcome relief for a PAC that, like so many other organizations, has had their typical fundraising initiatives scuttled by COVID-19 restrictions. You can't run a hot lunch fundraiser when you're not allowed to bring in hot lunches.
Funds raised will go towards things like guest speakers for the students, new technology and potentially an outdoor classroom space for Sherwood Park Elementary. And organizers are hoping that this idea will catch on and be more than just a one-time deal.
"I hope it becomes an annual fundraiser that we can possibly collaborate on with our close-by family of schools and extend the benefits to even more local kids, local businesses, and local charitable organizations," said Schisler, adding that she's amazed at how this has all come together under the trying circumstances presented by a global pandemic. "We're just finding a positive way to bring community together, support businesses, support our school, and give back to some people that need it."
To browse the gift box offering, see which local businesses are on board and for ordering information visit the PAC's website.