Windsor secondary's social studies teacher Megan McEwen strolls the beach, listening for the echoes of history.
About 72 years and two months ago, 130,000 soldiers readied themselves to stream onto those beaches in France and repel the occupying German forces.
"It's very haunting," says McEwen. "You just have to see it with your own eyes."
McEwen is one of several teachers touring the battlefields, cemeteries and monuments of France this summer in an effort to deepen her understanding of the First and Second World Wars.
Some teachers gather sand and rocks from Juno Beach in Ziploc bags, others just survey the eight-kilometre expanse, trying to "wrap their brains around the immensity of the enterprise that was the D-Day landings," she notes.
Despite spending the last six years teaching and learning about the Second World War, McEwen says something was missing. "I felt like I was a fraud, that I hadn't really experienced it."
Speaking to the North Shore News from France, the teacher described what those Allied soldiers might have felt in the moments before landing.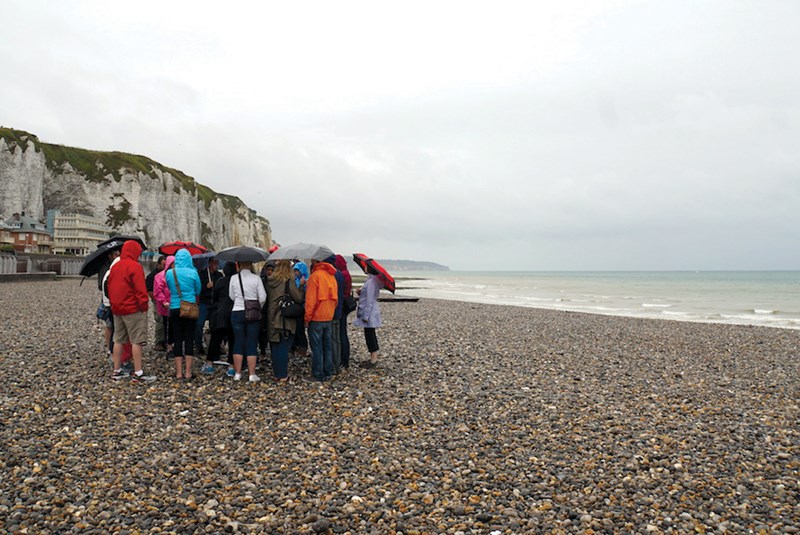 They could hear bombs explode in the distance. Two-metre-tall waves lapped against their boats, fomenting seasickness and making it impossible to position their tanks. The Allies' air assault was spotty and the assault fleet seemed to vanish behind them, leaving an empty expanse of ocean. Then they charged.
Canadian Sgt. Charles Cromwell Martin wrote in his book Battle Diary: "The boats began to look even tinier as the gaps widened with more than the length of a football field between them. … We had never felt so alone in our lives."
The D-Day landing claimed the lives of 340 troops in the Third Canadian Division that day; another 574 were wounded. Still, McEwen is left with one question she may never resolve: "How did they do this?"
It's something she'll discuss with her students this fall, working her lesson plan into the province's revamped school curriculum.
Tour organizer the Juno Beach Centre Association has provided McEwen with a suitcase full of books and postcards she's planning to take back to her students at Windsor this September.
While viewing battlefield terrain has given McEwen some comprehension of the war's physical and logistical trials, the trip has also added to her insight into the propaganda of the period – something discussed in tour workshops that she says is particularly relevant today.
"(Students) don't sometimes even know what propaganda is and when they're being a victim of it."
In Germany, the Nazi propaganda concentrated on turning "large sections of the population into passive consumers," writes historian David Welch in The Third Reich: Politics and Propaganda.
When it came to Canada, the focus was on dividing the French from English, a message that may have aided misinformation. "There's this myth … and it's propagated a little bit in our textbooks as well, that the French resisted participating in the war because they didn't feel it was their war," McEwen says. "That is completely not true."
When the new school year starts, McEwen says she's eager to "right the wrongs that I'm guilty of teaching," while helping students hone their critical thinking.
"Don't just accept a superficial story … really question who's saying it and why are they saying it."