In June, the B.C. Veterans Commemorative Association sponsored a group of youth to travel to France and Belgium to mark the 75th anniversary of the June Beach landing.
The following essay was written by North Vancouver student Caleb Erb about his experience. Erb's great grandfather was a reinforcement sent in after many were killed on Omaha Beach on D- Day.
This summer I had the amazing opportunity to go over to France and Belgium on the Juno 75 Student Pilgrimage to learn about the First and Second World Wars. And more importantly, to learn about the soldiers, the Canadian soldiers, that went over and fought for freedom in those countries.
Going over there, one of the first things that immediately stuck out for me was the sheer number of casualties that happened, especially those listed on the Menin Gate in Ypres.
Picturing that every single name left on that wall was a person that wasn't going home to their family; mothers, fathers, brothers, sisters, wives and children. They gave everything.
Another one of the first things I noticed was all the people who visited the graveyards we went to on the trip. Every time we visited a graveyard, I pictured a soldier standing behind each headstone - and how they are still standing for freedom. Even though they are dead, what they did and the impact that it had on people, still stands today.
It's hard for me to explain this without it sounding odd but it is really important for me to share this personal experience.
When we looked at the photos and then went and visited the beaches and battlegrounds, it was no longer just some piece of ground that something happened in long ago - I could actually see them. You may have seen some of the photographs where they take a modern image and gradually fade it into the black- and-white photo from the war taken at the same place, this was what it was like for me. I know it's strange but for me, the ghosts of the past were really there.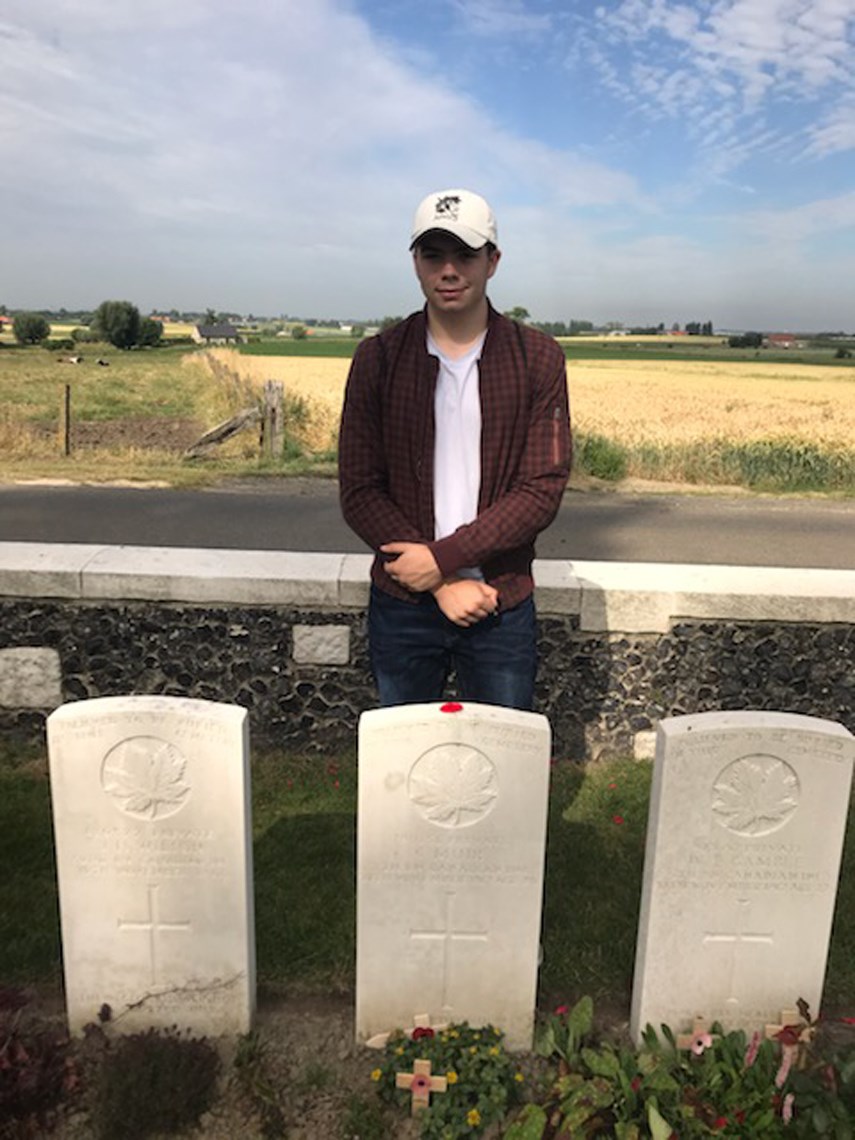 Every single person in our Juno 75 Pilgrimage gave a presentation on a soldier of their choice from either WWI or WWII. I always pictured the soldier standing right there next to them. Especially for those that were giving a presentation about someone in their family who died over there, often a great grandparent. I could picture the soldier, the family member, standing behind or beside them and listening, nodding their head, and being grateful that somebody came from across the world, from their community and remembered them and remembered what happened to them. Remembered that they went over to Europe, fought and died and never came back, and how that 75 and 100 years later, people still remember their sacrifices and what they did for us. I just hope the soldiers that I researched and presented were standing next to me when I told their story.
At the end of the trip, we went to Paris. Visiting Paris, I thought to myself as I walked through the streets, if those people, people from all over the world, including ones from my community, hadn't come over to fight and give up everything they had, Paris itself wouldn't be what it is today. And not just Paris, but all of the other towns and places that we visited where the people were so full of joy just hearing that a Canadian had come over to visit and learn about what our ancestors did. The people there still have tremendous gratitude towards people from Canada, even though we didn't do anything ourselves, we were welcomed as if we had played a part.
I spent a lot of time thinking about why. Why they would go over there, why they would give up everything, why they would give up everything for people they didn't even know? A lot of soldiers just knew they were fighting for freedom, but they didn't know the people they were fighting for. Didn't know that 75 and 100 years later that the people that they liberated, that their children and grandchildren and great grandchildren, are still grateful, still remember them, and are thankful for what they did. I think it's kind of crazy that people over there have more respect and remember more about our soldiers than we do. It is actually shameful to consider this.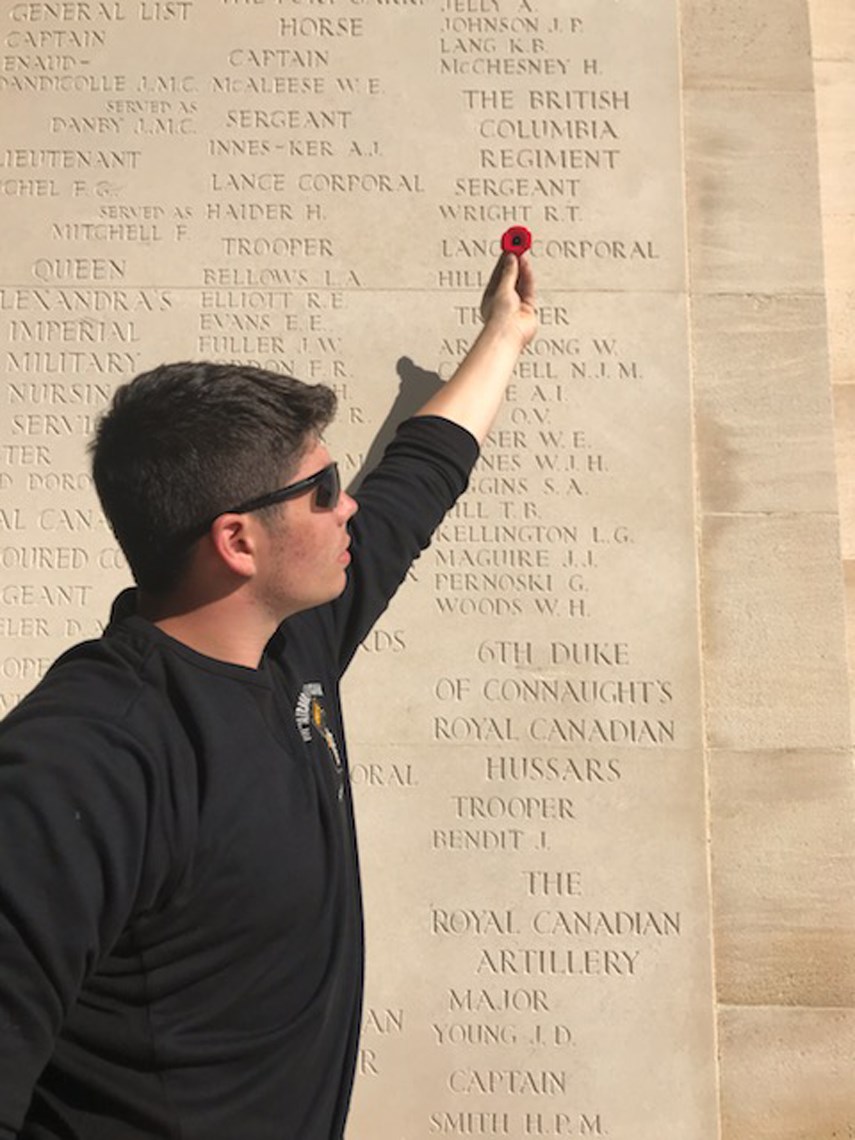 What I want to bring back are several things. The ideals that those soldiers were fighting for: freedom, for people to have a normal life, not living under the terrible conditions they were during occupation in the war. That these soldiers were really young, just a few years older than me. Many of them hadn't even left their own city or province before, when they went across the world, crossed countries and oceans, and went to a place where there was fighting going on and not knowing what to expect.
Tthey gave up so much of their own life. Some of them gave up years of their time, some gave the ultimate sacrifice, their lives, for the ideal of freedom. They fought day in and day out, not sure where their next meal would be coming from, not sure if they would last until tomorrow, not sure if they would live another hour. All they knew is that they were doing a job, and they did it to the best of their ability.
What I don't want to bring back is the original story that says we went over to Europe and did all of these things. I want to make people feel more connected to it on a personal level. Especially the younger generation, because I don't think many people in my generation even think about the fact that they wouldn't be going to school and be on their cellphones if it wasn't for those soldiers that gave up everything. That we owe them. We owe them more than we can ever repay.
I think it is really important that people in my generation show up for the ceremonies of remembrance, that they learn and that they listen to the stories of sacrifice and the personal stories of the soldiers. The stories are incredible. Doing my research and reading the stories of D-Day, of what they went through and what they did, it struck me that it's just incredible for someone to make it through that, to go through that incredible journey and that incredible pain.
I don't think their story should be forgotten with the last of the World War II veterans. There aren't too many of them left. We should cherish their stories and cherish what they did for us. I hope that future generations will remember what they did, and that we will never forget what they went through and what they did for us.