A group of North Shore residents are learning you have to get a little dirty in order to come out looking green.
More than a dozen community members made their way to Capilano Mall for the first public demonstration from the North Shore Rain Garden Project team Saturday morning.
Armed with rakes, shovels, gardening gloves and high spirits, project leaders, local stewardship organizations, and community volunteers worked on transforming a section of the west side of the parking lot at Capilano Mall into a green infrastructure feature which will demonstrate how rainwater can be absorbed and filtered before entering a storm water system.
Before Saturday's work could commence, however, a small portion of the parking lot had to be unpaved and dug up last week, according to Joanna Ashworth, director of professional programs and partnerships at Simon Fraser University's Faculty of Environment, who was one of the supervisors during Saturday's demonstration.
"We're trying to show community members and also local governments that natural infrastructure – green infrastructure – is actually something that is really efficient," said Ashworth. "Nature can do work for us, if we would just allow it."
The purpose of a rain garden is actually quite simple, according to Ashworth. In this instance, a green space is constructed around a storm water drain that leads into nearby Mackay Creek. Because of this, said Ashworth, in the event of rain or water runoff much of it would be absorbed into the garden bed, or at the very least heavily filtered for contaminants, before entering the storm water system and the adjacent watershed.
"In our climate times, we know we're going to have more severe weather events," said Ashworth. "We're going to have big flashes of storm water – and so rain gardens are a really efficient way of actually controlling the flow of water so the water doesn't just go flowing into the drain pipes and clog up our storm water system. It slows water down and it filters out toxins."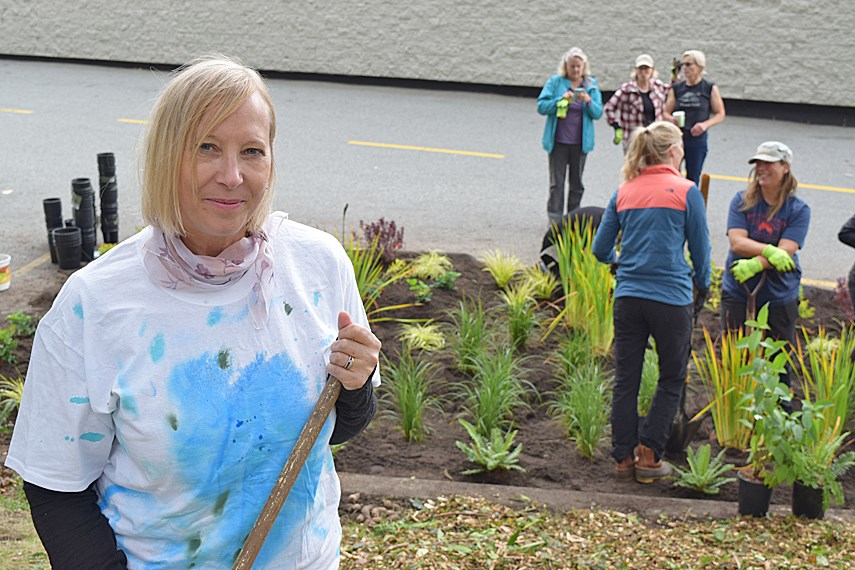 Now in its third year, the North Shore Rain Garden Project, an initiative of the Pacific Water Research Centre at SFU, aims to promote and expand the use of green infrastructure, such as rain gardens, in urban and residential environments. The project works in collaboration with the District of West Vancouver, District of North Vancouver, and City of North Vancouver, as well as other organizations, according to Ashworth.
"This is our first demonstration project," she said. "City of North Van has been really supportive of this project – they lent us tools and gave us advice on engineering."
Noting how much water runoff in particular has the capacity to impact local watersheds – and the salmon that migrate through them – Ashworth said that building rain gardens in high-usage areas can provide some of the biggest benefits to a municipality.
"The water that comes off parking lots, for example, is full of contaminants – it's full of oils and gas and rubber and cigarette butts. Even when it's a normal day, it just washes all of that into the drain," she said.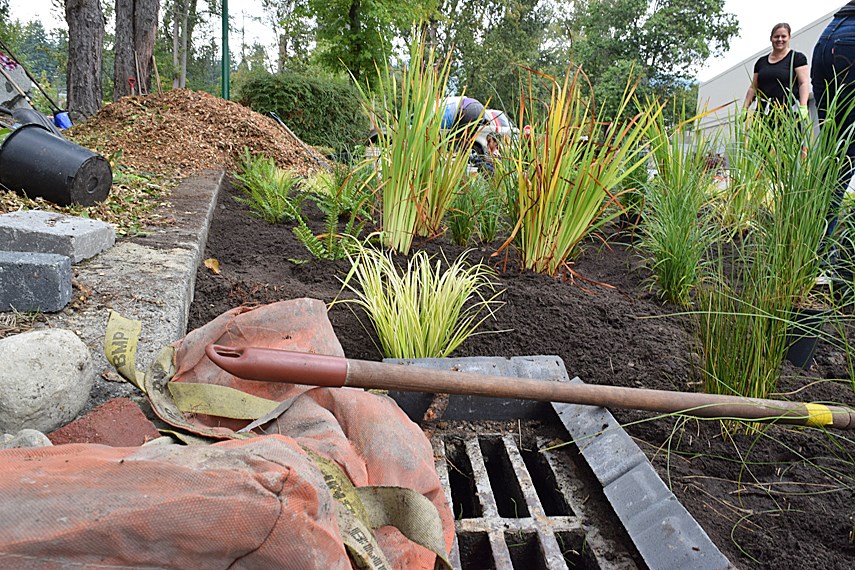 But by installing a rain garden, it could filter runoff in a way that wouldn't have been possible before. "It captures the runoff, it slows it down, it filters it through the soil and through the plants, and the roots, and it cleans it. It's a natural technology."
North Vancouver resident Carolynne Robertson didn't actually realize her building had a series of rain gardens until she learned more about the concept from the North Shore Streamkeepers last year.
She decided to spend her Saturday shoveling dirt and planting a variety of plants and shrubs in order to help make rain gardens more ubiquitous in her community.
"It's just wanting to learn and know more about how to give back to the environment," said Robertson.
Cool community event just off Capilano Mall parking lot. North Shore Rain Garden Project is building a green space around a storm drain which'll act as a filter before rain water drains into nearby Mackay Creek pic.twitter.com/5pWgv86NEI

— Ben Bengtson (@BenBengtson) September 21, 2019
As dozens of volunteers, including kids, exercised their green thumbs at the Capilano mall rain garden, it was hard to believe that hiding in plain sight of all the shrubbery and foliage was a storm drain – the reason why the whole project even existed.
"Let's look to nature-solutions to find ways to protect ourselves and shore up our resiliency," said Ashworth, gesturing to a small patch at the end of the rain garden, surrounding by greenery. "There's a drain right there in the back."