Green Leaf Brewing owner Martin Ebadi didn't get into the beer business for the fame and popularity that inevitably comes along with owning a brewery in a prime location.
The location in question is an anchor spot in North Vancouver's bustling Lonsdale Quay Market, an iconic meeting place for locals and the gateway to the North Shore for tourists who arrive by SeaBus. On a recent weekday afternoon Ebadi sat chatting with a reporter and photographer on Green Leaf's patio, a drinking spot that is clearly the envy of the Lower Mainland's booming craft brewing industry. The quiet-spoken Ebadi seemed genuinely surprised that a local newspaper wanted to take his picture to go along with a feature about his business which has popped a whole new flavour into the 30-year-old Quay.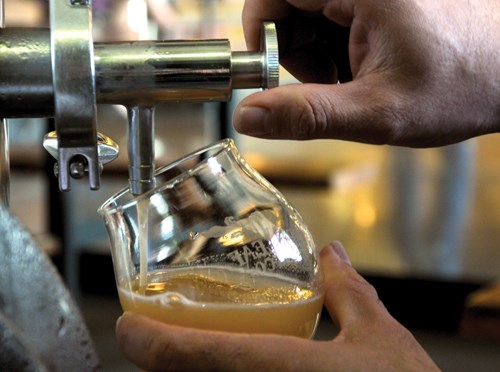 "You want a picture of me? I don't look that good in the pictures," he said rather shyly, laughing when asked if he was enjoying the local fame that has come his way since the brewery opened in late 2013. "I'm running away from that. That's not for me. … I'm not the most social guy. I found out in this business you definitely are getting very popular and people want to get to know you."
The reluctance to step into the spotlight makes more sense when considering that Ebadi, a native of Iran who moved to Canada in 1997, spent 12 years working as an anonymous mechanic in his father's small auto shop in Burnaby. Tired of fiddling with BMW circuit boards, Ebadi found a new path by following his passion for beer into the craft brewing industry. In doing so he's unlocked his social side as well.
"I meet a lot of unique people – I like that part of the job," he said. "You can't socialize with everybody, but you do have the chance to talk to someone for five minutes, and then next time you talk to them for another five minutes and eventually you get to know them, get comfortable with them and you know each other, you have a new friend."
One of those friendships helped guide Ebadi to a pivotal moment in Green Leaf's young history. A New Zealand native named Lloyd has been frequenting Green Leaf since it opened and he made a suggestion which has worked out great for the business: brew a lager. 
Ebadi, whose current favourite beer is a unique and complex aged IPA, hated the idea.
"We were like, 'we're a craft brewery – we don't want to brew lager. You can get a lager anywhere,'" he said with a laugh. Lloyd, who kept coming back even though he wasn't a big fan of the hoppy creations available at the brewery, persisted. Finally Ebadi relented and brewed a small batch of lager.
"I'll never forget this: we brewed that tank of lager and within the first two or three weeks, it was 40 per cent of our sales," Ebadi said, his smile growing wide. "Within the first two months it was 60 per cent of our sales. So then we kind of had to keep it."
Today the beer is as popular as ever, still accounting for about 60 per cent of their sales. Its name? Lloyd's Lager.
"He was the guy that turned that lager light on for us," Ebadi said.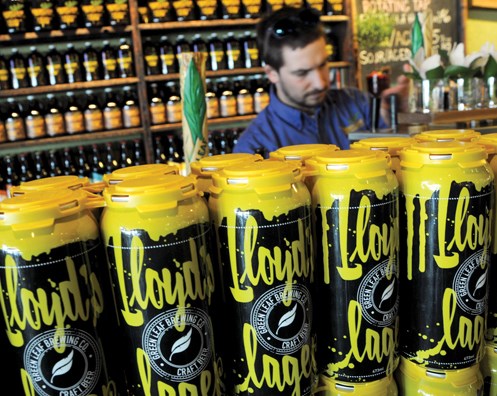 Much like the Quay welcomes people to the North Shore, Ebadi has found that Lloyd's Lager welcomes people to the world of craft beer. The logic makes sense – Green Leaf isn't a hip brewery tucked away in an industrial park that connoisseurs seek out for the latest Imperial Double Hopped Barrel Aged Something-or-Other.
"We come across a lot of people that just have stopped by for a beer, they weren't aiming to go anywhere for craft beer, they just wanted a beer. A lot of those people don't even know what craft beer is," Ebadi said. "(Lloyd's) is a very good gateway beer for them. They try the lager and then there's a chance of them trying a flight, or trying the pale ale because they see a lot of people buying it, and then they get into craft beer. It's amazing how many people we have turned to craft beer. They constantly come and tell me 'I don't drink any other beer now. Only craft beer.'"
Though he's happy to introduce people to the world of craft brewing now, Ebadi started dreaming about joining the beer revolution himself nearly a decade ago. He moved from Vancouver to the Lower Lonsdale area in 2009, not knowing that he was living just a few blocks away from the spot where his sudsy dreams would come true. It wasn't easy, however, shoehorning a brewery into an already bustling transportation, shopping, dining and sightseeing hub. Green Leaf now occupies a space that was formerly taken up by four different entities: the Quay Market office, a travel agency, a seafood vendor and a muffin shop. The brewery has made significant changes to the landscape, most notably installing a drainage system in the market's basement in a room beside the Quay's parking garage. Once they crammed all their equipment in and started brewing, some folks made a stink about the brewery smell that wafted through the market. Green Leaf has since made changes to the ventilation to send more smell out and up into the sea breeze, and as a small brewery they only brew for about an hour, three or four times a month.
The logistics of it all rang up the cost of the setup and operation of the brewery, but the location is paying off now, particularly in the year since Green Leaf opened their patio. Ebadi remembers that moment very clearly.
"I was able to open up on May 1 (2015). It was a Friday. It made a big difference for the business," he said.
Sitting on the patio, it's hard to imagine many other places in the world where you can sip craft beer right out of the brewery tanks while watching cruise ships set sail, helicopters buzz about and float planes land, not to mention the most fascinating specimens of all: the humans.
"It's definitely a good place for people watching," said Ebadi. "You see all kinds of people coming off the SeaBus. … You see a lot of interesting things, interesting people come and go. It's nice. You see a lot of families and kids and tourists."
Ebadi may not have set out to find popularity, but with a patio like that, there's no need to go searching: popularity has found him.